In 1964, they were known as The Young Rascals. It's 1988 and the group, as well as their music, has never grown old. Since their beginning, The Rascals have sold some 30 million records, accumulating 13 Gold and 2 Platinum albums in the process.

We spoke with drummer Dino Danelli about The Rascals, prior to the group's upcoming tour.

Q - Just an observation to start out with. When I hear "A Beautiful Morning" or "People Gotta Be Free" on the radio, I'm reminded that those kinds of songs just aren't being written anymore. Like The Doors and The Beatles, The Rascals were writing about universal themes, which is probably why your songs still get played. Would you agree?

A - It's definitely right on the money, and that's one reason for longevity for sure, as far as our radio airplay goes. There are still people singing about all that stuff. "People Got To Be Free" is as relevant today as it was back then, if you really think about it, with South Africa and Nicaragua and all over the world. We're still singing it for the same reason, sad to say. But we could talk about that for hours.

Q - Did you ever think in '64 that there would be a Rascals in '88?

A - No. Definitely not. That thought was never a seed or a germ in my mind at all. I had no idea I would even be on this planet in 1988. (laughs) It's pretty amazing. It really is. I'm just glad we're getting a chance to do it.

Q - The Rascals were started in '63. In '64, your single "I Ain't Gonna Eat My Heart Out Anymore" went to number 52, which isn't bad.

A - No.

Q - And the next year "Good Lovin" went to number one. Wouldn't you say that's overnight success?

Q - I think, and this is only speculation on my end, I think Ahmet (Ertega - president and founder of Atlantic Records) and the Atlantic people knew what they had in "Good Lovin". You know how they plan out the first, second and third records from albums; they were doing that in those days, not quite one, two and three, but they were always thinking of one and two. I think Ahmet heard what "Good Lovin" had to offer as far as being a record. He was holdin' that in the back of his mind, in case something happened with our first record which it did. It didn't go all the way. It broke us through. It got us some pretty serious play and it did get everybody's attention. He knew it when he first heard it at the bars, when we were doing it 'live'. He thought that it was a fabulous record. We didn't know. We had no idea. We just had these things in our set. So, he was keeping that as an ace in the hole, so to speak. As soon as that came out, it was unbelievably fast. That zoomed right up. It didn't waste any time on radio. It was overnight as far as that goes. As far as records go, it was pretty overnight. But, we had been around for a while. We'd been working for at least a year.

Q - In February '65, The Rascals were gigging around New Jersey and Long Island. What was it like back then to be in a band? I imagine you were playing some covers.

A - Oh, we were doing covers. At the time, we weren't writing at all. We had no originals. "I Ain't Gonna Eat My Heart Out Anymore" was written by Pam Sawyer and Laurie Burton. They were writing for Motava at that point, I think. They were just freelancing and we found that song. We had thought of trying to start to write, but there were so many things going on. We didn't sit down and go into studios, like we did later on. Myself and Felix used to go into little record shops, that's where we found "Good Lovin". We found 2 or 3 other songs in record shops - "Mustang Sally", "Temptation Out To Get Me", all strong songs in our show. Then, after "Good Lovin", we got into the studio and started writing heavily. It all started to happen then.

Q - Along with the Righteous Brothers, The Rascals were labelled a "blue-eyed-soul" act. What exactly does that mean?

A - I have no idea. It's one of those terms. People need labels for things, so that one seemed like a good label. You know, how do you describe guys that sing like black guys, are influenced by R&B music, and play that way? I play that way. I learned a lot of drum approaches - beats and rhythms from R&B music, down south, here in New York. So I had that background. Felix sang with that voice that sounded like he was black. Eddie to some extent did also, when he sang backgrounds with his brother. So, you put all that stuff on a record and what do you get? Even Atlantic, when we first went out, were hesitant to put our pictures on the jacket, 'cause we were getting this crossover, which was fabulous for radio. We'd arrive at a place and people would say "Wow, you guys are white?" It's just a rock 'n roll band with a good R&B base.

Q - Whatever happened to your group Bulldog?

A - That lasted for about two albums, actually one album, and the second one really wasn't distributed. The band was kind of breaking up during the second one. We had a top 40 regional hit that almost broke nationally. It went to number 38 and stopped. It was a good band. It didn't really realize itself. That concept of it didn't materialize properly. We disbanded after a short period.

Q - You're also associated with Little Steven (Steve Van Zandt) and the Disciples of Soul. How long have you been with him?

A - 1980 was actually the beginning with Steven. And we didn't go out and start working 'till the end of 1981. I'm still with Steven actually. We've gone to Europe a lot in the last six years. I'm his art director. I do all his graphic work, his album covers, mostly in Europe, 'cause he doesn't get released here like he gets released in Europe.

Q - At one point, you and Felix split to Vegas to work in a casino house band. How did that go?

A - That's not quite accurate, but I can clear it up for you. We went to Vegas, right before The Rascals began. Felix and I had met in New York in late '63 or '64. We wanted to work with each other, 'cause we'd heard about each other's playing. Around those days, word traveled really quick about happening musicians. The circle was quite small. So, he had come to see me play and we hit it off. At that time a singer who was going to Las Vegas and coming through New York was looking for a back-up band. We said, well Vegas is happening, there's money in it, let's go. So, we got aboard and went out there. Right at that time, the Beatles had just broke. We heard that and said we've got to do what those guys are doing. This is fabulous.

Q - Have you ever heard a cover of one of your songs, and what did you think of it?

A - I didn't dislike that record by War. They did a "Groovin" cover that was kind of interesting. I never heard anything that knocked me out. I didn't dislike the "How Can I Be Sure" version that David Cassidy did. I liked that record. Other than that, I'm not too familiar with too many other cover versions.

Q - Do The Rascals have a record deal today?

A - No, we don't have any kind of record contract at this point. We're taking it step by step. We're doing a tour through the end of September. We're going to see what happens at the end of the tour; see how people react to it, and see what's out there. We're not even doing any new music at all in the show. Some of it's fresh, as far as the musical approach goes. But, the songs are the same, the arrangements are close to what they were. Little things here and there, not anything that's going to jolt anybody. Recording wise, we're all open to it. If there's something there for us at the end of this tour that could be a new music situation, we're going to take advantage of it, you can bet.

Q - Why isn't Eddie Brigadi on this tour?

A - Well, Eddie did not want to participate for whatever reason, there are numerous reasons. And, some of 'em are burning and depressing and some of 'em are just confusing. I get along with Eddie fine, and so does Gene. He has problems with Felix, what ever they are. I was not there when they wrote their songs. So, whatever went down between them is not for me to say. I don't know what the problem is. Eddie was given the same opportunity to get involved, as we all were and chose not to get involved. That's another interview you'd have to do with him. And believe me, that would be a long one. (laughs)



© Gary James. All rights reserved.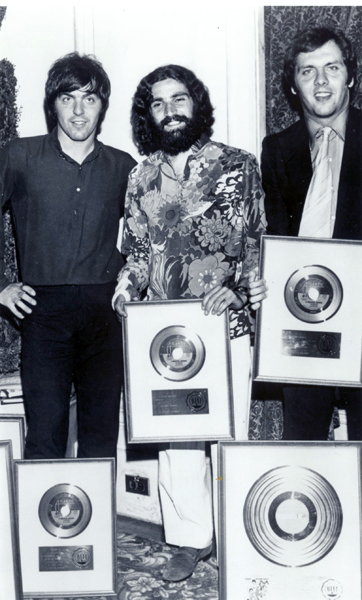 The Rascals