At 21, David Cassidy was the highest paid solo performer in concert in the world!

His record breaking concert dates throughout the U.S. and the world included Melbourne's Cricket Grounds, London's White City Stadium, Houston's Astrodome and New York's Madison Square Garden. In 1969, David Cassidy earned roughly $3,000 for the year. His first concert in October 1970 paid him $8,000. In just a matter of days his guarantee went from $8,000 to $10,000 to $12,000 to $25,000 to $50,000 a night. At one point, after the second or third season on The Partridge Family, David Cassidy was getting as much as Elvis and in some cases more for concert appearances.

He received 18 Gold and Platinum records, including 4 consecutive multi-Platinum LPs. He sold over 20 million records. "I Think I Love You" was the biggest selling record of 1970. It sold 3 million records in the U.S. and a total of 5 million world-wide. "I Think I Love You" won the National Association Of Record Merchandisers Award for being the biggest selling single of 1970, beating out "Let It Be" by The Beatles.

The Partridge Family's first 5 albums released within less than 2 years had all gone Gold. The first 3 had made it to Billboard's Top 10 (charts). By 1971-1972, David Cassidy had the highest Q rating (a "Q" rating reflects a performers likeability quotient) of anyone in television. His earnings went from $600 a week to $4,000 a week on The Partridge Family.

The Partridge Family TV show started in the U.S. and Canada and Hong Kong in the Fall of 1970. By early '71, it was also being seen in Mexico, Central America, the Caribbean, Brazil, Thailand and Japan. By the end of '71, the show was being seen in England, Ireland, Spain, Portugal, Peru, Chile, Columbia, Zambia, the Philippines, Australia and New Zealand. By the end of 1972, Greece and some of the Arab world were also watching The Partridge Family.

David Cassidy received 25,000 fan letters a week and counted 200,000 members in his fan club, making it bigger than Elvis and The Beatles. In 1972, he broke the attendance record at Steel Pier in Atlantic City, doing 3 shows in one day! He broke The Rolling Stones' record for the number of consecutive shows at Wembley Stadium. He did between 6 and 8 sold out shows there. The Stones were only able to do 5.

He ate dinner at The Imperial Gardens in Hollywood with John and Yoko. He won Best All Around Performer and Best Singer awards for his 3 year stint at the MGM in Las Vegas for EFX. He won the Entertainer Of The Year and Show Star Of The Year awards. His profile on Behind The Music (VH-1) received the highest ratings ever on the network. Between 1970 and 1974, David Cassidy made $8 million. By 1980, it was all gone.

When this interview was conducted in March of 2002, David Cassidy had just released a new CD titled "Then And Now". (Universal)

Q - David, I just have to tell you, you're singing your heart out on this CD.

A - Thank you. I really, really appreciate you saying that. I definitely did.

Q - Your voice sounds more powerful than ever, probably due to all the time you've spent on stage.

A - Yeah. It actually always did, but perhaps as you mature, your voice gets bigger, wider, stronger, particularly if you've been performing thousands of shows, and you've been working vocally as I have. This is album number 20. So, you would hope that that would happen. I loved doing what I did and it was a labor of love for all of us involved. The fact that it's already been out in the U.K. and been very successful...I think the fans have absolutely loved it. It's nearly Platinum there and will be out early in May here. So, it's a very exciting time for me.

Q - The release date will not help the show you're doing at Turning Stone Casino.

A - That's true.

Q - What was the thinking behind that?

A - Oh, I've been doing a number of shows already. I just got back from Atlantic City this weekend. I'm playing all over the country and then going over to the U.K. to do a tour. For me, I can't begin to tell you how I feel about going out on tour again. First time in 10 years. We did 50 shows in the past year here. The audiences, the fans, have been so incredibly supportive and really high energy. That band I have is outstanding. It's really a celebration of many, many years of a metamorphous or two for me of all the work I've been able to do; you know, performing here in Las Vegas for 5 years, doing work in theatre, on Broadway and everything else. So, I think it's kind of like a coming home for me. I've gone back and taken a lot of the early material that I hadn't performed for at least a decade, some of it, and a few of the songs I hadn't ever played 'live'. Some I hadn't played for 25 years. So, it's really been an incredible experience for me.

Q - What kind of a show are you putting on then? You have your own band?

A - Oh, yeah. I played with a good portion of the rhythm section at the Rio for a year. Then, we've been out, so a good portion of them have been playing for 2 years. I have a couple of new players that joined us about a month ago. We've played about 4 or 5 shows already and it's been great. I'm very, very happy with the way that the rhythm section (is). I have singers and I have people that have been with me now, as I said, for a couple of years. It's very tight. It's very high energy. It's not a laid back show by any stretch of the imagination. I can't quite describe to you what it's like except to say it's kind of a love fest.

Q - How are you touring these days in terms of transportation?

A - We fly everywhere. Been flying all over the country before and after September 11th. (2001) I took, up until about a month ago, 16 people with me. We've been playing some of the biggest amphitheatres and large casinos. I played the biggest casino in Atlantic City last weekend, The Tropicana. Played the Greek Theatre and that's like 7,000 seats. So, we've been playing pretty large places.

Q - Did you see Danny "Boom Boom" Bonaduce the other night?

A - No, I did not.

Q - Danny is now in boxing.

A - Oh, wait a minute. I know what you're talking about. He boxed one of the guys from The Brady Bunch.

Q - That's right.

A - Somebody told me about this. I was actually performing this past weekend. (laughs) Danny and I have become pretty good friends over the years. We're pretty close. I think that he's acknowledged that I sort of assisted him about 10 years ago when he got in all kinds of trouble and I got him out of jail and got him a job. He opened for me. He's a very talented guy. He shows up sometimes at my shows now. He showed up on Valentine's Day. He and I have become pretty good friends. He told me about this thing, but I didn't think it would happen.

Q - Well, it happened.

A - And?

Q - He won.

A - Well, did he knock the guy out?

Q - Quite a few times.

A - (laughs)

Q - He was quite impressive in the ring.

A - Well, he has a second degree black belt.

Q - I didn't know that.

A - Yeah, oh yeah.

Q - He looked good. He had the energy and the concentration.

A - Right, and that's pretty good for a guy who smokes three packs a day.

Q - Still?

A - I think so, yeah. (laughs) But, you know it's just Danny and he's a wild man. He's a fantastic guy, though. I love the guy. He's been through hell. I think our friendship has been pretty well documented. I'm happy for him that he's finally gotten his life together. He's got a wonderful wife and now he's got a good family. I think he understands that he can't go off the deep end. He'll do anything for publicity which I've had many talks with him about. And sometimes it doesn't do him any good. Sometimes people need the attention. In his case, he does. But, it doesn't have anything to do with the fact that he is a good person. He really is and he's very funny. He's very talented and very quick. That's why, other than the fact that I really cared for him, I hired him to go out and open for me in 1990 on my last tour. He's come out and done a couple of shows for me now. Because he's been out doing all these radio things and this p.r. stuff. He just shows up. He's a wild guy.

Q - You had an in-store appearance in Bellevue, Washington in which you would only sign your new CD and nothing from the old days.

A - I had nothing to do with that. That was the request of the record company because everyone wanted me to sign a lot of memorabilia. There was a line around the block and in order for them to have the effectiveness of being an in-store, they wanted them of course to buy the new material as opposed to just showing up with their lunch boxes and old albums and CDs, etc. So, I had nothing to do with that. Again, I don't dictate that to my fans. I sign everything.

Q - On this newest CD, there's a picture of you from yesteryear...

A - Yeah. Well, it's a pretty comprehensive retrospective of my whole musical life and career, including "Then And Now", so I feel very proud of it.

Q - When did "Rock Me Baby" come out? Was that 1974?

A - I think it was '74, yeah.

Q - When that came out, you did something that other teen idols like Bobby Sherman or Donny Osmond had not done. You crossed over into the Rock world with that song. That song changed your image, which is what you wanted all along. You weren't a Bubblegum artist anymore. And then you quit!

A - More or less. I wanted people to have an insight into what I was. You know, I had a lot of musical influences in my career, some of which were really juxtaposition to antithesis perhaps of what my public image was from the television show I did. Long before I was on television playing this character and doing music that was designed for that show. I'd seen Hendrix five times. I'd seen B.B. King, Clapton, Albert King, Muddy Waters and all kinds of Rock and heavy Blues influences. So, I was a guy that had a vastly different musical taste than just the stuff that I was performing. I learned from some of the greatest musicians in the world that I got to work with about songwriting, performance, playing. You know, I learned so much from them, but I still ha my own musical taste. The record was very successful all over the world. It coincided with my last world-wide tour playing stadiums and it was a good time for me to walk away from it. I'd been doing it for nearly five years. As it turns out, it's just part of my musical legacy I guess.

Q - You would agree then, that you made that transition from Pop to Rock?

A - I think I had. I'd gotten acknowledged by an awful lot of credible musicians including John Lennon and Paul McCartney. People that I was a big fan of. From David Bowie to Mick Ronson. And, playing with people that were legendary Rock 'n' Roll people. So yeah, I feel I had that acknowledgement from them in terms of my peers.

Q - You told Entertainment Tonight that you went into the studio to record "I Think I Love You", sang it in 15 minutes and it was done.

A - Yeah.

Q - You said you had no idea what it meant. Had it taken you 50 takes to get the song right, would you then have been more appreciative of what you accomplished?

A - No. No. It's just the first time you go into a recording studio at the age of 19 and you're listening to yourself perform with the best professionals arguably that have ever played and you're singing 'live' in the booth. You've got Hal Blaine, Larry Carlton, Louie Shelton, Joe Osborne, Larry Knechtel. All of those magnificent musicians and they're all playing on this record and you've never even made demos. So, it was really just the thrill of doing it. We did it and I didn't think anything of it. It was like I was just really more interested in hearing my voice back and hearing what I sounded like, you know what I mean? It's record one. I think anybody in that position would have that same feeling. But, we made a lot of good records in that era and sold a lot of records and were very successful. So, what can I say other than the fact that I'm proud of it and the work we did then. I'm glad that I was able to move on have a 32 year career.

Q - And counting!

A - And counting, hopefully. (laughs) No, I'm gonna carry on. I'm having a great time. I'm having the best time I've ever had. My shows certainly reflect that. The kind of loyalty and enthusiasm I've had from fans is just unbelievable. I love 'em for it. They've provided me with an opportunity. For me now, I don't come out with a set pattern that I do like so many people. I haven't been out slogging this stuff around for 25 years like so many people that come through those casinos. They've sung the same song every week, every night. I've done so much other work from Broadway and the theatre to television and Las Vegas. So, it's really given me such a great appreciation for the quality of songs and the material, but also for the fans that have been so amazingly loyal. I'm just happy to be doing what I'm doing. I'm having the time of my life.

Q - It would almost seem that "Then And Now" is setting the stage for a second CD that will probably focus more on Now than Then. Am I right?

A - My career has pretty much always been about Now. It's pretty much about doing the work, be it on Enigma or the work I've done in the theatre or the work I do here. (Las Vegas) It's never been about Then. It's just that you hope your fans will come and support you and see you and want to see the work you're doing now. I've never been a nostalgia act. I've never done oldies things. I love going out and doing all my old songs now 'cause I haven't played them to death. But, more than that, when you go and see any artist, I don't care, you can name anyone who's had more than 2 or 3 albums, you want them to do some of the stuff. If I go see Elton John, do I not want him to do "Good-bye Yellow Brick Road" or "Your Song"? Of course he plays it. I don't care who you're seeing. You want to see them sing the songs you have a relationship with as well as the new stuff. Really, I think my fans are pretty much in the same boat.

Q - If the record company is promoting your CD, will radio play it?

A - Well, they have in the past as recently as 3 years ago. I'm hoping so. We'll see. You know, I cannot predict what is going to happen in the UK. Hopefully it will be the same all over that it'll be successful. I wouldn't for a moment try to predict. Anybody, when your over 25, has a difficult time getting any kind of radio play. I don't care who they are. Rod Stewart's been publicly talking how radio won't play him anymore. There's a guy who arguably has had one of the most successful solo careers of anyone.

Q - The problem is when AM gave way to FM.

A - The problem is, it's so fragmented now. I don't disagree with you. The quality of the radio on FM in terms of the music and the way it sounds is great. There's now 6 or 7 radio stations that are playing Contemporary music, be it AC, Hot AC, R&B, CHR...it's just gotten so fragmented. As you and everybody else knows, it's an incredibly powerful medium. But, it's also catered to in so many respects the majors and the kind of money that is involved in breaking a record in terms of independent promotion. It's in the hundreds of thousands to break a single and still having invested that much, you still don't know whether you have a hit or not. Radio play is now more difficult than ever because there are more acts going for it and the stakes are so high that if you crack it, you end up being Celine Dion or Mariah Carey. The awards are so enormous. But, fewer and fewer artists are selling those kinds of units.

Q - And what you didn't mention is 30 years ago, we didn't have all these mega-malls and personal computers and video games.

A - Exactly. The world has changed so dramatically. There were 3 television stations and one radio station that you would hear anything from Tony Bennett to The Beatles to Folk music to Country music; Petula Clark to The Beach Boys to The Beatles to Led Zeppelin to David Cassidy to Tony Bennett on the same radio stations. It's now so vastly different, which is why a lot of people don't listen to the radio any more...they listen to the news. They don't have that home anymore where they can listen to the hits. It's hard to hone in on a radio station you feel comfortable with.





© Gary James. All rights reserved.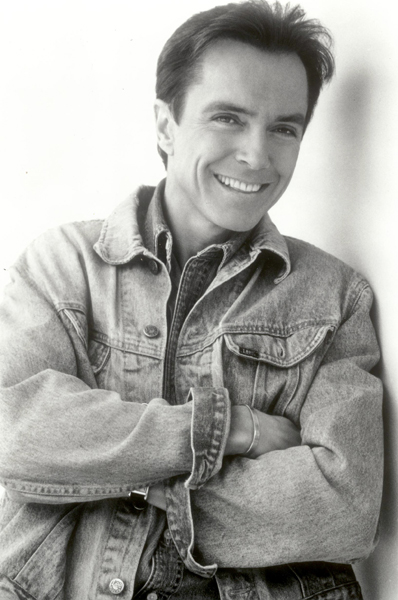 David Cassidy