They were one of the Top groups of the 1960s. They had four number one hits, six Top 20 singles and six Top 20 albums. They sold over thirty million records, resulting in thirteen Gold and two Platinum albums. We are talking about The Rascals, and Gene Cornish of The Rascals recently spoke with us about the group.

Q - Have I got it right that you're working on your autobiography?

A - Actually, we're talking about it. I'm not working on it yet.

Q - Are you in the process of recording a new album?

A - I've been working for two years on my first project by myself. I've collaborated with a singer/songwriter named Phil Naro from Toronto.

Q - And how far along is that project?

A - We're just about finished. We had a nine month hiatus in the recording studio we were working in. They shut down for awhile for upgrading.

Q - When it's released, will it be on your own label?

A - No. We'll have to shop the deal and see if a label is interested.

Q - Whatever happened to this show, Once Upon A Dream? Is that show still touring the U.S.?

A - We did that show December of 2012 and in 2013. We did seventy shows. Steve Van Zandt produced the show and put it all together and at the last minute we were ready to go back to Broadway and he pulled the plug.

Q - Why?

A - You'd have to ask him that.

Q - That show got a lot of attention, didn't it?

A - Yeah. We were doing very well.

Q - The Rascals' music has been described as Blue-eyed Soul. Do you agree with that description?

A - Totally. We sold as many records to the Black audiences as we did the White audiences. Ironically, I'm the only one in the band with blue eyes.

Q - Why did your mother move from Ottawa, Canada to Rochester, New York?

A - She met a man named Ted Cornish. She got divorced from my biological father and we moved when I was four years old to Rochester, New York where Ted Cornish had a gas station and later a bait and tackle store. My whole childhood, from four years on, was in Rochester, New York.

Q - Did you ever make into Syracuse, New York?

A - Yeah. I had a band called The Satellites. We used to play at the Three Rivers Inn. "Dandy" Don Leonard of WNDR radio (station) used to hire us to back up The Tokens and The Starlighters. We were a back-up band at the time. Then back in 1973 we played a place called The Yellow Balloon with a group called Bulldog. The Rascals broke up in 1970. My first band after The Rascals was Bulldog, with Dino (Danelli). Then in 1977 we had a group called Photomaker.

Q - Is it true that The Rascals honed their act at a small roadhouse in New Jersey in February of 1965 called The Choo Choo?

A - That's right. The Choo Choo Club. It was right next door to the railroad tracks.

Q - Then you moved on to a floating nightclub in Westhampton, Long Island called The Barge? A floating nightclub? I've never heard of that before.

A - Yeah. That was the summer of '65. We played there from Memorial Day to Labor Day. That's when we got out manager, Sid Bernstein and that's when we got our record deal with Atlantic Records.

Q - You were actually part of Joey Dee's band?

A - When I came to New York City in 1964 with a group from Rochester called The Unbeatables, we had a record out called "I Want To Be A Breath" that I wrote and we got a job at The Peppermint Lounge. We played there for about six weeks. They had rotating bands and we moved over to a club around the corner that Joey Dee had started called Joey Dee's Starlighter Club. We were playing there for about four weeks and then the band wanted to go home. They missed their families and Joey offered me a job, so I took the job. Then he was putting together a new band, a comeback band. In the band was Felix Caveliere, and Eddie Brigati was taking David Brigati's place. David Brigati was an original Starlighter, David wanted to retire, so Eddie took his place. The three of us played with Joey Dee for about a month. We had some financial arguments and we quit and started The Rascals.

Q - Would famous musicians come into these New York clubs you were playing? Do you remember?

A - Well, when we started The Rascals and came into the city in the summer of '65 we were the talk of the town. A lot of stars, Burt Bacharach, Sonny And Cher, some of The Rolling Stones, Brian Jones would come in with Bill Wyman, Bob Dylan. Bill Medley would come in. We were the new band in the hot club for everybody to see. This is before we ever had a record out.

Q - Did someone like Brian Jones introduce himself to you?

A - No. I got to know Bill Wyman a little bit. Years later when The Rascals were a big hit and we were in London, Bill Wyman invited us to a recording session with The Rolling Stones. They were doing the "Let It Bleed" album. Then Paul McCartney would come see us in London a couple of times. We were finally invited to George Harrison's house in the afternoon. We got along pretty good with all the stars. They liked the band. That was a special band and we're a band's band.

Q - Where'd you learn to play the harmonica?

A - I'm not really a harmonica player. On "Goovin'" I play three notes. Those are the money notes, you know? We used to d a song by The Righteous Brothers when we were playing clubs called "My Babe" and I would play harmonica on that. I'm not much of a harmonica player really. I just play what I have to. I'm not considered a Blues harp player like John Sebastian or Paul Butterfield or those guys.

Q - These big hit records that The Rascals had, who was writing all these songs?

A - Felix and Eddie.

Q - Did you have a hand in any of those songs at all?

A - Well, songs are written because they're inspired by a band that's jamming and doing things together and you get inspired and there's a lot of ghost writing going on, but the songs are credited to them. I was a co-producer of the records. Felix and I and Arif Marden produced those records, but the song writing of the hits was Felix and Eddie.

Q - Did The Rascals open for The Beatles at Shea Stadium?

A - We did not do that. That became folklore. We signed with Sid Bernstein two weeks before that show. Bernstein was the promoter of that show. He brought us to Shea Stadium to see the show. Before The Beatles came on he put on the scoreboard in big, thirty foot letters, "The Rascals Are Coming!" That's the only connection with that (show).

Q - When Brian Epstein saw the sign he got furious.

A - Yeah. That's common knowledge. He got pissed off. He didn't know what it was all about and he threatened to cancel the show and had the name taken down. Later he became a fan of The Rascals.

Q - When you were having all these hits, did you do a lot of road work?

A - Oh, of course. With touring we made money. We played all over the country. As the hits became bigger and more numerous we got bigger gigs. We started playing theatres and arenas. We got the Hollywood Bowl, Carnegie Hall. We played Shea Stadium twice with other bands. Madison Square Garden. All the great venues all across the country.

Q - Did The Rascals go from playing clubs to performing on The Ed Sullivan Show? That's quite a leap.

A - We were playing clubs and a few theatres and we did Hullabaloo first. In the winter of '65 we were on Hullabaloo five times and we wound up doing Ed Sullivan five times and Andy Williams Show and Tom Jones Show, Mike Douglas, Joey Bishop Show, Johnny Carson Show. We did a lot of TV.

Q - With all the great success The Rascals had, the group split up in 1970.

A - Yeah.

Q - Why?

A - The pressure was a bit much for Eddie. He quit the band first. Then five, six seven months later I quit and then Dino quit and we formed Bulldog.

Q - Do you still keep in touch these days with Eddie?

A - Yeah. He's doing a show of his own. It's like a cabaret show. "Send In The Clowns", standard songs and a few Rascals songs. I'm having dinner with Felix in a few weeks. We're planning on working together next year. (2018) Dino, Felix and I had dinner a few months ago, so we're all in touch.

Official Website: TheRascalsArchives.com



© Gary James. All rights reserved.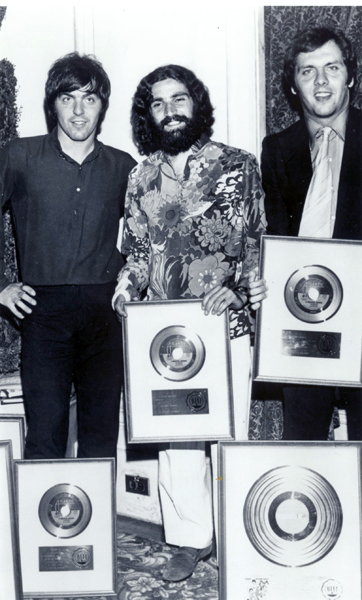 The Rascals
(Photo from Gary James' press kit collection)