In 1973, The De Franco Family enjoyed great success with a song called "Heartbeat, It's A Lovebeat". Singing lead on that song was 13 year old Tony De Franco, who quickly became a teen idol. "Heartbeat" sold over two million copies, made it to number three on Billboard's Hot 100 chart and all the way to number one on the Cashbox singles chart. The De Franco Family appeared on all the top television shows of the day, including American Bandstand, Sonny And Cher, Diana!, The Mike Douglas Show and a special hosted by Jack Benny. The group toured and played Vegas through 1978, then disbanded.

Tony De Franco spoke with us about his teen idol days and more!

Q - Didn't I see you on a CBS News segment a while back? You were talking about teen fame and then you got into a black Mercedes Benz and drove off. Do you recall that?

A - I do not. I never had a black Mercedes Benz. I'm not quite familiar with what that show was. Are you talking like the early 80s maybe?

Q - It seems like it was later than that.

A - I was on 20 / 20, but no black car.

Q - But, it was about teen idols?

A - Right. There's been a few. Dick Clark did a special about teen idols. They interviewed me. That was fun. Then we re-released The Family music on CD and we did a whole promotional push. We did a lot of radio programs. I was on VH-1 Where Are They Now? Celebrity Homes interviewed me. Yeah, we did a lot of stuff.

Q - How did The De Franco Family get their start? Were you playing around Port Colborne, Canada in 1973? Did you make a demo tape and send it out to record companies?

A - We always played the Niagara peninsula around Niagara Falls, but mostly as an instrumental band because our Dad was the inspiration behind that. Nobody really sang. One thing led to another. Somebody, my Mom or my Dad, heard me singing "Hey Jude". They paid me five bucks at the next gig that we played at. I think it was a wedding. From then on I would sing an instrumental song here and there. We were playing at a local park and a gentleman saw us who claimed that he could help us find fame. He came and did some photo shoots and we wrote some songs together. We sent some demos out to Los Angeles, New York and Toronto. We heard from a Canadian record company and we got a response from the publisher of Tiger Beat Magazine. He flew us out to Los Angeles and we ultimately did an audition for him and he loved it. We did three demos that were finished masters that we took to Twentieth Century Records. The President of the label at the time loved it and within six months it was on all the radio stations, taking off.

Q - How was it determined that you would sing lead to "Heartbeat, It's A Lovebeat".

A - Because I was doing all the singing on all the songs back in Canada. That's pretty much how it was. I don't know how it led to that, but Benny was pretty much the leader of the band. When it came to singing, it was me.

Q - How did life change for you when "Heartbeat, It's A Lovebeat" became a hit?

A - Oh, it was extreme because I went from being a little 11, 12 year old kid in Canada who hadn't even heard of Hollywood, to living in Hollywood! (laughs) Everywhere I went everyone wanted a piece of you. It was basically a magic carpet ride. It was an extreme change.

Q - Was there a follow-up to "Heartbeat"?

A - The second single was "Abra-ca-Dabra", which did fairly well. It was Top 40. I think it went Top 10. It broke in most of the country and took off. Our third single, "Save The Last Dance For Me" was a re-make of the original and that did really well. So, I think all in all, we had three Top 40 hits.

Q - After "Heartbeat" sold 2 1/2 million copies?

A - Right, and ultimately went on to sell over 3 million.

Q - How long did The De Franco Family success last?

A - At our peak, I think it was at its hottest for about 2 1/2, 3 years.

Q - Where did you tour?

A - Well, we had all of North America. We went to Japan, came back and were preparing to go to Europe and parts of that all got cancelled. Then one thing led to another with management and record companies. It's pretty much an age old story where everything falls apart because everybody thinks they know what they're doing. We had a lot of success very quickly. Unfortunately a lot of bad decisions were made on probably everybody's part...management, record companies and us in not putting our foot down in certain situations. It's too bad. It all fell apart and fell apart quickly.

Q - Were you ripped off?

A - Oh, totally.

Q - Any chance of one day recovering some of that money?

A - Well you know, so much time has gone by. That's been a skeleton in my closet. I've realized that regardless of what happened financially with that situation, it's an experience I wouldn't trade for anything in the world. Very few people get to experience that. To put good money after bad and chase it and hire attorneys and whatever I possibly can do, I don't think it's worth the effort for what the outcome could be ultimately. We weren't the only people to be taken advantage of in the music business and it continues to this day.

Q - Based on what you know and experienced, could you take a young guy or girl and make them a teen idol?

A - That is my hope. I started a production / management company. I have several producers that are actually developing artists and I am searching also. We actually have found a few bands that we're in the process of developing. We have a meeting with a couple of single artists that are being pushed to us that people are saying are phenomenal.

Q - So that's what keeps you busy today?

A - Absolutely.

Q - What are the other members of The De Franco Family doing?

A - They're all living in the Los Angeles area, not in the music business any longer. We have a couple of home makers, my sisters and my brothers work behind the scenes in the film industry.

Q - Everything turned out well.

A - Yeah. We came from a solid, very grounded Italian family and none of us ended up having the types of problems that were so prevalent in having child success...the drug problems, whatever you want to call it. The crash and burn syndrome.

Q - The kind of story you'd see on the E! Entertainment Network.

A - You know, it's interesting. I had a publicist who was getting me on various radio shows and a few TV shows here and there. The attitude of a lot of these TV shows is "what happened to you from then?" Once you tell your story...they really only want you on the show if you have dirty laundry and / or have crashed with some drug problems, sleeping in a gutter. They really want the dirt. When they find out you took the high road and I did the smart things and made the smart choices, they ultimately didn't want to hear that. It's a sad story that reflects what a lot of the media is about today.





© Gary James. All rights reserved.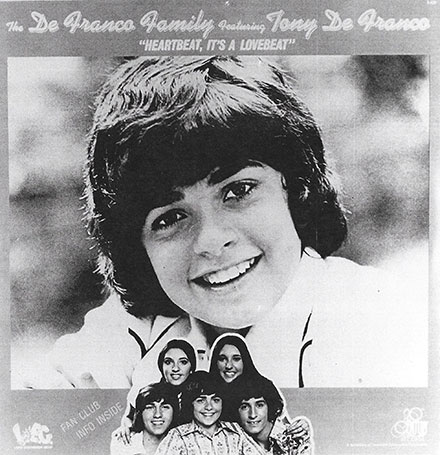 Photo from Gary James' Press Kit Collection