You could say that Tommy Roe was in on the ground floor of Rock 'n' Roll. He toured with the Beatles before they were known in the States. He enjoyed considerable success with songs like "Sheila", "Sweet Pea", "Hooray For Hazel", "Dizzy" and "Jam Up And Jelly Tight". Tommy Roe is still recording and touring. He spoke with us about his life.

Q - Tommy, I see you're still performing. Are you performing as a solo act? Do you have your own group that travels with you?

A - I have my own group and I am also doing some acoustic solo dates.

Q - Where do you perform? What kind of venues?

A - I do casinos, private functions and festivals.

Q - You just released a new CD two months ago (October 2013). I take it that's on your own label?

A - Yes. Airebelle Records.

Q - I recall seeing you on The Ed Sullivan Show. I believe you were singing "Dizzy". Doing The Ed Sullivan Show was a big deal, wasn't it? Did that translate to more record sales and bookings for you?

A - Yes. The ED Sullivan Show was tops back in the '60s and an appearance on the show meant more record sales and more concert dates for sure.

Q - When you were growing up, I know you had your own band in high school, but did you ever entertain the idea of making your living as a singer / songwriter?

A - Well, that was always in the back of my head. I loved writing songs, but I really didn't have any idea about where it would take me. I just enjoyed writing songs and still do.

Q - After high school, you signed with a record label known as Judd. Judd? I never heard of that label.

A - Judd Records was a label in Memphis started by Sam Phillips' brother, Judd Phillips.

Q - Your classmates were Joe South, Mac Davis, Ray Stevens and Billy Joel Royal. That's an all-star cast! Brown High School must of been a good training ground for musicians?

A - Well, they didn't attend Brown High. They were just friends of mine because of our involvement in the music business. We all just started in the business together.

Q - Critics love to label you as a Bubblegum artist. Is that fair? If you had to label your songs, shouldn't they be called Pop songs?

A - I guess I was a songwriter who just got lucky and recorded a hit record with a song I wrote, "Sheila". I was originally called a Rock-a-Billy artist. Then I recorded "Sweet Pea". I was called The King Of Bubblegum.

Q - Did songs like "Sheila", "Dizzy" and "Sweet Pea" come easy for you?

A - I wouldn't say they came easy, but all the songs you mentioned were written under different circumstances. "Sheila" was one of the first songs I wrote. "Sweet Pea" was a song I wrote to change my style to be different from all the British Invasion bands that were pushing the American acts off of the charts. It was a matter of survival. I believe that I managed to continue having hits during this period simply because I could write my own material. "Dizzy" is a song I wrote with Freddy Weller to continue my successful Bubblegum sound and we all thought it was a hit when we added the strings arranged by Jimmy Haskell.

Q - You were in the Army. Did you join our were you drafted? Did you see combat? Did your Army days impact your singing career? Did you go to Vietnam?

A - I joined the Army Reserve and never went to Vietnam. The closest I got to combat was when my unit was called to action duty, but we were never deployed. We released some records while I was serving and I lost about a year from the business.

Q - Did you like performing on Where The Action Is?

A - Where The Action Is was a fun show and was the reason I moved to California.

Q - How is it that you got to tour with The Beatles? Was that tour set up through GAC (General Artists Corporation, The Beatles' agent)? I know Arthur Howes was the promoter.

A - Yes, I believe GAC did book the tour in England with me and Chris Montez headlining the show.

Q - When I interview people about The Beatles and the early 1960s, your name seems to come up. You were impressed with them. What impressed you? Their look? Their sound? Their personalities?

A - Well, I could see the magic they created with their 'live' concerts and the reaction of their fans was over the top. I wasn't that impressed with their early recordings, but when you saw them perform their songs 'live', the package was complete and very impressive. Of course the songwriting of John and Paul kept getting better and better with each new recording they released.

Q - Did you in fact take a demo of The Beatles to Elvis' record producer Felton Jarvis and play it for him during an Elvis studio session? Was it a demo of Paul playing acoustic guitar, singing "I Want To Hold Your Hand"?

A - I did. It was actually their first LP, released during our tour.

Q - During your tour with The Beatles, George Harrison would sing "Sheila" as part of The Beatles set. What did you think of that?

A - I loved it. I thought it was cool.

Q - On February 11, 1964, you were once again on the same bill as The Beatles at the Coliseum in Washington DC. That's four days after they landed in America. What was their mood like? What were they talking about?

A - I did open the show for them on February 11, 1964 at the Washington Coliseum. Brian Epstein called my manager and ask if I would open for them. I was flattered to be asked and of course jumped at the opportunity to once again share the stage with the Fab Four. They were very excited to be in America and they were really surprised at the reception they received on their first visit to the States, but enjoying every minute of it all. I am very proud of my brief history with The Beatles in the beginning of their career. I remember joking with John about The Beatles being on the bill with Chris and me in 1963 and that's why they became such superstars. "Yes", he said, "the commission is in the mail." I had some good laughs with John while touring. He was my pub buddy. Great memories for sure. By the way, I will be at the 50th Anniversary of The Beatles' Show in Washington DC on February 11, 2014. It should be amazing.

Official Website: www.TommyRoe.com





© Gary James. All rights reserved.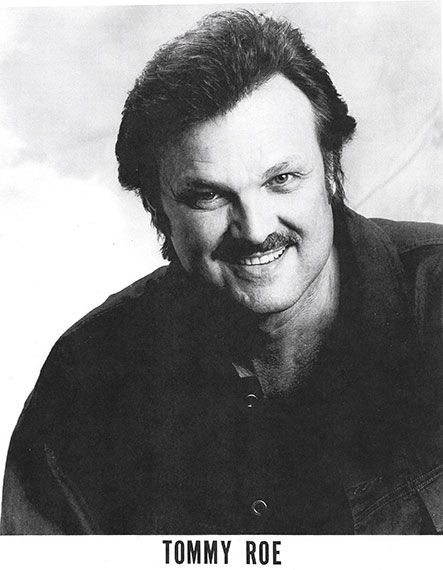 Photo from Gary James' Press Kit Collection