He was born in San Francisco and found fame and fortune in San Francisco. Songs like "Dance (Disco Heat)", "You Make Me Feel (Mighty Real)", and "I (Who Have Nothing)", took him to the top of the charts. Five of his songs went gold (signifying sales of more than 500,000 units) and one went platinum (sales of more than one million units). He was named Best Male Singer at the 1978 Billboard Disco Forum; made an appearance in the Bette Midler film The Rose; is credited with discovering the Weather Girls who started out as his back-up singers Two Tons O'Fun; appeared on numerous TV shows including Merv Griffin, Dance Fever. Midnight Special, Don Kirshner's Rock Concert and American Bandstand; and finally, was honored by San Francisco Mayor Dianne Feinstein on March 11, 1979, when she declared the day "Sylvester Day". Of course, we're talking about Sylvester, the Queen of Disco. We talked with Sylvester back on June 11th, 1981 about his career. This interview has never been published before. Step back in time with us for a conversation with one of disco's greats.

Q - About your album, "Too Hot To Sleep" - in the accompanying record company bio you say, "I want people who hear this album to say I cannot deny the fact that he can sing, that the band can play and the material is good." Did anyone ever doubt that you could sing, or that the band could play or that your material was good?

A - Of course. People have always said negative things about my music and about me and about my musicians.

Q - I always thought critics have been pretty good to you.

A - Some of them have been, but some of them haven't been.

Q - Where are you finding your greatest concentration of popularity?

A - The east coast, the west coast and probably the south, and the north, but no place in the middle, 'cause I haven't been to any of those places. I don't know what the reaction would be to me.

Q - Would you like to do a massive tour of the U.S?

A - I would like to do a massive tour and go all over but it's up to the booking agent and people who book that sort of thing to find somebody for me to tour with that could arrange that. But, I would love to work. I'd love to work it all the time.

Q - What do you do when you're not performing or recording?

A - What do I do? Nothing. I stay at home and go on vacations.

Q - What's it like to have a city like San Francisco call a day in your honor and present you with a key to the city?

A - What does it feel like? It makes me feel very good. It makes me feel like I'm loved in my own hometown, which is probably the hardest place to get recognition because most of the time you start there; and they've seen you through every phase of your career possible, and then to have it go to wherever mine's gone to and then still remain a citizen of that city and function there and work and play there, makes me feel good that they feel that way about me.

Q - How did the city of San Francisco come up with your name for that honor?

A - Well, first of all, my cousin at the Opera House had a whole lot to do with it. And the success of my records had a lot to do with it. And, I guess the mayor liked me.

Q - Who was your musical inspiration when you were growing up?

A - Oh, I don't know, not too many people. Very few people, if any people, inspired me while I was growing up. I was living my fantasies is what it basically boils down to. The things I thought would be fun to do I sort of lived out and did those things.

Q - Can you go outside of your neighborhood without worrying about a fan recognizing you or someone hitting you up for money?

A - No, I can't. It's always something all the time.

Q - What made you decide to sing in your natural voice for this album?

A - 'Cause I was bored and I just wanted to do something different. It was time for a change, some change. I didn't know what it really was. It wasn't planned. It's just something I happened to do one night that worked.

Q - Do you have the final say on what you record and how you record it?

A - Yes. I pick all my material. I pick certain musicians I want for certain things, for certain sounds.

Q - Is your road band the same as your studio band?

A - On some of the cuts on the album the musicians are from my band and on some of the cuts they're not.

Q - With the new sound, will there be a new look, a new image?

A - Oh, I don't know. I haven't really thought about it.

Q - You never talk about your early days, your years of struggle and I'm wondering why?

A - I don't know. No one really asks and plus I never really struggled that much. I always enjoyed it all the time, so it really wasn't a struggle for me.

Q - Would you do another film?

A - No. I don't like it (acting). That's not what I want to do.

Tragically, Sylvester's story came to an end in San Francisco. There, on December 16, 1988, Sylvester died of complications of AIDS. He was 42 years old.





© Gary James. All rights reserved.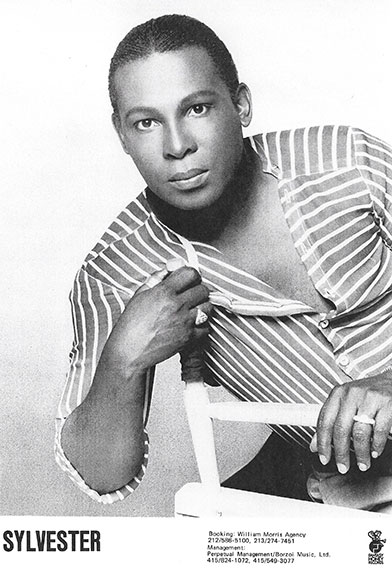 Photo from Gary James' Press Kit Collection