The Stampeders are probably best known for their song "Sweet City Woman". Stampeders member Rich Dodson wrote that song. We spoke with Rich recently about the record label and recording studio he owns as well as the history of The Stampeders.

Q - Rich, tell me a little bit about this record label you own...Marigold. Who's on the label?

A - Well, a few artists what I produced in the nineties. I had an independent album on it. Debbie Johnson, Monkee House, myself...a few other things. I put out some Stampeders stuff too when I got the masters back. For awhile, we had Stampeders out on that and still have a couple of Stampeders albums out on that label. It's not terribly active, but it's there when I need it, distributed by Koch.

Q - You also operate your own twenty-four track recording studio?

A - I've had a studio since 1978. Right now I'm doing both the Analog and the Pro Tools Digital. So, I have a studio that I use for my own stuff and for producing others and hire out. Sort of a second thing I do.

Q - A second thing? The first thing is still The Stampeders?

A - Yeah. We tour. We play. We have a lot of dates coming up in the Summer. (2006) We, or I got a Hall of Fame Award for "Sweet City Woman", Canadian Songwriters Hall of Fame. We had a nice TV show filmed by CBC at our convention center here. You know, with Leonard Cohen, Andy Kim...just a great bunch of writers on it. That was a nice event.

Q - I bet you put The Rebounds together in 1964 because you were inspired by The Beatles.

A - Well, it was an instrumental thing. We liked The Ventures, The Fireballs, The Shadows. It was a guitar instrumental kind of thing. I met my bass player at our Catholic Youth Organization Church meeting in the back. He had a record collection and played bass, so we formed a little quartet with that and that's where we met our current drummer for The Stampeders. That was sort of a very beginning instrumental band...The Rebounds. Then The Stampeders thing sort of happened after that.

Q - That's right. By January of 1965 you became The Stampeders. Your stage dress was cowboy hats and western wear. You were just slightly ahead of your time if you were playing Country / Rock. Were you?

A - Yeah. I was into Lovin' Spoonful and that type of thing. Being from Calgary, western wear and all that stuff is everywhere. It's a bit of a part of our psyche. Marrying the two sort of made sense. I liked sort of edgy Country stuff and I liked Rock. I guess The Lovin' Spoonful were kind of the beginning of that thing for me.

Q - As I understand it, The Stampeders were originally a six man group. After you guys released a record in 1968 on MGM Records in the US, three of the guys decided to leave. That's strange timing isn't it?

A - Well, Kim Berly, our original drummer wanted his brother in the group 'cause he sang. Kim's brother tied us with Mel Shaw, a local, hot manager in Calgary. And of course, Mel wanted a more showy guitar player in the band and that's where Ronnie King was brought in. The other guy, Len Roemer, quit. And of course, Ronnie King wanted his brother in the band, so we ended up wit a couple of singers like The Righteous Brothers kind of thing, and two guitar players and a bass player and a drummer in the background. So, that's how we ended up with six out on the road. And of course, we had a manager. So, we left Calgary somewhere in the vicinity of '64, in a used Cadillac limousine and a U-Haul trailer and we just basically played our way across Canada, towards Toronto, trying to get into sort of the Big Scene. Get in to that down East situation.

Q - And what happened?

A - Well, it was pretty tough 'cause there was really no gigs. There really wasn't any alcohol in the clubs until we got down East. We started playing clubs that served alcohol. At seventeen, eighteen, you really didn't care, as long as you had a place to sleep. We'd rent one or two hotel rooms and when the (rental) guy wasn't looking, we'd all pile in. (laughs) A '58 Cadillac limousine we got for $800. Exhaust fumes all the time through the floorboards. We'd all pile in that and had a couple of seats in the back, so it was sort of comfortable and drove across the country with our little U-Haul trailer. It was quite an adventure.

Q - How hard was it for a Canadian band at that time, to break into the American charts?

A - Pretty tough 'cause Canada was pretty much bleak. Nothing. There was just no sense of Canada having anything until The Guess Who broke through with "These Eyes". There just wasn't anything happening. There wasn't a chance of a Canadian act getting anybody's attention down there. I think The Guess Who were sort of the very beginning of it. Of course, our manager was really aggressive and thought big...the planet, let's go for it. He wasn't afraid to hop on a train to New York and bang on doors. That's where we got that MGM thing.

Q - Did he represent just you or did he have other groups?

A - Just us. Strictly our manager. Our exclusive manger. We were really lucky in that regard. He was sort of our guy until the mid-70s. So, we were a team. A good team.

Q - How did life change when "Sweet City Woman" became a number one song in Canada and a Top eleven song in the US?

A - I think it was Top 5...Top 8...that vicinity. All of a sudden the phone rang and we got gigs. We could make a living and tour around, draw people, start filling theatres. It was wonderful.

Q - Did you write "Sweet City Woman"?

A - Yeah.

Q - How long did it take you to write that song?

A - Oh, maybe I worked on it, off and on for maybe two or three days. It was just a really neat lick. Doing our Country / Rock thing, we played Quebec quite a lot. "Bon c'est bon"...that was our Montreal situation. It just came together. It was just a neat little entity. I think I borrowed a banjo on the way to the studio from a music store. I was just a neat lick I thought, to play on banjo.

Q - Where did the inspiration come from to write that song?

A - I don't know. I always tell everybody, I was trying to write something like "Montego Bay". Everybody liked that particular tune, but there was no relationship between the two. I started off with "A", blend it with "B" and you end up with "C". It's just a neat little lick that came. It just all started to fall into place, jammin' with it. And we do it "live" and people request it. It's just magic...a lot of hooks.

Q - Who was booking The Stampeders before Premier Talent?

A - Well, we did it ourselves in Canada until we got down East finally and connected with Ron Scribner, which was Canadian Big Talent and they booked us in Canada and kept us alive and well. And of course we pounded on doors in the States. We got a little deal with William Morris for awhile. Then we managed to hook up with Ron Sunshine from Premier Talent and we just liked the situation there. It was sort of happening. Premier Talent's thing was quite unique in that they could pick the opening acts for the acts they signed. That was part of the deal. If you signed with Premier Talent, Premier Talent got to be in on choosing the opening acts. That allowed them to break their new acts. So, we were stuck on a lot of tours with Robin Trower...Santana.

Q - What kind of job did William Morris do for you?

A - Oh, I don't think they were the right people. They were too big. I don't recall it being a successful relationship. They were just too big for us. We just weren't "hot" enough at the moment and of course Premier Talent had this unique situation of putting us on with all these big acts. So, that was just instant exposure. That was fantastic. So, away we went and were on these big tours all of a sudden.

Q - How were you treated by the groups you toured with?

A - Well, the groups didn't really want us there. We were sort of in the way. We had to sort of win them over. Our roadies had to win over the sound guys so we could use the extra channels, get the lights turned on. We had to try and win over the promoters so we could actually get a half-hour sound check before people started coming in the doors. Half the time, people would be looking for their seats and you'd still be sound checking. So, nobody really wanted you there. You had to sort of pay your dues, so to speak. But, it definitely helped us being on those tours. Absolutely. Eventually you'd befriend the star act and the roadies and it would end up being a good experience. No place for superstars opening. (laughs)

Q - So, The Stampeders were an opening act...

A - Yeah, for quite awhile and then we headlined a lot of our own little dates. Premier got us a lot of solo dates from Vegas to college dates to Disney World. We managed to make enough dough to go down. And of course we always had three roadies following us around with a five ton truck of stuff. It was expensive to tour. It's not like these days where production is provided all the time. We always hauled around sound systems. That was the different thing about that time period. It was expensive to be in this game. Five dollar tickets at the door and two five ton trucks full of gear. We had major overhead, whereas now, it's wonderful. We just fly. They pay for our flights. They pay us. Nice hotel rooms. It's like a holiday. Everything is set up. It's great.

Q - Where are you touring these days?

A - We play casinos, fairs and festivals in Canada quite a lot. We don't do too much in the States. And the theatre circuit. So, we're pretty wide open. We play everywhere.

Q - To most people, The Stampeders are probably thought of as a one-hit-wonder group. You did enjoy other hits didn't you?

A - See, up in Canada we've had ten hits. There was a rock tune called "Wild Eyes". One called "Devil You"..."Oh, My Lady"...The "Hit The Road Jack" thing with Wolfman Jack went Top 40. That got a bunch of play. That was it. For the States it was tough to get stuff out down there. We never seemed to get a label deal that stuck long enough. We'd get signed and all of a sudden, the A&R guy would get fired. A new president would come in and dump everybody. That happened at Capitol Records. They dumped all the acts and they started all over again. Started off with a whole new roster. Stuff like that happened. You never got your feet in the door down there. And we had Canadian management. If you have American management, it's a little bit better in that regard. They're more in tune with what's happening and they're out there all the time. We never made the move. We never moved to L.A.

Q - Did you ever consider doing that?

A - I don't know if I can relate to it. This is sort of home. I find all the Canadian acts are all living here. The Guess Who, back in Winnipeg. They all came home.

Q - You actually left the band for a time, didn't you?

A - Well, in '77, '78, I was sort of mentally done with it. I wanted to get into recording. I bought a tape machine. I was always the guy at rehearsals that set up the four track and the mics and recorded everything. I liked the whole recording game. I wanted to get into that thing and I did that. Record production was a nice get-a-way. I enjoyed it.



© Gary James. All rights reserved.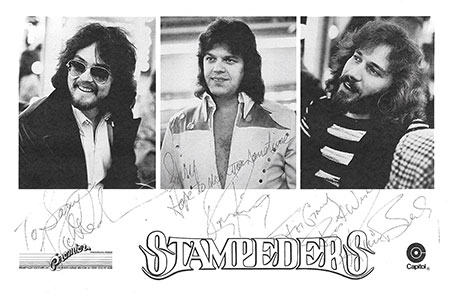 Photo from Gary James' Press Kit Collection