Gary James' Interview With Sonny Geraci Of
The Outsiders



He is one of the few singers in Pop music to have had Top 5 songs with two different bands. As a member of The Outsiders, he enjoyed a smash hit with "Time Won't Let Me". The group also had three other Top 40 hits with "Respectable", "Help Me Girl" and "Girl In Love". As a founding member of Climax, his recording of "Precious And Few" went straight to the top of the charts and he toured the U.S., appearing on the top rated shows of the day - Hullabaloo, Shindig, Where The Action Is, American Bandstand and The Smothers Brothers. We are of course talking about Sonny Geraci. Sonny spoke with us about his Rock 'n' Roll life.

Q - Sonny, as we speak, you're out on the road again?

A - Yes.

Q - You have a ten piece band?

A - Well actually, my band varies. Sometimes it will be up to ten pieces and sometimes it will be as small as five pieces. It depends on where we're playing, what the budget is, if they supply horn players for us. See, we don't carry horn players when we travel far. When we're in the Ohio area and we can drive to shows, I bring horn players from the Cleveland area with me. But, when we fly to Denver, when we fly to Vegas, they supply the horn players and sometimes they don't. Sometimes we don't use a full ten piece band.

Q - What kind of places are you performing in?

A - From fairs to festivals to police shows in high schools, to Vegas, to Reno, to private parties to corporate shows. You name it.

Q - Do you tour behind any new material you might have out on CD?

A - The only thing I have out and we usually sell it at our shows, is our 'live' CD. We also have a studio CD with a couple of 'live' cuts on it. It's called "On The Verge". That's got about twenty cuts. There's about five or six new songs, original songs. We do our shows and people pretty much want to buy the copies of the 'live' stuff, the show they just heard. That's pretty much what we usually sell.

Q - There was a time between 1980 - 1985 where you didn't perform. Is that correct?

A - Yes. I stopped performing. I moved back to the Ohio area and got involved in the family business. There really was no call or demand for us. Around 1985, I started getting phone calls, in the beginning of the year, about doing some shows, which I didn't understand. I didn't know what was going on at that point and I went and did a couple of shows. The first one I did was in Toledo, Ohio, with Alex Chilton and The Box Tops and Gary Lewis. But, it was amazing, 'cause it was an outdoor show packed with people and we all doing our songs again, and it was almost like we were brand new groups again. We couldn't believe what was going on. All of a sudden, they asked if we wanted to do a tour together and they added Dennis Yost and The Classics IV and a couple of other acts. We toured that whole summer with tons and tons of dates. That was in '85. I do about fifty one-nighters. Mostly in the summer. It's been pretty good really.

Q - Was the family business anything to do with show business?

A - No. The family business was a home improvement business. I was in the sales department.

Q - Experience that is always helpful when you're out there trying to sell a band.

A - (laughs) You gotta be a salesman.

Q - What were you doing before The Outsiders? I take it you put the group together?

A - Yeah. I was still in high school and actually it was a group called The Starfires that were together. They were a few years older than me. I joined the group. When I joined the group, I kind of like, pushed them to record and change the drummer and change the guitar player. Then we changed our name to The Outsiders. We started to record. I was only eighteen when that happened. I was just getting out of school

Q - When "Time Won't Let Me" broke nationally in 1966, did you got out on the road with any British groups?

A - The first tour we did was with Paul Revere and the Raiders. Then we toured shortly after that with Chad and Jeremy. We did a Gene Pitney tour. It was a six week tour of one-nighters. We were all very close. It was the best tour. We flew some of the dates, but mostly it was by bus. The acts were Gene Pitney, Len Barry, The McCoys and B.J. Thomas. He became a good friend of mine. Bobby Goldsboro was on that show. There was about seven or eight acts. We played sold-out arenas. Pitney, I guess, used to take a tour out twice a year. We signed up to do this tour because our sound was pretty much number one all over. We had a great time doing that. I learned a lot in that.

Q - So, how long did you actually tour behind "Time Won't Let Me"? A Year?

A - Oh, yeah, from the time the record hit. When we first signed with Capitol, they put us on a ten day promotional tour, where we hit all the cities...the Philadelphia's, the Detroit's, the New York's. We did local TV shows. We ended up in New York City and did Hullabaloo!. Then we did a tour after Pitney with The McCoys, ourselves and ? and The Mysterians, The Shadows of Knight and a group from the west coast called The Seeds. There were five rock bands. Was that a crazy tour! Four weeks of one-nighters again. We did one city after another.

Q - Did you ever take your act overseas or did you stay in the US?

A - For some reason I don't know, we never got to go overseas. I don't now if our records weren't that big there. I know later on, with "Precious And Few", a lot of people from overseas whom I have met, told me "Precious And Few" was number one in Italy. But, I've never played there. I've never been there.

Q - Since you were on Capitol Records, did you ever meet Frank Sinatra or The Beatles?

A - I never met Frank Sinatra...never met The Beatles. I did meet The Beach Boys. I would have loved to have met Frank Sinatra. By the time we had started happening, The Beatles were pretty much done playing. I think '66 might have been their last tour.

Q - This song "Rock and Roll Heaven", that was written by Climax keyboard player John Stevenson, didn't Alan O'Day write that song?

A - That's one in the same. Johnny wrote "Rock And Roll Heaven" and he called me over to his house to play it for me. "I wrote this song, it's gonna be a big record for you. It's gonna be the biggest song you'll ever do!" He was pretty excited about it. I listened to the song and the verses you hear are not the verses you hear on the record. It's kind of different. But the hook...he wrote "If you believe in forever, life is just a one night stand. If there's a rock and roll heaven, they've got a hell of a band." I knew that it was great. I got pretty excited about it. So, I got a hold of Marc Gordon, who was the head of our label at the time and he thought we needed to bring somebody in to make the verses prettier, to fit my voice. So, he brought in Alan O'Day. So, I met Alan O'Day and made the verses pretty, so it would fit my voice. Together they collaborated and it was a 50/50 deal. I thought it was gonna be a smash. Nothing happened, but we were pretty cold by then. We had two or three stiff records in a row that didn't do anything for a lot of reasons. Warner Brothers had the publishing on that song. They kept coming into the studio when we were recording. They had something up their sleeve which I found out later. They knew The Righteous Brothers were going to get back together again, 'cause they were broken up. They were kind of holding back on that song because they wanted them to do it. They thought they could have a big hit record with it. And in that few months time when we did it, Bobby Darin passed away and so did Jim Croce. Their names were not mentioned in our song because they were still alive. So, The Righteous Brothers stuck their names on it, re-recorded the song, put it out and had a million seller with it. That one hurt. (laughs) It was written for me.

Q - Do you sing that song in your show?

A - Oh, yeah. We tell a quick story, make a few jokes about it and we also pay tribute to some of our friends sitting up there in Rock And Roll Heaven and we do the song up to the chorus and then we go into Elvis Presley, Ritchie Valens, The Doors, John Lennon, Bobby Darin, people that have passed away and then came back to Rock 'n Roll Heaven and we get standing ovations on that wherever we play.

Q - Marc Gordon was the manager of Climax. Didn't he also have something to do with The Fifth Dimension?

A - He was married to Florence (LaRue) from The Fifth Dimension. Marc managed The Fifth Dimension. They were on Bell Records. Marc started his own label, which was Carousel Records, which he changed the name to Rocky Road because there was some kind of a legal hassle. Somebody had the name Carousel in England. He released "Precious And Few" and he released "Show and Tell" by Al Wilson. So, he had two million sellers there with his label.

Q - Did he do a good job managing Climax?

A - No, not really. He got me the hit record, but we came out with our second song that we thought gonna be bigger than "Precious And Few". We did a song called "Life And Breath". It came out really, really good. It was a great song. At the time we were on Rocky Road, a subsidiary of Bell Records, and Bell was sold to Arista Records, in New York. We were a West Coast group. We kind of got lost in that shuffle. Marc Gordon at the time was having problems with The Fifth Dimension. They were upset over the fact that he started a label, had these two million selling songs. They didn't think he was devoting enough time to them. So, he went with them to the Bahamas. He checked out for a couple of months, right at a crucial point when our song "Life And Breath" was breaking on the charts. I think it only went to 40 something nationally and it faded out. On the West Coast, it was in the Top Ten...L.A. In Nashville, it was in the Top Ten, in Memphis it was in the Top Ten. It just got lost thought, because Bell never promoted it and Marc Gordon kind of left for two months. When he finally came back, he apologized to me for letting down, but he never could get me back on the charts again.

Q - What gets the bigger applause from the audience - "Time Won't Let Me" or "Precious And Few"?

A - They're both pretty equal. We strategically locate "Precious And Few" at the end of our show.



© Gary James. All rights reserved.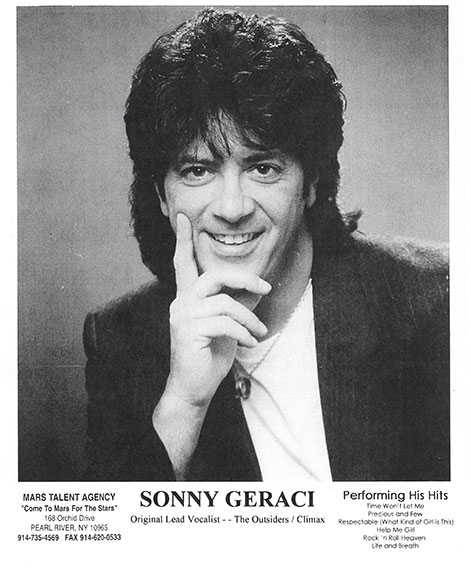 Photo from Gary James' Press Kit Collection