Gary James' Interview With
Rosie Hamlin



When Rosie Hamlin was only 14, she wrote a Rock 'n Roll classic that went to number 5 on the Billboard Top 40 chart* and stayed there for 6 weeks. That song was "Angel Baby".

Over the years, a number of people have recorded that song, including John Lennon.

In 1995, Rosie Hamlin was inducted into the Rock and Roll Hall Of Fame in Cleveland, Ohio.

Q - Rosie, how did you get your start, singing?

A - Gosh, let's see, when I was very young, before I started school, I liked to sing. My family was somewhat musical. We moved from Alaska when I was, like, 11 1/2, to California. When I was around 13, my mother bought me an old, used piano and I started trying to copy by ear, the sounds I was hearing. I had an old record player and a few 45s and I listened to that four chord progression. Then, when I was 14, I wrote "Angel Baby" as a poem. Then I set it to that four chord progression that I'd learned. One day, I was playing it for my uncle and his girlfriend. They were in their early twenties. She said "I want you to meet some guys on the other side of San Diego that play music. They're a little older than you. They're probably 18, 19, 20." We arranged for them to come over to my house when my mom was home and they met me. We had a little jam session. Then we started having a little jam session every weekend when I was not in school. A couple of the other guys were still in school. One of my friends was Alfred Barrett, a horn player. He had his own band. So, he joined us when he could. But, he didn't end up being the horn player on the 45.

Q - Did you play "Angel Baby" for those guys?

A - I played it for 'em and I just had the arrangement as knew it. It wasn't sophisticated. They liked it. They just started playing parts. The guy that was on the 45, that played on the record, was not our horn player, Alfred Barrett. He was Tony, who actually played bass guitar. We ended up going to the only recording studio we could find within a 100 mile radius. It was on the outskirts of San Diego, on a farm. He was an airplane mechanic. He'd taken part of his hanger and was gonna have a studio when he retired. So, we were there all day, playing it over and over, trying to get it sounding just right. I was playing piano on it. We called Alfred 'cause he wasn't there yet. He said he couldn't get out of the house. His mother wouldn't let him leave 'til he finished mowing and raking the yard. (laughs) He didn't make the session, so, that's how the terrible horn solo got on there, 'cause nobody knew what they were doing. (laughs)

Q - What instruments did this band have when you met them?

A - We had two guitar players and one bass player.

Q - No drums?

A - We didn't have a drummer at first. One of the guitar players, Noah and a friend named Carl, who played drums. I believe they knew each other through school. He eventually became our drummer. He was later.

Q - "Angel Baby" is your trademark song?

A - Yes.

Q - How long did take you to write that song?

A - Oh, it was probably just in the afternoon.

Q - So, that would've been a couple of hours?

A - Yeah. It was a poem for my very first boyfriend.

Q - Is he still around today? Did he know that poem / song was written about him?

A - Yes, but, he didn't know it then. When I got more interested in the band than having a boyfriend, we were very far in distance. We didn't get to see each other very often. It was just sort of a puppy love. And so, I went on my way with music and never saw him again 'til maybe 20 years later. He asked me "did you write that song for me? Is that true?" I said "yes, it's true." We keep in touch today. As a matter of fact, we're still friends.

Q - What does he do these days?

A - He lives in the Southern part of San Diego and has a painting business.

Q - What year did you record "Angel Baby"?

A - That was November, 1960.

Q - How many records did "Angel Baby" sell?

A - I don't really know. I know that it had sold over 4 million by, maybe, '64, '65...but I wouldn't know today.

Q - When the record hit, did you tour behind it?

A - Yes, I did.

Q - As a headliner or opening for someone else?

A - Sometimes I opened for other acts and sometimes I was just included in large "oldies" shows. I opened for Jackie Wilson a few times back East. I had only a couple of The Originals with me and sometimes I would do a show without them. Other times, we would be included on a show with, say, Johnny Otis' Revue, things like that.

Q - Did you do the Dick Clark Cavalcade Of Stars tour?

A - No, I didn't. I was asked to go back East to do the Dick Clark Show and I did that. The very first show I was ever on was The Wink Martindale Show. He was a very popular disc jockey in Southern California. I worked with, in the early days, people like The Platters, Carla Thomas, The Isley Brothers, Bobby Vee, Bobby Rydell, Thurston Harris, Sonny Knight, Big Joe Turner, Mama Thornton, The Penguins and The Olympics. Just about everybody who was popular during those years.

Q - How many songs were you allowed to sing during those early years?

A - Just one. (laughs) Unless I was doing a show with my group, The Originals. Then, we probably would do about 45 minutes.

Q - How many people recorded "Angel Baby"?

A - So far, I think about seven. One of my favourites that did record it was John Lennon.

Q - Did you ever meet John Lennon?

A - No, I did not. I always wanted to, but never got the chance.

Q - Was there a follow-up to "Angel Baby"?

A - There was a song that I had intended to be a follow-up. A song called "Angel From Above". That was when I was leaving Highland Record Co. and went with Brunswick at the request of Jackie Wilson. He took me over to Brunswick and had me record an album. So, we recorded an album called "Lonely Blue Nights" and "Angel From Above" was one of the single cuts from it.

Q - How did that do?

A - It didn't do very well.

Q - Not enough promotion?

A - Not enough promotion and the fact that Sid Talmudge said he would blackball me in the industry if I left during the early part of "Angel Baby" being famous. I left because they were not paying anything at all. In those days, you know, that's how a lot of artists were treated. I went to Brunswick and found out that some of the same people were involved in the publishing part that were involved in Highland. Somehow, it was not promoted and was not out there as some fans wanted it.

Q - Do you own the publishing rights to "Angel Baby"?

A - No. I do not own those rights, but I do have the copyright on the song. I do get the B.M.I. and part of the publishing.

Q - It must've been an exciting time when you recorded "Angel Baby".

A - Yes, it was. I was coming into the end of an era, where a lot of big names had been out there for quite awhile. So, I was very fortunate to meet a lot of the heavyweights in music and have their guidance, and just be excited about each show. It was like being in a fairyland or something. (laughs)



© Gary James. All rights reserved.





* "Angel Baby" peaked at number 5 on the Billboard Hot 100 in December, 1960.
It stayed on the chart for a total of twelve weeks.
No other releases by Rosie and the Originals made the Top 40.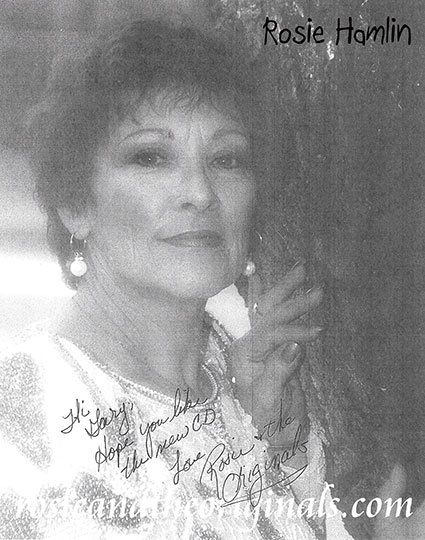 Photo from Gary James' Press Kit Collection