In a career that has spanned over 50 years, Patti Page is recognized as being the top selling female vocalist of all time! She's sold over 100 million records. She's released more than 100 albums, 3 of which are certified Gold and 160 singles, 15 of which are certified Gold. She's placed 84 singles in Billboard's Top 40, including the best selling single "Tennessee Waltz", which sold over 10 million copies. Her other classic hits include "Old Cape Cod", "Allegheny Moon" and "Doggie In The Window". She received a Grammy Award in 1999 for "Live At Carnegie Hall: The 50th Anniversary Concert". She is the only singing star to have her own television series on all 3 major American networks. (ABC, CBS and NBC) She has sung for 5 American Presidents; Truman, Eisenhower, Kennedy, Johnson and Reagan.

She remains one of an elite group (which includes Eddy Arnold and George Jones) to have Top 40 Country hits in each of 5 decades. She was the first female vocalist to ever be signed to Mercury Records. She was honored with the prestigious Pioneer Award from the Academy of Country Music for her major contributions. She also has a star on the Hollywood Walk of Fame, is an inductee into the Oklahoma Hall Of Fame and has received a star on the Country Walk of Fame in Nashville.

Patti Page still tours. And, if all that isn't enough, she sells a line of maple syrup products made on her New Hampshire farm with her husband, retired aerospace executive Jerry Filiciotto, through her web site MissPattiPage.com

We are proud to present an interview with The Singing Rage: Miss Patti Page!

Q - Patti, there's a photo of you standing along side of Skinny D'Amato and Senator Hollings in this book Chance Of A Lifetime It's about Atlantic City, the 500 Club and Skinny D'Amato.

A - No kidding.

Q - What do you remember about Skinny D'Amato and the 500 Club?

A - Well, that was a really nice time in my life. I had just gotten married to a gentleman who was born in Atlantic City and was a good friend of Skinny's. The 500 Club had been the showplace for Frank Sinatra and Sammy Davis Jr. Skinny started Dean Martin and Jerry Lewis there. I was at the peak of my career at that time, the late 50s, early 60s. So, I worked there too. It was a nice time for us. I was a good friend to Skinny's wife, Betty D'Amato. Skinny was part of the "Boys", the one I guess that they had taken under their wing. I never was involved with any of that so I didn't know any of what was happening with the club or anything that was happening behind the scenes.

Q - And it's just as well that you didn't know.

A - You're right.

Q - What is it they say, what you don't know...

A - Won't hurt you. (laughs) Yeah, I find it very true.

Q - Did you know Frank Sinatra?

A - I knew him, but I didn't know him very well. My conductor knew him very well. They were friends. And all the people I knew, knew Frank very well.

Q - On October 4th, 2000, the mayor of Manchester, New Hampshire declared it Patti Page Day. How did that feel?

A - I was working in Manchester. I was appearing there. It was my first time in Manchester. Since our second home is in New Hampshire, they were very thrilled in thinking that I was one of their own. So, it was a really nice day.

Q - Is that the first time you received such an honor?

A - Oh no...I guess the most important day was when Los Angeles declared it Patti Page Day when I appeared at the Hollywood Bowl. Then the other time was in Boston when I was in front of the House Of Representatives there. They declared it Patti Page Day and it was in relation to "Old Cape Cod" and they gave me a citation of bringing back real estate to Cape Cod. (laughs) That was thrilling, but they never did name a street for me.

Q - You perform forty to fifty concerts a year?

A - No. It's thirty to forty.

Q - What type of places are you performing in?

A - I do a lot of performing arts centers. I do symphonies. Some casinos. Places like Branson, Missouri. And those are theatres.

Q - You're also involved in this national radio show every week...

A - The Music Of Your Life station.

Q - What's that all about?

A - It's mostly what they have programmed on the station because all of us who do the show have a list of what we can choose from. It is mostly of the '40s, '50s, '60s and they if we want, we can play anything we want from the '70s, '80s, '90s. (laughs)

Q - So you're a guest DJ in other words?

A - Yes. Pat Boone has a show. I have a show. Gary Owens has one. Wink Martindale. We are all of the old school. The two that I mentioned last were disc jockeys in my era.

Q - You bio says you're the first female singer to be signed to Mercury. What about Patsy Cline? I realize she was on Decca, but there was some association between the two, wasn't there?

A - Decca was never associated with Mercury. I thought Patsy was a little later than me, at least a couple of years. I know that her husband, when I first met him in Nashville, told me that I was her favorite singer and that she used to listen (to me) all the time.

Q - That's quite a compliment.

A - Yes.

Q - What was your manager Jack Rael's background in personal management?

A - He had no background in personal management. He was a musician, a saxophone player. He was like a road manager for the Jimmy Joy Band. It was a really good band. That's who heard me sing first in Tulsa, Oklahoma. He hadn't ever been a manager, except as I said as road manager, which is entirely different. He thought that I had potential and said "why don't we start a manager / singer relationship?" and that's what we did.

Q - You were the first artist to use multiple voice techniques on records. Does that mean you were the first artist to double track your voice?

A - That's right. Les Paul always said he was the first. We came out the same year but I was in June and he was in August and he only did it instrumentally. Mary Ford, his wife did it instrumentally about a year later.

Q - Whose idea was it to double track your voice?

A - Well, it was a combination of my manager, myself and the A&R man who was in charge of the date, the producer in Chicago. It was a combination too of finances. I didn't have any money. I hadn't done too much with the record company as far as selling anything. So, we had to pay for all those below the line expenses. We just thought, why not? Let's try it. The engineer was Bob Putnam. He was a genius. The A&R man, Jimmy Hilliard said "Let's try it." And we did. The thing that made it so good is, at that time there were no different channels for voices or music. You did it all on one. It would lose the presence. That's what they were afraid of. It was a song where you did an echo and it came out just great. So, it didn't matter. We had to lose presence on it.

Q - You really didn't want to be a singer, did you?

A - No. I wanted to be an artist. I painted. I drew. I sketched. I did all these things. I took art my senior year in high school. I had all my credits so I just spent four hours in art classes. (laughs) I won a scholarship to the University Of Tulsa. It wasn't huge and my folks were very poor, but I could've gone with my working because I was working by that time. It just seemed that the singing was becoming more important in Tulsa. I had the show my last three years in Tulsa and I started doing more and more and more. On weekends I would go out with little Country bands or a dance band. It didn't really matter.

Q - Where would you perform?

A - We'd play at some of the ballrooms. And then there were a lot of little country clubs that are still there that would seat a hundred to two hundred people.

Q - You were what, seventeen? The drinking age had to have been eighteen.

A - I think in Oklahoma you had to be twenty-one.

Q - So, how did you get around that?

A - Well, I think the places I worked they didn't serve drinks. You know it was all B.Y.O. (Bring Your Own) bottles. There were not that many counties that passed that law that you could drink. Oklahoma was one of the last ones to even admit alcohol into the state.

Q - Do you feel that because you were not a controversial figure, you didn't get the recognition you deserve?

A - Well, I'm sure that had to be part of it. I was never one to make sure I was in the "in crowd". I didn't get to all the parties that maybe I should've gone to.

Q - Would that have made a difference?

A - Well, I think all of that has a bearing. For example, I went to see Betty Hutton at the Palace Theatre in New York. My publicity girl arranged that I would have a limo, and I did. But, I didn't let them drop me off in front. They dropped me off around the corner and I walked in. (laughs) And that's not the way stars do it. So consequently, nobody knew I was there. She (the publicist) was so upset. She said "the newspaper guys were waiting for you. The photographers were waiting for you." Because I didn't come in a limo to the front of the theatre, they didn't know. My face was not that prominent. I had just been on records and guest-starring on television. But, television wasn't as big as it is now. You can't guest star on television without somebody recognizing you the next day. There were really just three TV stations. In '48, '49 and the early '50s they had one other channel which was the Dumont channel. Records were big, but they weren't like they are now. And television was just getting started.

Q - You appeared on The Ed Sullivan Show the night The Beatles made their American TV debut.

A - Right.

Q - What kind of an atmosphere was that to be in?

A - Oh, it was unbelievable. I don't think anybody heard anybody else on the show. You couldn't get out of the theatre. The girls were hundreds deep outside the stage door. I still don't know how they got them out. But, it was electrifying. It was a little amazing because we didn't quite know what was happening. The last time any of us had heard anything like that was with Elvis. Before that, Frank Sinatra. Elvis caused that same electrifying aura.

Q - Your bio says you socialized with Elvis. What does that mean?

A - I don't know other than he came to see the show. I met his mother. His mother was a fan (of mine). The socializing was when he was doing the pictures of Paramount, Hal Wallis. My husband was the dance director on them. He did a lot of the remote things as director on all of the Elvis pictures he did for Hal Wallis. In fact, I was in Blue Hawaii in a boat with Elvis' cousins in the wedding scene. That would be where the socializing went on, 'cause we would meet after dinner in the bar there and Elvis would bring out his guitar and everybody would sing.

Q - That's a nice story.

A - Yeah. Too bad we didn't record it, just to have it.





© Gary James. All rights reserved.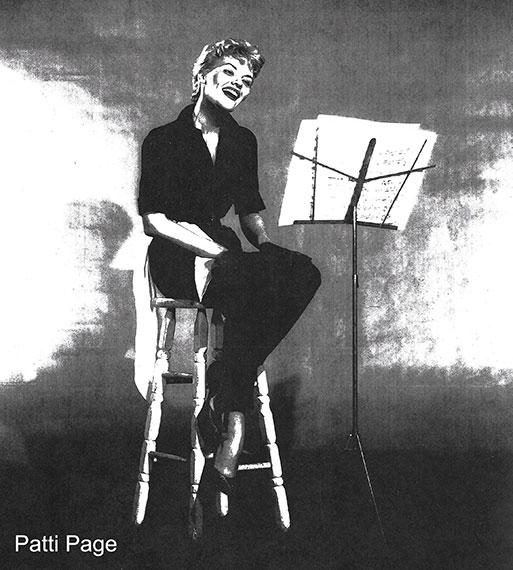 Photo from Gary James' Press Kit Collection