They enjoyed great success with songs like "Back Stabbers" and "Love Train". In 2004, they were inducted into the Vocal Group Hall Of Fame. In 2005, they were inducted into The Rock And Role Hall Of Fame. In 2013, they were inducted into the Official R&B Music Hall Of Fame. We are talking about a group that was formed in 1958 in Canton, Ohio. We are talking about The O'Jays. O'Jays member Walter Williams spoke with us about his group.

Q - I was watching Dick Clark's American Music Awards. I didn't hear much music. I saw a lot more production with the singers. That is the difference between singers who started in The O'Jays' time period and singers today. You guys had to sing.

A - Oh, absolutely. We had to perform too! (Laughs)

Q - Yes, that's true, but the emphasis was more on the singing part. The two went together. But today it's more like a Broadway production. Wouldn't you agree?

A - Yeah. Well, you know that started way back with Alice Cooper. He was doing those kinds of things, then Parliament / Funkadelic started doing the spaceship on stage. I think Earth, Wind And Fire also had that kind of act going on. But mostly the groups like The O'Jays, The Temptations or Gladys Knight And The Pips, we sang and we danced.

Q - And The Supremes.

A - Yes. Well, we were taught by the same guy, Charlie Atkins. He was a talent co-ordinator at Motown, he and Harvey Fuqua.

Q - The guy who was theatrical in the '60s was Jimi Hendrix.

A - You know, I never saw him 'live'. I heard so much about him all the way back to when he was a guitar player for Little Richard. That was way back. It was a California band called Kin Folks. He played in that band. He played in Little Richard's band. This is what I'm hearing from the people in California. I moved to LA when I was 17 years old from Canton, Ohio. You're talking about a culture shock!

Q - What year did you move out to California?

A - Late '61, early '62.

A - LA was happening then.

A - Oh, yeah. I went to some clubs up on the Strip, Pandora's Box, Fairlane 500 and there was a very unique nightclub called Direct Line. On every table, and it was a huge club, probably 500 to 800 people at tables. On each table was a big flag pole that went up with a number on it and a telephone. If you saw somebody you wanted to send a drink to or say hello to, you'd pick up the phone and call them.

Q - Hey, that's a great idea! I believe that would work today.

A - Yeah! (Laughs).

Q - Somebody should open a club like that now!

A - If you decide to do it, let me in on it. I'll invest. (Laughs).

Q - Didn't it require some money on your part to make that jump from Canton to Los Angeles?

A - Well, at the time our manager was a guy named Eddie O'Jay. He was a disc jockey in Cleveland on and a.m. station called WABQ. His friend in Los Angeles was H. B. Barnam. H.B. was a musician, a writer, and arranger. Eddie wanted to hook us up with him so that he could get us a record deal. Well, H.B. had his own record company called Little Star and we did a couple of songs with him on Little Star that made some local noise, but then they later took us to Liberty Records and the Skaff Brothers ran Liberty Records. Bill Skaff was his younger brother that ran Imperial Records. Under them was a guy named Eddie Ray who wanted to sign us and they did. We recorded some really, really good stuff with a producer named Tommy La Pluma, who later became the producer for George Benson. He and Nick De Carroll did our first album on Imperial Records. I think the name of it was "Coming Through". It was a flower out in the desert that had just broken soil and was coming through. Back in those days they didn't put Black faces on album covers for whatever reason. But they didn't do it back in the '60s, at least not a lot.

Q - Maybe because they thought it would be promoted as an R&B record.

A - Probably. They didn't do it because they wanted to merchandise it across the table, across the board. They thought it may have hampered sales. We were still going through some things as a country back in those days. I'm 70. I don't know if you remember that kind of stuff.

Q - I remember Top 40 Radio.

A - In the early '50s and '60s there was two kinds of radio, Pop radio and R&B Radio. There wasn't very much R&B Radio. And there was no Country. It seems like they bought up every radio station and made it the biggest. (Laughs) The biggest music out there as far as record sales and artists. But it was very different times.

Q - What ever happened to this DJ, Eddie O'Jay?

A - Eddie O'Jay died probably, I'm thinking 15 years ago. He was a disc jockey in Cleveland on WABQ and then he went to a station in Buffalo I think called WUFO. They also had a sister station in Pittsburgh, WAMO. He went from Buffalo, New York to New York WLIB and he stayed around there for a long, long time. Last time I heard he was in Atlantic City on a station. I don't know what station that was. And then I heard he passed. I think he died in his late 60s, early 70s.

Q - He was probably very grateful that his name carries on with The O'Jays.

A - Yes, but it happened in a strange way. He took us to Detroit to sign with Berry Gordy. That deal never panned out. It never worked. But we did sign with Berry Gordy's ex-wife, Thelma Gordy, Hazel's mom. We didn't have a name. We were just living King Records and a guy that ran King Records down in Cincinnati, Sid Nathan, he wanted a two syllable name. He named us The Mascots. Okay, so they didn't like that name in Detroit. He said, "Look, just call them O'Jays' Boys right now and we'll figure out something and let you know." Lo and behold I'm at home in Cleveland one day and I hear on the radio station WJMO, "Here's a new one by The O'Jays. It was one of the things that we had recorded in Detroit, a song called "How Does It Feel". For whatever reason, we stayed with him for a while and he couldn't move us anymore as far as getting us on up the ladder of stardom. We changed management and we went with two guys in Cleveland that owned a nightclub, a very popular nightclub in Cleveland called Leo's Casino. Leo, Frank and Jules Berger. We went with them for a long, long time. They helped us a lot. The reason they were able to help us is because of the big nightclubs they had in Cleveland. They booked everybody, all the Motown acts, all of the Nashville acts, Memphis acts. They were able to get us a record deal with Gamble And Huff after Gamble And Huff came to the Apollo while The Intruders were working there and had a chance to see The O'Jays as well. We signed that deal. The reason I'm going around to give you a bit of history, Eddie O'Jay came back around and sued us for the name. (Laughs).

Q - And here I was building him up! What a great guy he must've been.

A - (laughs). That's why I'm telling you. He came back and sued us! But it was thrown out because I think the judge said something about it was two different entities. That was his name, but it wasn't a corporate name. We incorporated O'Jays. It still is today. He wasn't able to do anything with that.

Q - Was that his real name, Eddie O'Jay?

A - As far as I know. I never heard anything else. That's what he went by on the radio. If he had a different last name, I never heard it.

Q - You were together for something like 14 years before you had a hit record? Is that true?

A - Well, I'd have to count it up. I don't think that's true. We started in Canton, but we started recording probably around '61, '62, somewhere in there. Our first hit probably came around '64, a song that Aaron Neville had done called "Lipstick Traces". I got the demo on it. And Nick D'Carroll and Tommy La Pluma produced it. That went Top 40 on the Pop side. Before that we had a little local success with a song called "Lonely Drifter", that was very big in the beach area around Myrtle Beach in the South. Then, the real big time hits came after signing with Gamble And Huff, and their distributors were CBS. That's when the big hits came. That came in 1972 with "Back Stabbers".

Q - So, what are we talking then, a dozen years?

A - Yeah. Probably 12 years. More like 10 for major success.

Q - I'm not sure a group today could hang on for a decade waiting for major success and I know a record company, and they really don't exist anymore, wouldn't hang onto somebody for 10 years and say, "We really believe in you guys." That's how things have changed so did dramatically in the music business.

A - I don't think record companies, especially major record companies, were putting that kind of focus into a lot of the lower scale, and I'm saying The O'Jays were lower scale, R&B acts that played the old proverbial chitlin circuit because we certainly did all down to the South, trying to make a name for The O'Jays. Artist Development? Record companies didn't put that kind of money into Black acts in those days. You almost had to have been a Chuck Berry or Fats Domino or Little Richard or Jackie Wilson or James Brown. Those were the big guys back in the day, in the early '60s, '70s and '80s. Those were the guys that got the attention. Then Motown came along and The Temps and The Miracles and The Marvelettes and Martha And The Vandellas, who had huge records, and The Supremes. How could I forget them?

Q - They were probably the biggest of the acts you mentioned because they really crossed over.

A - Yes. That was the thinking back in the day, to record something that would cross over. Everybody, all the Black acts talked about the crossover. If you could get the crossover then you could really max your sales, really max your concerts out because you are having everybody participate. Everybody's buying your product. Everybody's coming to concerts. It didn't happen for The O'Jays until after. Yeah, we had crossover records like "For The Love Of Money", certainly "Love Train". But that real crossover didn't come for us until we were inducted into Rock Hall and that was in '05. It's 56 years now. In '05 it was a little over 50 years.

Q - Eddie (Levert) said, "We know what we want to say, but we can't write it down. We just hum and hope. When we were growing up and going to school, we all wanted to be stars." When you inked that record deal, you were not writing your own material, were you? Somebody was bringing you songs? Did you have an arranger who told you this is the way we want you to sing this song?

A - There's somewhat of a misconception here. When we first started, we did write our own material. That's when we signed with Sid Nathan at King label. There was two guys he brought into the room. He signed us on the spot. One guy's name was Glover. They produced it and when the record came out they were the writers. They got the publishing. Something happened in that transition and what we noticed was, back in those days if you didn't know to be affiliated with ASCAP or BMI, no one told you. You would look up and people would be publishing your songs and taking part writers of your song and if you didn't know any better, it just happened. That's what happened back in those days. When we started getting hits, there was a group, The Poindexters. They were writers. George Kerr was a guy who worked for Bell Records. He was a producer. He produced us on "I'll Be Sweeter Tomorrow". Linda Jones came in later and had a huge hit with it. But he did things like "Look Over Your Shoulder", "I Dig Your Act", "I'll Be Sweeter Than I Was Yesterday" and that was a hit for us on Bell. But they brought us those three songs. Now, when we got with Gamble And Huff, they had a team of writers. We would go into Philadelphia and stay there four to six months. We would review at least 150 songs because they must've had probably 10 teams of writers, but the same writers would outshine everybody each time. Of course Gamble And Huff was going to have the majority of songs on the album and then there was Bonnie Siegler, who got two or three songs on the album and then there was McFaddon And Whitehead, who got the remaining. Those days, of the ones we listened to over that period of time, we would narrow it down to maybe twenty. Then we would go over it again and that would get narrowed down to ten. In those days probably eight to ten songs got on and album. Probably five or six of them were Gamble And Huff songs and maybe two or three apiece were McFadden And Whitehead and Bonnie Siegler songs. We had to fight to get at least one or two songs per album as writers and producers and publishers ourselves. Eddie and I wrote. We always wrote, way back in the day with H.B. and Gamble And Huff. They did not want us to be writers. They wanted us to be artists. That kept us out of the publishing money, the writing money, producing money. They had us where we were only getting artist royalties. That's not the game. The game is to get it all if you can.

Q - That's where the artists of today are making up for the artists of the past.

A - That's right.

Q - Did you play an instrument? How would you write your songs?

A - What we would do is, in our hands... I could play a little bit of piano, a little bit of guitar, just enough to get a chord structure down, and then give it to the Band Director. Back in the day it was Russell Evans. He was a guitarist. Very good. He stayed with us until he passed in San Diego some years ago. Then, we got with Dennis Williams. Dennis Williams is an accomplished musician. He's a writer. He's an arranger. So, you get an idea and you go to these guys. You put it on tape and then you work it out. You make it the best song you can possibly make it, structure wise. That's how we were able to write and get into the studio and produce it, and then take care of the paperwork, the business side of it when you get out of the studio with your attorney or with your manager. That means making sure that the writing is in your name and you were a member of B.M.I., Broadcasters Music Incorporated, or you were a member of ASCAP, which is a more sophisticated songwriting entity. But you would get with them and make sure the publishing and writing and all of that was correct. Now, most companies and Philadelphia International was no different, they wanted to be the ones that administered the publishing for a small fee. (Laughs)

Q - There's always someone with their hand out.

A - Yeah. (Laughs). The crazy thing about artists trying to get into the business is you don't want to make waves. You don't want to piss nobody off, so you go for a lot of bullshit you really shouldn't go for. Business is business is business. That's the approach you really should have. Back in those days, a lot of people were involved in a lot of different things. You had to walk lightly if you wanted to be in it at all. They basically controlled it. Hey! They control it now! They got people in New York programming radio in Cleveland.

Q - With record companies today, the few that are still in business, not only do they want your publishing, they want your merchandising as well! That was unheard of years ago.

A - Yeah. I'm hearing about that, but you know what? That was never an issue with The O'Jays and I don't think an issue with most Black R&B acts. We don't sell that much merchandise. Probably Michael (Jackson) did. Probably Prince does. Maybe Beyonce and Jay-Z sell, but what I'm hearing and seeing sometimes on different shows and concerts that come in and out of Vegas, in Cleveland and New York, acts like 'N Sync , acts like Backstreet Boys, even Beyonce, sell tractor-trailer truckloads of merchandise. (Laughs)

Q - They do.

A - Yeah, they do. We may have, at the height of our career, probably sold maybe a couple of thousand of dollars worth of merchandise per night when we were out touring with The Commodores or Al Green or whoever we were working with those days. But we never, ever to this day, sold huge amounts of merchandise and I don't know of any Black acts other than Michael Jackson or Prince or someone on that level that sold that kind of merchandise. We certainly did not. Never have. It's a big difference. It's a huge difference in the audiences. Black people come to concerts; they concentrate on dressing, nails done, hair done, sharp. They are the show themselves when they come to concerts. They don't care about stuff like that. They'll take a picture with you or stand in front of a big poster you might have out in front with a cameraman and take pictures. Other than that, they couldn't care less about that kind of stuff. They don't buy merchandise like that.

Q - Did you guys do backing vocals for Nat King Cole?

A - Yes, we did. That happened throughout H.B. Barnum. His sister Billie sang background for Nat Cole. So, I got a chance to see him at Disneyland, perform at Disneyland because of H.B. and H.B's sister.

Q - He was a big star! Wasn't that a memorable experience for you guys?

A - Well, he was never in the studio. I met him at the theater when he was performing at Disneyland. I did get a chance to meet him, but he was never in the studio while we were doing the background parts to two songs they wanted us on.

Q - Which two songs with a have been?

A - Oh, my God, I don't remember. It wasn't anything that was a big hit for him. I would remember that.

Q - There were two occasions when The O'Jays almost threw in the towel, 1965 and 1972.

A - 1965 must of been when Billy Isles quit, because we were in North Carolina working. He got a call from his wife-to-be at time and she was having problems. He said he was going to have to straighten them out and he would be back. He never came back. He called us to say he wasn't coming back. That was a blow because it was five of us at the time and we had to make some really, really big changes to keep his part and fill the void that he left. And he still hasn't come back. We're still friends. I saw him at an outing. We had a scholarship outing and we play golf and do all that stuff to raise money to help kids with their education. He came to that to play golf. I saw him then. I hadn't seen him in probably, some years. In 1972, Bobby Massey quit because he wanted to be a writer and a producer and Gamble And Huff said no, that's what they did. They were the production company between us and CBS with Philadelphia International. He quit and they tried to get him to come back and he came back for a job or two, enough to put some money in his pocket and he quit again. That's the point he was trying to drive home. He wanted to write and produce and they said no. That's when all of the success happened. We were with them before '72 and we had songs out like "One Night Affair" and "Someone Is Waiting Back Home" because of the war that was going on. Those records didn't happen. I think they didn't happen because the distributor was Leonard Chess out of Chicago, Chess Records. It didn't happen. We went into a huge, huge lull in between records and not having anything being played on the radio, even locally. So, it wasn't until 1972 that Gamble And Huff signed a distribution deal with Walter Yetnikoff up in CBS. That's when things got back on track again. One of the first things out was "Back Stabbers" and "Love Train". "Love Train" did phenomenal sales in about two weeks. It was just off the chain and went on from there. We had some really special people back in those days that loved us like Jerry Blavat out of the Philly area, Murray the K out of the New York area and Casey Kasem out on the West coast. And you know, we worked with Bob Eubanks. We worked with Wink Martindale. They were both jocks.

Q - Strange that you should mention Jerry Blavat. He really put down the early Beatles. I found myself in this rather strange position of having to defend the most popular band there ever was. He called their music "bubblegum." He knocks songs like "I Want To Hold Your Hand" and "She Loves You".

A - Lyrically, those songs were very well structured and the lyrics really meant something. Those lyrics weren't bubblegum. Here's what got The Beatles over big time, no one had ever seen how they dressed in England, what the fads were and the style. When they came out with that long hair and the way they dressed, those suits they had on with those kind of collars and boots that they wore. That's what got them over. Girls loved it! And showed you how much they loved it. They went nuts.

Q - Jerry Blavat also said it was not hard to get The Beatles airplay on American radio. I disagreed with him on that as well. It was difficult to secure radio airplay for those guys in the beginning.

A - I heard that same thing because their music was different. They had no idea how it would catch on, but the visual thing made it catch on. Once the girls in this country saw The Beatles and what they looked like and how they performed, the rest is history. They went nuts.

Q - Do you have any new recordings you incorporate into your shows?

A - We've done some new recording. Some years ago we did a whole album with Matthew Knowle, Beyonce's dad, when he had his record company. There was a record company out of England he put us with. Well, it never happened. Since then we've done some other things. I put out a solo album. Eddie put out a solo album. Eric (Grant) has a solo single out right now. They are doing okay. Nothing spectacular, but at 70 years old I'm into the twilight time of my career.

Q - Mick Jagger is 71 and he's still touring and recording.

A - Eddie's 71. He'll be 72 on June 16 (2014). My birthday is August 25 (2014). I'll be 71. So, I still feel the fire. I still have the fire in my gut to go out and do it because I love performing. I love performing for people who appreciate it. I'm seeing bigger crossover crowds now than I've ever seen the whole time we've been doing this. I'm seeing three generations of families like the grandma that's my age, her daughter and then her kids. It's a real honor. There is no compliment bigger than that, to see three generations of family at your concert and enjoying and having a good time. What they say is, "My mother played this for us when we were kids. We cleaned up the house on this music." That kind of thing. Some of the guys will say, "On some of those ballads, my kids were conceived." And that's a huge compliment. So, I'm seeing the big payoff right now. I think we could have done more if we could have gotten into the visual, TV, movies. Fighting Temptations was not enough. We should have done more of that kind of stuff, but you know, I'm thankful because there is a true blessing in what O'Jays brought to my life, from a family of a lot of children in Canton Ohio and not much direction other than Republic Steel and Diebold Safe And Lock. Those were the jobs. (Laughs)

Q - I bet they're not even there anymore.

A - They're not. (Laughs). They're gone!

Official Website: TheOjaysHomepage.com/



© Gary James. All rights reserved.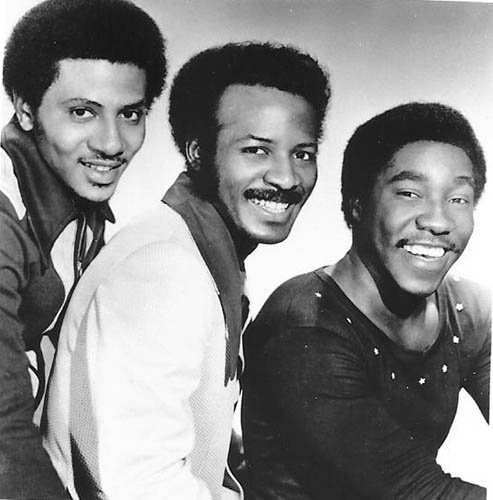 The O'Jays