Her first "hit" was "Midnight Blue". That was in 1975. In 1978, she co-wrote a hit song with Kenny Loggins that Loggins recorded. That song was "Whenever I Call You Friend". In 1979 she enjoyed a Top 10 hit with a Peter Allen song, "Don't Cry Out Loud". In 1972, she won a Grammy for Best Female Vocal Performance for "You Should Hear How She Talks About You". We are talking of course about Melissa Manchester.

Melissa Manchester spoke with us about her career, including the new CD she's recording.

Q - Melissa, you did this workshop and master class at the Fox Hill Grands Rave Center. What did that entail?

A - I'm an adjunct professor at the University of Southern California on a regular basis. What I teach is what I call the Art of Conversational Singing. I teach performers / singers / songwriters how to invest the most emotionally in their songs and really start to rethink a song as a monologue so that if you are blessed enough to be identified with a song over a really long time, you're not just singing a pile of words, you are really understanding what you are looking for and what you want the experience to be. So, it's interesting to work with people who are just at the beginning of their adventure. I didn't know a lot of what I know now obviously. To be able to share what I learned is fascinating. What I have found is that I have learned much more, I think, than I teach. (Laughs)

Q - Can you really teach someone how to write a song?

A - I don't know that you can teach someone how to write a song, but what you can do is take what they've written and start a discussion to help them see how much further they can think about their idea, how to bring some clarity to this idea, how to bring some structure to the idea. The thing that I bring to that discussion is that when I started writing in the '70s, I was part of that Bridge generation of singer / songwriters, sort of that first wave. We were the bridge between songs that were melody driven and songs that were rhythm driven. And now, most songs are rhythm driven and so it presents a challenge in so far as phrases being shortened and repeated and repeated, which makes it more difficult to develop a lyric or melodic ideas. Not impossible, it just takes a little bit more compatibility to figure out what that actually means. So, it's really, really interesting.

Q - You are also a part of America Celebrates The Piano master classes. How much of the role did your piano playing have in your success?

A - Well, I write on the piano. That's my instrument of choice. But what I find is, I try to write away from the piano because your hands go to a familiar pattern. I really try to write the melody first and then force my brain to find different harmonics.

Q - Are you one of these songwriters who treat songwriting as a business? That is to say, you get up at a certain time and go to an office to write, or does inspiration strike at any time?

A - Well, that's an interesting question. The business end of it is something I've only recently been in the driver's seat of. I realize that just because you're an artist, you cannot forfeit that part of your world because it's the engine of your world. You have to make sure that the people you would enlist to help you know what your wishes are. As far as writing, when I was first starting when I was 17, I was writing every day because it was like a faucet. It was like an alternate voice. It just kept coming and showing up. Everything was fodder for a new song. As the craft has taken over, I absolutely do get inspiration. The thing about inspiration is it's like an itch. It's absolutely identifiable. Yes, I could go to the piano , but there's something about being driven by a specific idea. It creates its own energy. You follow that energy until it's finished and that's the way it works.

Q - When it's written that you were "discovered" by Bette Midler and Barry Manilow, what does that mean?

A - The truth is we all discovered each other. Barry and I knew each other from singing jingles together along with a lot of other great talent. He asked me to sing on a demo of his and I did. Then he introduced me to Bette and she came to a show of mine. She had just been on the Carson Show. She said she was getting ready for her Carnegie Hall concert. I said, "Are you going to be having background singers?" She said, "I don't know. Would you like to sing in back of me?" I said, "Well, actually I'd like to sing instead of you, but I'll be happy to organize some background singers." And I did. Originally they were called MGM. Then they were called The Red Light District and finally they were called The Harlottes. I was a Harlotte for six months and then I went off on my own. It was a brilliant, really a moment in time to see her at the beginning of her rise. She's magnificent.

Q - How important of a role did Clive Davis play in your career?

A - Well, he was the President of the record company that I was under contract to for 12 years. I think in the beginning he really seemed to get me and what I brought to him because Arista and Clive inherited me from Bell Records. He took me and Manilow and Tony Orlando And Dawn. You know he brought me "You Should Here How She Talks About You", which is lovely and that turned out very well. But, as time went on and the landscape of the recording industry starts to change in the early '80s with the introduction of electronics and the milieu really becoming more of the producers milieu as opposed to more of the artist being spotlighted, we started to butt heads. I respect him immensely, but I was there too long I think.

Q - How long did it take to write "Whenever I Call You Friend"?

A - It took an evening to write "Whenever I Call You Friend". Kenny Loggins and I had kept meeting each other as we were co-presenters on a lot of TV award shows. He finally came over to my house and we wrote "Whenever I Call You Friend". He went off and recorded it with Stevie Nicks. It became, I'm happy to say, a classic.

Q - Did you contribute both lyrics and melody?

A - Well, we sort of both wrote everything, and I helped with the structure a bit as I recall, but yeah, it was fun. It was a lot of fun.

Q - Your songs were featured in an exhibit at the Lymon Allyn Art Museum. What kind of an exhibit was that?

A - It was a three-part exhibit. It showed the use of words in art. It had one of the artists's words as part of her oil painting and another artist had a more developed approach to the use of words. And then there was me. I write out stuff, pencil on paper. So, the curator took manuscripts of mine and matted and framed them beautifully and it was so interesting to see the entries in my notebook taken out of the spirals and hung on a wall. You actually saw my process for all the world to see. You saw my scratches, things crossed out. It transcended the form I was familiar with, which is an entry into my notebook, to a kind of other art. It was something to look at. It was really fascinating. I was delighted to be a part of it.

Q - You were on The Midnight Special. Did you like being on that show?

A - Oh, that was great. Oh, sure. It was one of those early forms of a variety show morphing into a more modern presentation. The audience got a chance to see a lot of artists 'live' right next to each other on one stage. Don Kirshner was a visionary. It was so cool.

Q - There has never been any scandal connected with your name. I sense that's because at a very early age you knew what you wanted to do with your life. Would that be a fair statement?

A - Yes. I absolutely knew what I wanted to do from the time I was five years old. I just had to get big enough to get to it. But, I also was raised in a very creative household. My dad was a bassoonist with the Metropolitan Opera. I knew that every year he would go on tour for six weeks and then come home and resume his position in our lives. My mother was working and my sister and I were encouraged to have our dreams. We had a very strong family bond. Once I started going on the road and realized how exhausting this life really was and in order to actually do your work, your performance on stage, for me I really had to take care of my energy. I had to really take care of my voice. I'd allow myself to party, but only on nights when I knew I didn't have a gig the next day. That registered clearly to me. When I would hear about people that would go on stage drunk or party and do this the next day, I thought I don't know if I can do this. (Laughs). It's really hard if you're going to honor the audience because they are the ones coming to see you and putting out good money to do that. You have to be fully present unless you have a fever and you're obviously sick. To actually indulge in abusive self abusive behavior is just cuckoo. (Laughs)

Q - I sometimes wonder if all of these stories of Rock stars "partying" are just that; stories.

A - No. Look at the catastrophes of Janis Joplin and Jimi Hendrix. Before that, look at Billie Holiday and Judy Garland. These were catastrophic ends and of course that's part of their aura and the fact they are frozen in time for the rest of eternity. My goal was simply to do this for as long as possible. There's just no better way to make a living. (Laughs). It's just fantastic. I am as hungry to do this as I've ever been.

Q - To preserve your voice must be very difficult these days because you are called on to talk more to promote whatever project you're working on.

A - Well, that's not necessarily true. I mean, I understand your point. That's really apples and oranges. The key that's different that's much better is nobody is smoking in the showrooms anymore. When I was starting in Vegas everybody was smoking everywhere and they'd put the high rollers right by the stage and they were blowing real cigar smoke up to my voice; it was impossible, but you did it. Now, it's more excepted that people are not smoking. It's more excepted if I ask a theater manager to turn down the air-conditioning offstage and let it be on the audience because those are the elements that are irritating to me. It's not that I'm trying to be difficult. I just know what I require to work. I've gotten to a point where I'll say to them, "If you can't do it, just tell me what it is you can do and I'll stop asking questions."

Q - I would think something like that would be straightened out before hand in your contract by your management.

A - You just never know the elements. I certainly have clauses in my contract, but there are certain elements you're just not aware of.

Q - You have a new CD out?

A - I'm actually in the middle of recording a new album called, "You Gotta Love The Life". This has been very interesting. We are halfway through it. Because of my students down at USC, I have learned about the concept of Fan Funding, which has really redesigned what the marketplace is as far as I'm concerned. I just finished an Indie Go Go campaign. Indie Go Go is a fan funding site. So, I have enough funds to do this independently to finish the album and hopefully get a PR campaign going and release "You Gotta Love The Life" in Spring or Summer (2014). What's been fascinating about this is that I've learned fans aren't just interested in the product at the end, they're so deeply interested in the process. It's just been fantastic for me to share with them. It's created its own energy. We have this through Facebook, this ongoing dialogue of what I'm up to in the studio. We do videos of what it looks like in the studio. Part of the Indie Go Go contribution campaign was that whatever people would contribute, they'd get a different premium. Some people would be coming down to the studio. Some people will be able to sing on stage with me when I'm in their area. The single, if you go to my website, Melissa-Manchester.com, there is a free downloadable gift to my fans. It's just been fantastic. It's a new age and for my students who taught me about this, this is the only way they do business. I don't even think of trying to get a record contract. So, it's wild.





© Gary James. All rights reserved.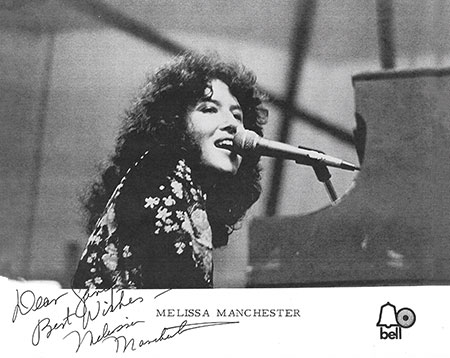 Photo from Gary James' Press Kit Collection