Liverpool, England is bes know as the birthplce of The Beatles. Also born in Liverpool was Beatles' manager Brian Epstein. In honor of Brian Epstein's contribution to The Beatles' success, the city of Liverpool has renamed The Neptune Theatre to The Epstein Theatre. Josh Rowe is the Marketing Manager of The Epstein Theatre.

Q - Josh, it's your job to sell The Epstein Theatre to prospective promoters, clients and artists, right?

A - Absolutely, yeah.

Q - This theatre only holds 380 people?

A - 388, but we're looking to expand that to hopefully around 420.

Q - Even so, that kind of limits the kind of acts that can perform in the theatre, doesn't it?

A - It does, but I mean, you think it would, but we get a lot of acts that you'd probably think are way too big for the theatre. One of the great things about us is we do get these big acts but we're still small in quite an intimate space, so you can see these really big names, but not be hundreds of feet back where you can't see them. We get great bands. We get great comedians. Exciting stage plays of all kinds.

Q - Is there any evidence that Brian Epstein ever saw a show at The Neptune Theatre?

A - To me honest, that is something we've really been looking for. There isn't any connection between ourselves and Brian Epstein. The reason for that name is because the name was actually picked by the Liverpool City Council, who were the ones who actually owned the building. They picked the name because of the massive contribution t creative art in this city. We really needed something that was big and a fitting momument to him. So that's why it's name The Epstein Theatre. We have investigated whether or not there are any tangible links between the two, but unfortunately we can't find any evidence of him being involved in the theatre or The Beatles involved with the theatre.

Q - Do you have evidence that The Beatles visited the theatre in the 1960s?

A - There are stories I think. If I remember correctly I've heard it said that Ringo Starr came in here to see a couple of shows, but in terms of hard evidence, once again we have looked, but we can't find anything.

Q - Do you know if Paul or Ringo has visited the theatre since it's been re-named The Epstein Theatre?

A - No. There is a connection, quite an interesting one. Joe Flannery, who was Brian Epstein's partner, he frequently visits the theatre. He's a good friend of ours and i'm personally on good terms with him. He always comes in for drinks and says hello. He's currently talking of maybe even putting on a play of his own in the theatre.

Q - What kind of a play would that be? Something related to The Beatles?

A - It's still kind of under the wraps in development, so I don't want to give too much away. It's sort of a story of the other side of Brian Epstein that we haven't heard so much about, the side that only his close friends and family saw and Joe's history with him and Joe's story. I don't want to comment too much on it 'cause it's still in the works.

Q - Who runs The Epstein Theatre?

A - The theatre is owned by the Liverpool City Council, but it's run and operated by Rebecca and Dave Pichinci.

Q - I realize the older people in Liverpool know the name Brian Epstein, but how about the younger people? Dp tjeu ever ask why is the theatre called The Epstein Theatre?

A - Brian Epstein is a name known to all Liverpool, even people who don't like The Beatles. They still know who Brian Epstein is. I've never encountered anyone from Liverpool who doesn't know who he is.

Q - When George Martin died recently, Paul said George Martin was the fifth Beatle. I would say without Brian Epstein there would have never been George Martin in the picture. So if anybody is the fifth Beatles it's Brian Epstein.

A - Exactly. He's the one who put everything together, wasn't he? That's why it's important that his name is up in enormous letter over our front door. It's fitting in terms of both of what it represents, a theatre and music venue and also sort of the size of it. We feel it's better than just a statue to have the whole building named after him.

Official Website: www.EpsteinLiverpool.co.uk



© Gary James. All rights reserved.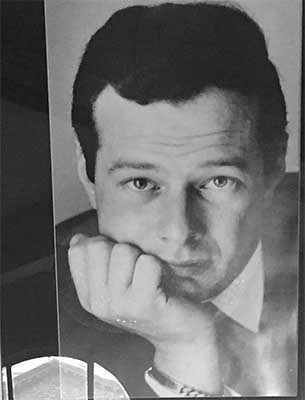 Brian Epstein