He was a member of the 1960s San Francisco group, Jefferson Airplane and later Hot Tuna. Rolling Stone magazine calls him the 54th greatest Rock guitarist of all time and the 16th greatest acoustic guitarist. We are talking about Mr. Jorma Kaukonen.

Q - Jorma, let's start off by speaking about the present. Are you a solo artist? Are you still with Hot Tuna or both?

A - (Laughs). Both. Jack Casady and I have never quit playing. We are just getting ready to go to Finland. Depending on what's happening, we do at least 100 jobs a year, sometimes more. My solo career is not truly solo. It usually involves me and Barry Mitterhoff, who plays mandolin, tenor guitar and a bunch of stuff. He also plays in Hot Tuna. So, the answer to your question is both.

Q - Finland. That's a place where I haven't heard too many musicians talk about lately.

A - Well, I went year before last. They love their music over there. The big-name stars probably don't go there much because there's not a lot of money to be made by playing there. But it works for us. We are doing two shows in Helsinki and then I'm zipping straight to San Francisco to do a benefit for Wavy Gravy Save A Foundation.

Q - Would you say the marketplace for 'live' music is better overseas than it is in the States?

A - Right now, for me I would have to say it's better in the U.S. I've been going to Italy at least once a year for the past 30 years. Let me tell you, the economy is even worse than ours. So, we didn't get to go this year. There is no money there. The really big names that do these soccer stadiums, it doesn't seem to impact them much. For me, I love traveling around but I think the U.S., certainly monetarily, is kindest to me.

Q - As a teenager, you and Jack Casady were in a band called The Triumphs.

A - Correct.

Q - What kind of music were you guys playing back then?

A - Oh you know, we just played simple stuff like Buddy Holly, Chuck Berry. Baby steps Chuck Berry. We didn't play in B flat or anything like that. Bo Diddly. What ever was on the popular radio in 1958 that we could actually play, we played. Conway Twitty.

Q - In 1962, you moved to San Francisco and were giving guitar lessons.

A - Right. That is correct.

Q - At that time you had no ambition to join or form a band.

A - It never crossed my mind. That puts it pretty succinctly. I had no ambition to join a band.

Q - Did you think you were going to make a living being a teacher then?

A - Well, I was also gigging a lot too, but I was making a nice living being a teacher. I was just talking to somebody yesterday, I continued to teach through the first year of Jefferson Airplane and I made more money teaching that I did with the band.

Q - That would've been what year?

A - ' 65.

Q - You came up during a time when everything was new.

A - Right.

Q - Everything was different and exciting. You couldn't call it a Rock industry because there was nothing.

A - There was certainly a Pop industry. We were just talking the other day about the perceptions of whatever the San Francisco sound was. The San Francisco sound was a state of mind more than a sound. I think all of us wanted to be successful as professional musicians, but none of us had the professional expertise to fit into the slots like some of the L.A. groups did. We didn't know about recording. We were just extremely unprofessional basically. Strangely enough in this case it accrued to our benefit.

Q - To expand on the San Francisco sound answer, there was always reference made to the San Francisco sound of 1966, 1967, 1968. But Jefferson Airplane had a different sound from The Grateful Dead who had a different sound from Creedence who had a different sound from Janis Joplin and Big Brother And The Holding Company.

A - Or Quicksilver or any of those bands. I know what people mean when they say that. It's not like when you think about Gerry And The Pacemakers or Herman's Hermits and all those English bands that sort of were springing from the same well. Like I said, the San Francisco sound is a state of mind and I don't think any of the bands that became known out of San Francisco sound anything like each other at all.

Q - You were on friendly terms with the other bands?

A - Oh, sure. Absolutely. What happened was, San Francisco in the early '60s, while it was still Folk and Jazz, it was a small community. Everybody knew each other. Everybody was very friendly and very supportive. Nobody was in the "music business" yet. We all played music and supported ourselves, but the industry thing hadn't reared its head and so everybody was really friendly.

Q - Would someone like Jerry Garcia come out to watch your band and then you'd go out to see his band?

A - Absolutely.

Q - Did you meet Jim Morrison or Jimi Hendrix?

A - I'd met them. We toured with The Doors and I'd met Jimi, but to say that I knew them would be a stretch.

Q - With Janis Joplin, you actually performed with her.

A - Yes, I did know Janis. That's one of the things I'm quite proud of. I was blessed to be a part of that. People go, "Well, you played with Janis!" Janis had a lot of people that factor in the early '60s because she was a singer. She could play, but she was really a singer. Whenever she would come down to the Peninsula there for a six-month period or something; I lived in San Jose not San Francisco and she needed somebody to back her up down there. I was more than happy to get the call. I got to know her sister a little bit and Laura said that Janis was constantly reinventing herself, but the Janis I remember, that I knew, was the "Folk / Blues Janis" and she was dynamite.

Q - You played clubs with her.

A - I did.

Q - Did you to make any money at the time? Were you passing the hat?

A - No. We actually got paid. Not much. I can't remember what I got paid with Janis. Janis was supposed to do a gig at The Tangent, which was a club in Palo Alto and I drove up to play with her and she didn't show up and so I got to go on and then I worked The Tangent all the time. So, thanks Janis. We actually got paid. I remember there was a weekend I worked the Folk club that had something to do with San Jose. It was a great weekend to me. I made $75. I felt so good, I took all my friends out to IHOP after the gig Saturday night. Good times.

Q - Was that $75 for one night?

A - No. For two nights. That was big money.

Q - What year was that?

A - That would've been '63, '64.

Q - Did you ever look at Janis and say to yourself, "This girl's got it. She's gonna be a star one day!"

A - Absolutely. No question about it. It was absolutely obvious.

Q - Did she ever talk to you about wanting to be a star?

A - Not to me. We just played music.

Q - When Jefferson Airplane became so popular, did you enjoy the popularity?

A - Oh, of course. Look, we weren't kids. I was 25 years old when The Airplane started to happen. But you go from, not that we were nothing, but we were nothing and you go from being these regional, smalltime celebrities to being national and subsequently international stars. It was unbelievable. We enjoyed it.

Q - Did you like the road?

A - I always liked the road. My dad was in the service and I grew up traveling all the time and the road was always comfortable for me.

Q - You didn't acquire all the bad habits that most musicians acquire, did you?

A - I acquired all those bad habits, but luckily I grew up.

Q - And grew out of them.

A - I did.

Q - Was it a hard adjustment for you when The Airplane ended?

A - No, because Jack and I had already started Hot Tuna and we sort of just slid into that from The Airplane. The transition was very gentle.

Official Website: JormaKaukonen.com





© Gary James. All rights reserved.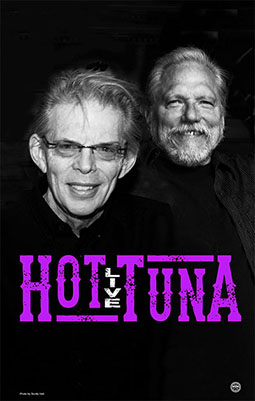 Jack Casaday and Jorma Kaukonen