Gary James' Interview With
Jim Weatherly









In 1974, Jim Weatherly was named NSAI (Nashville Songwriters Association International) Songwriter Of The Year. One look at his credits and it's easy to see why. Steve Wariner, Dan Seals, Linda Davis, Marie Osmond, Bill Anderson, Charley Pride, Eddy Arnold, Dean Martin, Johnny Mathis, Peter Cetera, The Indigo Girls, Lee Greenwood and Kenny Rogers have all recorded Jim Weatherly songs. Jim's songs have earned him more than 30 ASCAP writer awards.

His self-published song, "Love Never Broke Anyone's Heart", which he co-wrote with Vince Gill, is on Vince's "I Still Believe In You" album and has sold more than four million copies to date. Jim also teamed up with Vince Gill to write "If I Didn't Have You In My World" for the double-platinum "Pocket Full Of Gold" album. "A Lady Like You" was number one on the country charts for Glen Campbell and "Where Shadows Never Fall", also recorded by Campbell, won Jim his first Dove Award. Bryan White had his first number one Country hit with Jim's "Someone Else's Star". Jim also co-wrote "You Know How I Feel" with Bryan for his debut album.

Jim's songs have not only become popular standards, but also crossed over to R&B, Country, Gospel and Jazz. "Neither One Of Us Wants To Be The First To Say Goodbye" was a number one Pop / Soul hit and won a Grammy for Gladys Knight And The Pips. The next year, it became a Country hit for the late Bob Luman. "The Best Thing That Ever Happened To Me" was a number one R&B and Pop hit for Gladys Knight And The Pips and later became a number one Country hit for Ray Price.

The song that Jim Weatherly is probably best-known-for is "Midnight Train To Georgia". It became a number one hit in the Pop and R&B charts and helped Gladys Knight And The Pips win another Grammy. Jim was also nominated for a Grammy as a songwriter in the R&B category. On his own, Jim's recorded seven albums. His song "The Need To Be" reached number six on the Pop charts during the mid-70s.

Have we left anything out? We'll let Jim Weatherly fill us in.

Q - Jim, you base yourself out of Nashville?

A - Yes.

Q - That's the songwriter's capital of the world today is it?

A - Well, it seems that way. They're all over the place down here.

Q - It used to be Los Angeles, now it's Nashville.

A - They're still writing real songs down here. (laughs) I'm not sure what they're writing in other parts of the world.

Q - Does that mean you're playing your songs with country artists?

A - Yeah. I've written several country hits over a period of years. But, I write all kind of songs, so I try to place them with whoever.

Q - You do that yourself or is someone helping you?

A - Well, I do it myself and then I have some people that plug my songs at times. It just kind of depends on what the climate is like, whether or not I've hired a song plugger or not.

Q - It's kind of tough to pitch songs to the top country artists like a Toby Keith or Alan Jackson, because they write their own material, don't they?

A - Yeah. It makes it hard, but there's still enough out there that don't write their own material. I don't really write a lot of songs that Toby Keith or Alan Jackson do anyway. I just have to find the kind of artists that are looking for the kind of songs I write.

Q - Do you remember the first song you ever wrote and what was it about?

A - Yeah. It was a song called "I'm A Fool". It was just a dumb little thing like you would hear on the radio at the time. You know, one of those four chord progression things that was big back in the 50s. The lyrics didn't make any sense. (laughs)

Q - You gotta start somewhere.

A - (laughs) But, it was a start.

Q - How old were you when you wrote it?

A - You know, I don't remember. I feel like I was around twelve or thirteen.

Q - Is songwriting something that you can learn or is it a God-given gift?

A - To me, real songwriting is a God-given gift. By real songwriting I mean people that can sit down and have the inspiration to write a song all by themselves. You can learn the craft of songwriting and still not be able to write a song by yourself. You may need the help of a lyricist or you may need the help of a composer. Also, what you're getting from a craft is a mental thought process rather than an emotional...rather than sheer emotion. So, I've always tried to write things that are real, honest and true and have some kind of emotional impact on people. In order to write real songs, you almost have to be able to write them by yourself. That's the way I look at it.

Q - So, you don't use a songwriting partner do you?

A - Yeah. I do. I've co-written with several people and had hits. The songs I think may have more of a commercial quality that way, but, they're not as inspirational or not as emotional. They're more manufactured.

Q - You were a quarterback at one time. I've run across this a couple of times in the past, but it's still unusual for an athlete to be interested in music that much, isn't it?

A - Well, I don't know that that holds true so much as now. At the time I was doing it, everybody thought I was a freak of nature.

Q - There you go.

A - But, it just came naturally for me. I was blessed and given the gift to play sports and given the gift of music. I did both. Of course, my high school coach didn't like it much at the time. (laughs)

Q - I've heard that before too.

A - You know today, Toby Keith was an ex-athlete. I think there's a lot of athletes out there today, they just don't talk about their careers 'cause it's not a big a thing as is used to be.

Q - I've always felt that jocks looked down upon musicians.

A - I've never felt that way. A lot of the guys in my band in high school were athletes. I never ran across that one.

Q - At one point, you enrolled in acting school. You were toying with the idea of becoming an actor as well?

A - Well, you know, that was kind of iffy. I didn't know if I wanted to act or not, but I'd had some success musically and I was looking to see what the next step was. I thought, well, I'll try this and see if it's something I like. I enjoyed the process of learning and learning what the acting process was. I kind of think that detective work helped me in my songwriting some. But, it's slower. It's like trying to go out and get jobs and reading for roles for movies that I really didn't like. Scripts and things. That's where I couldn't handle it. I didn't like going out and reading for things. Everything being so subjective anyway. What gets you the part? Did you do a good job or is it the color of your hair? Or, was is your size? Were you 6 feet or 5 foot 4 inches? In a lot of ways, it's the same thing as when people pick a song. I have no idea why people pick the songs they pick. I understood it when people record a song of mine that I think is great and I don't understand it always when I hear a song that I don't even like that much, that gets recorded or some of the things I hear on radio. I don't know.

Q - What song of yours did Dean Martin record?

A - He recorded "You're The Best Thing That Ever Happened To Me".

Q - How did that song do for him?

A - Well, it was the title for one of his albums in the 70s. It's out on CD right now, about four or five packages. I don't think it was released as a single. Back in those days, a lot of your singers would record songs that were hits. "Your The Best Thing That Ever Happened To Me" was recorded by Andy Williams, John Davidson, Steve Lawrence. A lot of those guys recorded outside material back then.

Q - Did you ever get to meet these people or did you hear about the recording of your material later?

A - Well, some of 'em I met and some of 'em I didn't. I never really met Dean Martin, if that's what you're asking. I was a big Dean Martin fan though. I was always a fan of his and still am today.

Q - Gladys Knight had a lot of success with your songs. Why would that be? Did you write the material with her in mind?

A - No, I didn't. I really wrote the songs just because they kind of came to me the way they did. I thought really in a way, they were more or less like Country-Pop kind of things, like Glen Campbell was recording at the time, or B.J. Thomas, somebody like that. I really kind of fine-tuned my songwriting after I met Jimmy Webb. I met Jimmy Webb in California back in the late 60s and heard some of the things he was writing and it just absolutely stunned me. I'd never heard music done that way before. It was so beautiful, yet so earthy at the same time. So, that was a big influence on how I wrote although I didn't try to copy his style or do exactly like he was doing. But, I tried to find the richness in songs and do 'em in a way that they felt real honest. I think probably that's what Gladys heard in some of my songs. They felt real honest to her.

Q - Were you at all influenced by any of the British groups that came to America in the early 60s?

A - When you say influenced, I don't see how you can not be influenced about what you hear on the radio. I was influenced from a very young age by people like Dean Martin, Eddie Fisher and Perry Como and then Hank Williams and Patsy Cline. All of the people who were in that country genre then. Then Elvis came along and the British Invasion came along. I had a band and we played all the hits of the day. Yeah, I'm sure I was influenced, although it wasn't as much of a direct influence as Jimmy Webb.

Q - How long did it take you to write "Midnight Train To Georgia"?

A - Actually, that song was originally titled "Midnight Plane To Houston". It actually was a slower song and again it was more the kind of thing I thought Glen Campbell would cut, 'cause he was doing all those city songs. But, the song actually came about after a phone call I had with Farrah Fawcett. Lee Majors was a friend of mine. We'd played in the Flag Football League together in L.A. He had just started dating Farrah. One day I called Lee and Farrah answered the phone. We were just talking and she said she was packing. She was gonna take the midnight plane to Houston to visit her folks. So, it just stayed with me. After I got off the phone, I sat down and wrote the song probably in about 30 to 45 minutes. Something like that. Didn't take me long at all, 'cause I actually used Farrah and Lee as kind of like characters I guess. A girl that comes to L.A. to make it and doesn't make it and leaves to go back home. The guy goes back with her. Pretty simple little story, but it felt real to me. It felt honest to me. I played it for them and they loved it. I cut it on my first album as "Midnight Plane To Houston". And then later on, I don't know...maybe a year or something like that or six months later, a guy in Atlanta wanted to cut the song on Cissy Houston, Whitney's mother. They called and said they would like a more R&B sounding title and asked if we would mind if they changed the title to "Midnight Train To Georgia". We said "change anything but the writer and publisher." So, he cut the song on Cissy Houston and it was a nice little cross between an R&B and Country record. It got on the R&B charts. I think it charted in the mid 40s. That's the version that Gladys heard. Some of the background vocals you hear on Glady's records were first on Cissy Houston's record. It wasn't as much, but just some of the feel of the background vocals. And of course Gladys' record was more of a groove-oriented thing. It wasn't as slow. I don't know...it just became a monster record.

Q - Who said "let's change the title to Midnight Train To Georgia"? Cissy Houston's manager? Her record producer?

A - Her record producer. A guy named Sonny Limbo.

Q - That song will most likely still be played after you're gone.

A - Well, it has become a very big classic. I was watching the TV show Las Vegas the other night. They actually had Gladys on there as part of the story line. She sang "Midnight Train" and "You're The Best Thing That Ever Happened To Me" on the show. So, the songs still get around.

Q - As a songwriter, when you have a string of songs that go to number one, what does that do for your career?

A - Well, it makes you kind of hot for a week. (laughs) Or however long your song is number one. After that, it all depends on how you follow it up. I was a songwriter. I wasn't like a hustler or a salesman or something like that. I had a manager that was. He's the one that got me all the cuts on my songs that I got. I have a lot of other songs that I thought would've been great for Gladys and other acts at the time, but they never did get cut. With the right arrangements they could've been hits as well.

Q - Do you perform these days?

A - I do songwriter nights here and around Nashville. You know, a few places around. I don't really go out and book shows and things like that. I don't do that any more. I didn't do the big tours and things like that. I played small venues. I never was a big enough record artist to go in and play bigger places.

Q - Where does your career stand today?

A - I'm just writing all kinds of different things today. I'm writing instrumentals. I just stay heavily involved in music and see where things fall, you know. I've got songs that I think would be major, major hits, but I don't have the contacts that I used to have when I was with the publisher I was with for ten years. Also, music has changed too. I tend not to write a lot of the stuff you hear on radio today. It's just not what I do best.

Q - And what you hear on radio is the divas and Rap. There doesn't seem to be a whole lot in-between.

A - Yeah, and what they're doing in Country. Country is kind of like what I call trailer park music today. It's just another facet. It's just another place for country music to go.

Q - Country music today sounds like early rock 'n roll, which is not necessarily a bad thing.

A - Well, it does except for the lyrics. Musically it might sound like it. But the lyrics aren't nearly as good as early rock 'n roll, to me. Early rock 'n roll for some reason, those songs just stayed with you forever. There's very few songs I hear today that stay with me. Everything sounds manufactured to me, even the records, rather than organic. As a general rule, it seems like fast food. It's fast food music.



© Gary James. All rights reserved.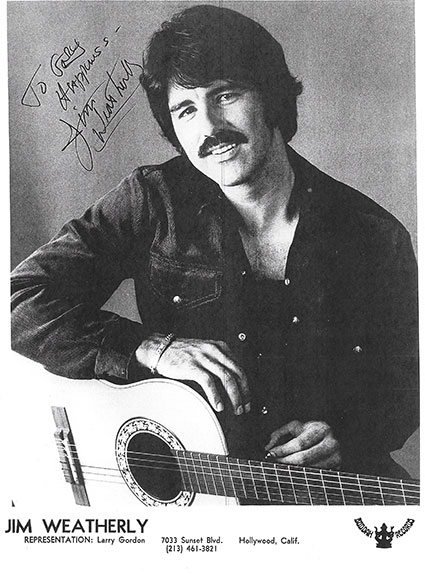 Photo from Gary James' Press Kit Collection