He was born Genaro Louis Vitaliano, but gained fame and fortune as Jerry Vale. Jerry had a number of hits including "And This Is My Beloved", Have You Looked Into Your Heart", Al-Di-La", "Camelot", "Innamorata", "Pretend You Don't See Her" and "You Don't Know Me". No stranger to Syracuse, Jerry Vale was a frequent at the Three Rivers Inn. We talked with Jerry Vale recently about those days and his career in the music business.

Q - Jerry, what do you remember about your days at the Three Rivers Inn, and how well did you know Dom Bruno?

A - I knew Dom Bruno very well. The place Three Rivers Inn was one of the first places I worked when I first started. I was very fortunate, because they hired me when I really didn't have any hit records. So, Dom Bruno was a good friend. Unfortunately, he's no longer with us. But the place was very nice and I had a lot of fun there. I remember working there during the times when I made one of my first records.

Q - Do you remember what year that would've been?

A - Oh, it would've been around 1952, 1953 or 1954. Somewhere around there.

Q - Did you know that Three Rivers Inn has re-opened?

A - No, I didn't. It was real nice to work up there. I had a lot of fun. I had a lot of friends up there. I always liked to go back to Syracuse. It's one of my favorite places.

Q - You had time then to see the city?

A - Oh sure. I spent a lot of time in Syracuse. I worked there many times. I wasn't there just once. Of course, I'm sure it's changed a lot. But, I always had a ball there. I always had a good time.

Q - When was the last time you were in Syracuse?

A - I think I was there a couple of years ago. I did a tour with Patti Page and The Four Lads. I think we worked somewhere in Syracuse. I don't remember exactly what the name of the place was. We did a show up there that worked out fine. We did a lot of business.

Q - The era of the Jerry Vales, Al Martinos, Tony Bennetts and Frank Sinatras is pretty much over isn't it? The idea of a guy like yourself, getting dressed up in a tuxedo and just singing a song onstage, is over isn't it?

A - I don't think so, no. I couldn't agree less. I can't agree with that. Tony Bennett is more popular than ever.

Q - What I was getting at is, will there be people who will follow in your footsteps?

A - Well that I don't know about. I know the era of Tony Bennetts and Jerry Vales and Steve Lawrence and Jack Jones. People may think we're not doing anything, but remember, I work as much as I want. Tony Bennett is more popular than ever, and deservedly so. I just worked in Atlantic City, at the Atlantic City Hilton and I sold out both nights. The place seats 1,200. I went in to Westbury, Long Island and I drew almost 7,000 people in two days. The place seats 3,250. I went into Las Vegas and I worked at the Boulder Station and I sold out there, every seat in the house. I could've sold it out two or three times. So, I couldn't agree less when they say that the era of the guy putting on a tuxedo and going out and just singing is over. I don't agree with that at all.

Q - I bring it up only because it seems today you need to do something shocking and controversial to both launch and sustain a career in the music business.

A - Well, all I can tell you is about my own experience and the people I know. I go out and sing the songs that made me popular, the songs that put me where I am today. I have people coming to see me for thirty, forty years. We sell out every place we go practically. We must be doing something right. The people that come to see us are not 17 or 20 years old. They're adults, but, people are people. You can only put so many people in the place.

Q - There was only three years difference in age between you and Elvis. Why didn't you end up as a Rock 'n' Roll singer?

A - Well, 'cause I'm not a Rock 'n' Roll singer. I never did that. I was never into that bag.

Q - You never tried it then?

A - No, I tried different things on record. I made records with different kinds of arrangements, with the piano playing, the triplets and doing some different things. But basically, Jerry Vale is what he is because of the things I've done and what people like; like the Italian-American songs. I do songs like "Pretend You Don't See Her", "Al-Di-La", "Have You Looked Into Your Heart" and "You Don't Know Me", which were all hit records for me. These are all beautiful songs. I do them the same way today that I did them thirty, forty years ago. I never saw myself as a Rock 'n' Roll singer. Even when I was starting out, there were people like Frankie Avalon, Frankie Valli and all those wonderful entertainers. They were doing their thing and I was doing mine. Some of them are still around and some of them aren't. All I know is that I work practically as much as I want. I find that I turn down more work than I take.

Q - You had your first hit record on Columbia in 1956?

A - It might've been '56, it might've been a little bit earlier. It was a song called "Two Purple Shadows On The Snow".

Q - Before that song hit, how long had you been recording for Columbia?

A - About two years. I made my first record December 23, 1952. Actually it was a mistake when I did it. It was something that we had just added a side. I made a song called "And This Is My Beloved" from Kismet. Tony Bennett did "Stranger In Paradise" and I did "And This Is My Beloved". Then when Mitch Miller called me he said, 'We need another side' and we went in and did this fast, hit song call "Two Purple Shadows and lo and behold, it became a smash hit in a lot of areas. In Pittsburg it was number one for 10 weeks. That was the beginning. Right after that I did 'innamorata', which was a big hit from the movie Artists And Models. I did "You Don't Know Me", I did "Pretend You Don't See Her". I did, "Have You Looked Into Your Heart", I did a lot of songs and we had a lot of success with those records.

Q - Did a gentleman by the name of Guy Mitchell discover you?

A - Well, let me put it to you this way. Guy Mitchell heard me singing in a nightclub in Yonkers, New York, called The Enchanted Room. He was doing a one-nighter there. He was very popular. He had the recording of "My Heart Cries For You", "The Roving Kind" which was the other side and he was making an appearance there. He heard me singing with the band, with a small group and asked me if I had ever made any records. I said I hadn't up to that point. I think I had made one record years before with a small record label, when I was very young. Nothing ever happened. Then he said "well I'm going to arrange for you to meet Mitch Miller, at Columbia Records." So, a couple of weeks after he left there he called me and asked me to come to downtown New York and meet him. And I did, and we went into Mitch Miller's office, and I sang for Mitch Miller. While I sang, he just looked up at me and said, "Ok. we're gonna record you." I said, "What am I gonna make, one record?" He said, "Oh no, we'll do eight sides." And that was the beginning of my career.

Q - When did you make your first album?

A - A couple years later. I didn't make an album until "Girl Meets Boy" with Peggy King and Felicia Sanders. Felicia Sanders has passed away, but Peggy King is still around. I did songs like "Just One More Chance", "Goodnight My Love", "Let's Fall In Love", all those great songs. It was a love story in music. That was really the first album. I did four or five songs. Peggy King sang a couple and Felicia Sanders sang one or two. But, that album did very well for us. It opened up a lot of doors. Then, when I made my first album alone, I did an album called "I Remember Buddy", a tribute to Buddy Clarke. Buddy Clarke was a wonderful singer in the late 40's early 50's. I think he died in 1950, if I'm not mistaken. But, he was from Boston, and my career really was started in Boston, and I recorded a lot of the songs Buddy Clarke did, songs like "I'll Get By", "Linda", "Peg O' My Heart", and we had a big hit with that. Within the first two weeks it was in the Top Ten or Top Twelve. Then I followed that up with another album called, "I Remember Russ", a tribute to Russ Columbo. Russ Columbo was another fine singer who passed away in the early 30's, but he made some wonderful records, songs like "You're My Everything", "Paradise", "All Of Me". We just went in and re-recorded them with new arrangements. That too became a hit, so, we had a lot of things going for us. Not only did we do the single, but we were doing a lot of albums too. I had about 22 albums in a row that made the Best Selling Chart.

Q - How many records have you sold in your career, any idea?

A - Oh God, that's tough to answer because I don't get all the figures every week. I would say conservatively, in the millions. In albums alone, I would say we did 10-12 million.

Q - It was your mother who encouraged you to pursue singing...

A - Well, my mother was a wonderful singer. She had a beautiful voice. In fact, when she was very young, she used to sing all the time. There were people in New York who heard her and had a radio station, WOLV, and this group used to travel around doing Italian-American affairs, and my mother sang so beautifully, they wanted her to travel with them. It was a guy named Joe Masiello. He was a wonderful Italian singer. Could sing in English, too. Spoke beautiful English. My mother never did it because she had five children.

Q - Was your father supportive of your singing career?

A - My father encouraged me when the time came, when he realized I didn't want to do what he was doing. My father was an engineer. He used to run these machines that dug excavations. I worked with him for awhile. We dug an excavation for a sewer plant out in Oyster Bay, Long Island. I was on that job with him. I was only 17, 18 years old and I really hated it. I couldn't stand it. One day I just told him, "Dad, I really don't enjoy this. I want to sing." He said "OK, when you get to the next paycheck, forget about it and do whatever you want." He was very supportive. I got lucky because I got a job singing in a nightclub. I went from making $80 - $100 a week when I was 17, 18 years old to making $10 a week. But, I was happy doing it. From that I went to other clubs around New York and I started to make a couple hundred dollars a week. I was doing OK.

Q - You won a contest to sing at the Club Del Rio. What kind of a club was that?

A - It was a very small club. I don't think it seated a hundred people. I was working in a factory in New York, Mt. Vernon, New York, making transformers for fluorescent lights. I had just come from a movie and this guy that I knew grabbed me and said "Take a ride with me." I had a lumber jacket on. He said, "I just want to pick something up in Yonkers," which was 10 minutes away from where we were. I said, "OK, but I got to be up early in the morning." I went into the club with him and there was somebody else onstage saying "Is there anybody else in the audience who likes to sing?" It was an amateur contest they were having. So this guy grabbed me physically and threw me on the stage. He said, "Here he is, Jerry Como." My name wasn't even Jerry Vale then. And I won the contest. Then the guy who owned the club came over to me and asked me if I'd like to work for him for a little while. I said yeah, I'd like to try it. I said "I don't know that many songs," but I went to work there. I sort of built a local reputation. People knew that I could sing and I had some fans and friends that liked me. Until I started making records I really never made any impact.

Q - Did you have a lot of competition when you were starting out?

A - Oh yeah. There were a lot of singers. In those days, there were singers all over the place. There were so many of them, I can't even think of their names. There might've been 30 or 40 of 'em that started out the same time I did, but I just got lucky. I was signed by Columbia Records and I made some good records and I had the promotion going for me. When you get things going for you and people are helping you, things are a lot, easier.

Q - Who thought of the name Jerry Vale?

A - There was a woman named Rose Reesman who was a piano player. She was a wonderful piano player. She was not a vocal coach. She was a piano player who liked me very much and I used to go to her and she used to teach me different songs. One night she turned to me while I was learning a new song and said, "You know you're gonna have to change your name." I said, "Why?" She said, "Well, it looks better on the marquee. Why don't you call yourself Jerry Vale?" I said, "How are we gonna spell that?" She said, "V-A-I-L." I should've spelled it Vail, because most people think of Vale, Colorado. But, it was that simple and I never really had it changed legally.

Q - Do you have a record deal as we speak?

A - My records are still released by CBS. Sony, CBS. I have about eleven CD's on the market right now and I have more coming out. See, they never released on CD the things I talked about. I did an album called "Jerry Vale Sings The Great Hits of Nat King Cole". It was never released on CD. So, they're putting that together. They're putting together the "I Remember Russ" album for CD. So I don't record for anybody else 'cause I don't want to right now. I don't want to fight myself. Columbia has been very, very good to me and I want to do all I can to help them sell the product. So what I do is, I do my shows and I do my songs and talk about the fact that Columbia is releasing my product and they're doing one heck of a job for me.

Q - Have you ever thought of building your own theatre in Branson, Missouri?

A - Well, I have given that some thought. I don't know if Branson, Missouri would be the place for the Italian-American singer. (Laughs) I'm not sure.

Q - If you're the first...

A - I'm giving it some serious thought. I've been invited down there by Andy Williams and Tony Orlando, both good friends of mine. They've asked me to come down and spend some time with them. You never know, maybe a year from now, I might be down there.



© Gary James. All rights reserved.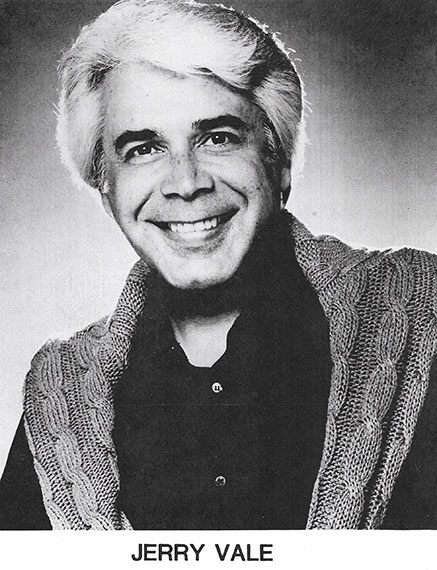 Photo from Gary James' Press Kit Collection