He burst onto the American Pop charts in 1965 with his record "You Turn Me On". That record led to tours with The Rolling Stones, The Kinks, Peter and Gordon and Chad and Jeremy. He played the Hollywood Bowl with The Beach Boys, The Righteous Brothers, Sam the Sham and Sonny and Cher.

These days he's singing a different tune. That's right, he's now singing the songs of Tin Pan Alley. You know, songs with titles like "I Go So Far With Sophie On Sophie's Sofa".

His name is Ian Whitcomb and he was more than happy to share his story with us.

Q - Is there a lot of work for the type of singer you are today? I guess you work with a Big Band.

A - No, no, not Big Band. Since I wrote my first book, After The Ball in 1972, I've always loved popular music in the wider sense of the word, popular songs. The songs themselves. And so, I've been singing them and writing them in the tradition of Tin Pan Alley. I grew up on those songs, just as The Beatles and The Stones and everybody in England. Not so much here (the U.S.) unfortunately. Because I love songs, I just naturally gravitated towards them. I was actually notating for our small group, "I'll See You In My Dreams", 1924. If you remember, that was used as the finale and very touchingly so, to the Concert For George Harrison. The British singer Joe Brown sang it with a ukulele accompanying himself. So, that's what I do. I play ukulele and sing these songs. George was quite a fan of mine. His wife comes from Los Angeles. Olivia's sister approached me when I was playing McCabes's Guitar Shop in Santa Monica. After the show, she came up to me and said who her relative was. She said "George is a great fan of yours. He's got your records." So, I gave her a few more. But, I know that for a fact. He knew about me through Paul McCartney. It's a long way of answering your question, but I always liked old songs, even before I was in Rock 'n' Roll.

Q - The last performer I heard of who shared your enthusiasm for these type of songs was Tiny Tim. Did you ever meet him?

A - We never actually met. I certainly respected him. I went to see one of his concerts. He did a wonderful concert at the Albert Hall in England in the late 60s. My only sort of direct connection with him is that someone like yourself was interviewing him and asked him whether he sang a song called "She's A New Kind Of Old Fashioned Girl", an old 1929 song. And Tiny Tim said "Oh, no. That's Mr. Whitcomb's song." (laughs) It was very kind of him because it wasn't really my song. It was written in 1929 and recorded by Whispering Jack Smith, who we both liked, but I guess he knew that we recorded it and so he respected me. Like me, Tim loved the old songs. If you sing songs, you're bound to go back and research them just as you would if you're playing Classical music. Really, America's Classical music is a great body of songs starting way back in Stephen Foster's time with "Beautiful Dreamer" and "Camptown Races" and "Camptown Ladies Sing This Song". I'm not an antiquarian. I sing these songs because they're just as alive today as they were then. They don't all work, but a lot of them do work and so I test these songs when I'm on stage. I just did a cabaret show Saturday night. And then the next night I was playing in an Italian restaurant where we play regularly, purely acoustically, three of us in a corner. If you go onto my website ianwhitcomb.com, you can see a picture of us playing this last Saturday night, the three of us. I'm playing the accordion I think in the picture. And then, my great friend Fred Sokolow is playing guitar. He's one of the best guitar players in the country. He writes books about how to play guitar and banjo. And then Dave Jones, our bass player is there. So, I'm playing these songs all the time. In fact, tonight I'm off to a gig at the Steve Allen Theatre in Hollywood. We do it every month with another band, Janet Klein And Her Parlorboys. I shall be playing the accordion and ukulele with them. She always brings me onstage to sing a song. I think tonight I may sing a song from 1922 called "I Go So Far With Sophie on Sophie's Sofa And Sophie Goes So Far With Me". One of those great old Jewish comedy songs, which I've recorded.

Q - You mentioned George Harrison earlier. Did you know all of The Beatles?

A - I never met them once. They knew about me. The closest I got was Brian Epstein, in about 1966; I was in England recording and I was being produced by my very good friend Denny Cordell, who I'd known for years. I'd known him when he was in school with my brother. Denny had produced "A Whiter Shade Of Pale" and went on to discover Joe Cocker. We were old friends. Denny was producing a record, a single with me. Quite a memorable one 'cause it has Mitch Mitchell (Jimi Hendrix) on the drums and Jimmy Page (Led Zeppelin) on guitar and John Paul Jones on the bass. He was producing me and was also working with Brian Epstein. Brian was having trouble with one of the singers in his stable, Tommy Quickly, who never really made it. So, Denny recommended me to come and play piano on the gig, which I did. By the way, on that same gig was Jimmy Page on guitar. Tommy Quickly was getting quickly drunker. (laughs) He was getting very drunk, drinking Scotch. Brian Epstein was in the control room and he rushed down and grabbed the bottle from Tommy Quickly and said "Naughty boy. Bad boy." We really couldn't get recording done. I remember it was Georgie Fame And The Blue Flames band. Quite a large band with Jimmy Page and me on piano. So, that evening I was summoned to Mr. Epstein's house in Mayfair. I think it was past 10 o'clock at night. It may have even been midnight. I went there to meet with him 'cause he thought I might record the tracks, use the tracks and put my voice on there. So, that was the only time I met Mr. Epstein. I remember the apartment. Everything was black. It was kind of a sinister place. Right in the heart of Mayfair, the most expensive part of London. The door was opened by a big, Black servant. He led me upstairs to Mr. Epstein's, I guess his inner sanctum. Mr. Epstein was very formal. He questioned me as to what sort of music I liked. I reeled off a few names and then I rather cheekily said "And, I like your boys too." (laughs) He said would I like to record the track. I said yes, but nothing came of it. I guess my recording manager didn't agree to it. I don't know. But, that was my only connection to Epstein. The only other thing is that I happen to know that in one of the McCartney biographies, there was a chapter about how he was involved in an avant-garde bookstore in London in 1966, 1967, with Peter Asher of Peter and Gordon. He was working in the book shop, getting it together and he used to play my record "You Turn Me On" to amuse himself as he knocked his nails and painted and so forth. It was an avant-garde, hippie bookshop. McCartney was certainly aware of my record of "You Turn Me On".

Q - I've always admired Brian Epstein. He's one person who hasn't got the credit he deserves. I'm rather envious of your meeting with Brian Epstein.

A - He was a very articulate man.

Q - Weren't you a part of Johnny Crawford's Big Band?

A - (laughs) That's interesting. You've done your research. I played with his band for a while, but he hasn't hired me for two or three years. But, his band changes all time. He never seems to have the same people in the band. I played the accordion. He liked the sound of my French accordion, so I played, gosh, twenty dates with Johnny and he hasn't hired me for about two and half years. I do actually have a larger band. It's a twelve piece. A 1920 style dance band. In fact, that particular band was formed even before Johnny's band. I formed it in 1988. I formed it for the wedding of the head of A&R at Warner Brothers Records, Lenny Waronker. He was getting married and said "I'd like to have a band that plays the old music." So, that was how my band came to be. So, we played at this very big show business wedding, when Lenny got married for the second time actually and all these big record names were there, including Mick Fleetwood and Lindsay Buckingham of Fleetwood Mac. They saw me playing. It was the first time I had a band like this. When I say a band like this, I mean a band that was playing from the arrangements of the 1920s. So we had three saxophones, trumpet, trombone, tuba, guitar, violin and so forth. We were actually playing from these authentic 1920s arrangements. We were playing foxtrots and tangos. These record guys liked it a lot, these Rock 'n' Rollers. And, as I said, Mick Fleetwood was there. And, a little later, he was getting married, so he rang me up and said "I wonder Mr. Whitcomb, whether you would condescend to come and play at my wedding in Malibu." I said yes of course. So, we were hired. We went off to Malibu near Bob Dylan's house where Mick Fleetwood lived and we had a wonderful time playing outside for him at his wedding. He joined us on the drums for a bit. He played so hard he broke one of his drumsticks. At one point he came up to me and said "Mr. Whitcomb." I said "No, call me Ian." "Well, Ian, I wonder if you would condescend to allow somebody to come and sing a song with your band?" I said "Well normally I sing the songs." He said "Well, it's a song called The Twist. I'd like to hear it and I have somebody who would sing it." I said "Actually we have an arrangement for The Twist and I will sing the song." He said "Mr. Whitcomb, I do have a friend who'd like to sing a song." I said "Well alright. Who is it?" He said "It's Chubby Checker!" (laughs) So Chubby Checker was there, standing next to Dick Clark. I hadn't seen Chubby Checker since 1965 when we were doing a television show called Hollywood A-Go-Go. My record "You Turn Me On" had just been released. It hadn't got on the charts. He turned to me and said "That record's bitchin'." I said "Well, wait a minute, it's not that bad." "No", he said, "It's bitchin'. It's bitchin'. It's a compliment. That's gonna be in the Top Ten," and he was right. Anyway, that's the story.

Q - I'd like to re-visit that Tommy Quickly recording session. When Brian Epstein said "you naughty boy," did he actually talk like that?

A - Oh, yes.

Q - Who talks like that?

A - Brian Epstein. (laughs)

Q - In America, some four letter words might have been exchanged.

A - Oh, no, he wasn't like that. Brian Epstein was very well bred. He came from a well-to-do family. It's what we would call in England, Upper Middle Class. With Upper Middle Class you have to be in Royalty, be a Duke or an Earl. But, he was Upper Middle Class and came from money, but money from trade. He'd been to a private school, which is what we call public school in England, the same as me. I came from that sort of privileged background too. I'm not boasting about it. I'm just saying it as a fact. A number of people in Rock 'n' Roll, you may not know this, managers and producers of Rock 'n' Roll in the 60s, were from that background. Brian Epstein was one. Denny Cordell was another one. Peter Asher of Peter and Gordon. Simon Napier Bell, who went on to produce Wham!. He went to the same school as me. So, there was this group of people and somebody should do some sort of investigation about this, because a lot of the people who controlled Rock 'n' Roll in the 60s, were actually from this privileged background, shall we say. They had money.

Q - Do you like living in California as opposed to living in England?

A - Well, I married a California lady. I was married for many years. We were very happy together. So, I would say yes I do. I mean, I like Southern California, Los Angeles, because it's been very good to me. I came out here in the middle 60s, in '65, and did all the television shows and clubs. I've been coming here ever since then. I have a house and a wife and a dog and a cat and I perform here all the time, and they like me here. I guess I'm here because Californians have been very good to me. But, I miss England and I have a lot of my family there, my brother, my sister and my three best friends who I grew up with there.

Q - How did life change for you when "You Turn Me On" became a hit?

A - Well, it meant that I could do what I loved doing, which is performing and perform for more people. So, I toured all around the country, America I mean, on a Dick Clark Caravan and various other tours with people like Tom Jones, The McCoys and went on a long tour with Paul Revere and The Raiders, and The Standells. One of them was actually in touch with me the other day, remembering our tour. He said "Ian, you were great on stage. I remember when somebody heckled you, started shouting at you, and you really gave him hell on the stage. You were really quite tough with him." But the point is, I enjoyed my life change. It expanded shall I say. The thing I always enjoyed doing was performing. In England I performed at pubs and parties. Now, it meant I could perform for hundreds, thousands of people and reach millions through television and that I could make records. I was signed to Tower Records, which was part of Capitol Records. I was able to go in and record exactly what I liked, which was really the end in a sense of my career because my albums started off as Rock 'n' Roll ones and gradually I did more and more of these Tin Pan Alley and Ragtime songs and ballads. So, my records didn't sell. I wasn't in touch with the kids who'd been buying "You Turn Me On", although they certainly enjoyed one of those songs I dug up called "Where Did Robinson Caruso Go On Friday And Saturday Night?" That was the first one I recorded featuring a ukulele. And this is before Tiny Tim. That became a Top Ten hit on the West Coast and it was also on the Billboard charts.

Q - Why did you sing "You Turn Me On" in that falsetto voice? Was that the suggestion of a record producer?

A - That record, like most of my records, was not produced at all. It happened in the studio. See nobody really properly managed me. I formed Bluesville in Dublin in 1964 with the help of a friend, but nobody told us what to play. We just picked our songs. When we came to record what eventually was called "You Turn Me On", we were actually recording an album. See, I'd had another hit, which I think is a much better record called This Sporting Life. That had been a Top Ten hit on the west coast and it got to number 100 on the Billboard charts, but, you know it was there and people heard it. That had already been recorded in Dublin and released by Tower Records and it was making quite a stir and this is why Tower Records wanted me to record an album, because they thought "This Sporting Life" is going to be a very big hit. It didn't become that big of a hit, but it became a Top Ten hit on the west coast and was very influential. So influential that in fact, a man called Tom Wilson, who was Bob Dylan's producer, heard the record and told a reporter friend of mine "that was the record that inspired me to get the sound we had on Like A Rolling Stone". So, "This Sporting Life" directly influenced "Like A Rolling Stone", which became Bob Dylan's first really big hit. Anyway, "Sporting Life" had caused quite a fuss in the trade and people knew of me. So, we were making this album in Dublin and my manager was over at the time. He really didn't have any say in what we recorded. We'd done about twelve numbers. At the very end of the session, this is in February, 1965, we had a few minutes left. And the band began playing this lick, and we'd been doing this Blues lick on stage as a sort of joke. They used to play this and I would sing. "The Swim" is one of the dances I think we would do it with, and then I started doing some panting, some breathing. I started doing the breathing because I'd had a record of Jerry Lee Lewis recorded 'live' at the Birmingham, Alabama auditorium. He was doing "Memphis". He was doing the breathing. I also remembered a phrase an American girl had told me the previous summer of '64. She used the phrase "turning on" to me. She said "Ian, your English accent is really turning me on." So, I thought that was a great, colorful phrase. Very American. So, the tape is playing. The band is playing the lick. I just made up the words as I was going along. And I thought of that phrase "you really turn me on." Since it's Blues, you simply repeat a phrase again..."C'mon baby, you really turn me on." So I thought, what am I going to rhyme with that? And then I did that breathing and I said that's my song, 'cause that seemed to rhyme with "You turn me on." And that is how it was made.

Q - Did you get that girl who said "You Turn Me On"?

A - No. I should give her a royalty, shouldn't I?

Q - I wouldn't go that far. I just thought you might have gone out with her.

A - Oh, yeah. She'd been a girlfriend of mine. This whole thing happened because I was with her that summer. We were kissing and she was saying, in Seattle; I was probably breathing sweet nothing into her ear, saying "You're an awfully nice girl you are", and she said "Oh Ian, your accent is really turning me on." That's where I got the phrase from. And that's how Pop songs are made you know. They're made from bits of this and bits of that, and you sew 'em all together. You really sometimes don't even know what you've got. We didn't know. We made that record in just two takes and I just made it up, most of it, as I was going along. I didn't have a title. We didn't think it was going to be released. But, the promotion man, George Sherlock at Tower Records, he'd been celebrated by The Rolling Stones as the "Under Assistant West Coast Promotion Man", the flip side of their record "Satisfaction". They knew George. But George had meanwhile gone from the Stones to being my promotion man. He had heard this tape being played in Tower Records. They didn't know whether they were going to release it. He came into the room and said "That's the song." They said "What do you mean? It's not very good." He said "That's it. That's it!" I didn't have a title. It was called "The Turn On Song" or something like that. He said "Well, we'll call it "You Turn Me On". He was given two weeks by the head of Tower Records to take that record, that demo record; they just had an acetate of it; to go out to the radio stations around Los Angeles and try to get it played. If he got it played within a couple of weeks, then they would release it. Well, he got immediate reaction from the stations and the record was released. The original copies say "The Turn On Song" and then in parenthesis "You Turn Me On". The original record was a whole chorus longer than the one that finally got released and in fact, it didn't fade out. On the last chorus it actually ends. I was so embarrassed by this record I got Tower to withdraw it and I said if you're gonna put it out, let's at least clean it up. So, we cut it down and put a fade on it. We cut down the beginning, added a tambourine and that's the one people buy today, but you can still find a few copies of this first release that's much longer and has much more panting on it. And the original if you listen to it carefully, on the first chorus which is instrumental, you can hear an ashtray fall off the piano. That's what happened when we were recording it. That's why I didn't take much trouble with the recording. I thought, well, this is never gonna get released. It's got an ashtray falling to the ground. So, that's really why I had so much fun with that recording.

Q - And the follow-up to "You Turn Me On" was a song called "Nervous".

A - That's right.

Q - Which only went to number 59 on the charts. What was the problem there?

A - Well, I guess I chose the wrong song. The reason we chose "Nervous" is because I'd been doing it 'live' on stage and all the girls used to scream when I shook my hair and sang it. If you go to YouTube, you can watch me singing not only You Turn Me On, but Nervous on the television show Shindig! and you can hear all the girls scream. We thought it was going to be a big hit, but it wasn't a hit. The thing is, it's very hard to follow-up a novelty song like "You Turn Me On". It's just a very odd-ball song. What do you follow it up with? You can't go on panting all your life. And I had a lot of other kinds of music in my head that I wanted to record. I didn't fit any particular category or genre. So, it was hard for me to have any more hits.

Q - You toured with The Rolling Stones in what year, 1966?

A - No, 1965.

Q - What was that like?

A - Actually, when I say tour, we did a couple of west coast shows. I know we did a show in Seattle. I've got pictures of that. The point is, if you'll look up you'll see that "You Turn Me On" was in the Top Ten exactly the same week and month as "Satisfaction". "Satisfaction" was number one. "You Turn Me On" was number eight. So we were contemporaneous. I'd already met Mick Jagger before this. In early 1964 when "You Turn Me On" came out, I did a television show in England called Thank Your Lucky Stars and The Stones were on that show and so were The Kinks. That's when I first talked to Mick Jagger. He couldn't believe me. He thought I was so strange with this high voice and this breathing song. He was very intrigued. So, I was in Seattle, waiting to go onstage. I was on a show with him. This would have been July, 1965. I was standing backstage waiting to go on the show. Suddenly there was Mick Jagger at my side asking questions about; Well, how did I come to record that song? Where was I from?

You see in England, nobody knew me. I hadn't had any hits there. I was this strange creature who had come from Trinity College, Dublin, but was English. You weren't sure if he was a boy or a girl. He had this strange voice. So, Mick Jagger was very intrigued by me. This is before he started putting make-up on like Davie Bowie and be sexily ambiguous. I think he wasn't quite sure what sex I was. He thought I was a real avant-garde person. He talked to me for a long, long time. He was very friendly indeed. I remember saying to him, because I used to get mistaken for him in Dublin; I guess there was a passing resemblance, I don't know, that's what they told me. So, I said "You know Mick, I sometimes get mistaken for you." He said "You don't look a fuckin' thing like me." He said that with a laugh. Then we later on met when we were in Paris doing a show the next year. Then, I never saw him again. I stayed very friendly with the road manager, Ian Stewart, who was also the pianist in the band, on their records. Very nice guy.

Q - Did you get to meet Brian Jones?

A - No. He was sort of in the background. When I toured with them, Jagger was on his own and the other guys, you never seemed to see much. Jagger was more approachable. Marianne Faithfull was there I remember in Paris when I did a show with them. She was very nice. She put out her hand and I kissed her hand. That was about it. I remember Brian Jones looked slightly askance, shocked because I was wearing the same pants as he was. I think he was rather annoyed because he thought his trousers were rather unique, but they were not. I had the same pants on. So, that's the total of my experience with The Rolling Stones.

Q - You produced "Great Balls Of Fire" by Mae West?

A - I produced that actually in the late '60s. It never got released until 1972. It was a great experience working with her. She'd actually recorded "You Turn Me On" and "Nervous" on an earlier album for Tower Records. That record was called "Way Out West". She'd done that for a friend of mine and we met. I suggested we do another record together and so we did "Great Balls Of Fire".

Q - You titled one of your books After The Ball. What exactly does that mean?

A - Well, it was the name of the first popular song to be published that we know sold a million copies, in 1892. It was a ballad. It really helped establish the Pop music business. The book is the history of popular music, from Ragtime to Rock 'n' Roll. That's the sub-title.

Q - After all that you've done in your career, how can you be happy playing a small club?

A - I'm happy. I'd probably rather be playing a big place. I know that what I've done in the last forty years is off the beaten track. But look, I've had about twelve books published. I've had my songs in a lot of movies. And I continue to write songs, to write books, articles, to perform. I've been to Japan twice in the last couple of years. I'm quite big in Japan. I've got records out there. So, all in all, I should be happy because I've produced so much stuff. I hope this doesn't sound like a boast, but I've probably produced more material than anybody in Rock 'n' Roll or anybody in Pop, actually. Who else has written books, produced television shows, produced Mae West and so forth? So, I do a lot. So, yes, I would say I'm happy, but I'm happiest when I'm working.



© Gary James. All rights reserved.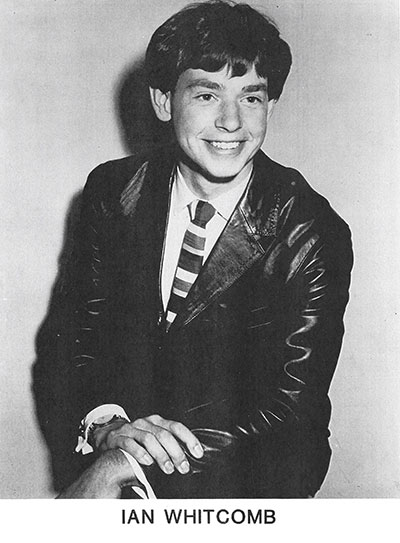 Photo from Gary James' Press Kit Collection