Glenn Hughes has had the kind of career most musicians could only dream about. He's been a part of Deep Purple, Trapeze, Black Sabbath and the list goes on and on. Of late he has been associated with the groups Black Country Communion and California Breed with Jason Bonham. We spoke with Glenn Hughes recently about The Life Of A Rock Star, to paraphrase the title of his May 2011 autobiography, Deep Purple And Beyond. Scenes From The Life Of A Rock Star.

Q - Glenn, I actually saw you with Deep Purple in concert at the Onondaga County War Memorial in Syracuse, New York on Monday, March 18th, 1974.

A - You know, I've got a really good memory of all that stuff.

Q - You were on tour to promote the "Burn" album.

A - Yeah. I remember it. It was our first American tour with David (Coverdale), Ritchie (Blackmore), Jon (Lord) and Ian (Paice).

Q - That was a terrific concert. Next day I pick up the Syracuse newspaper to see what their critic thought of the show. Their critic wrote something to the effect that "Ian Gillan was in top vocal form last night."

A - Oh, my God.

Q - And of course Ian Gillan hadn't been with the band in over a year.

A - Yeah. (laughs) I find that quite amusing. Maybe the writer wasn't even at the show. (laughs)

Q - Ian Gillan said the same thing.

A - Yeah. You gotta remember, you and me are both from the same peer group. Back in the day, in the '70s when all this stuff started, before the Internet, it was all about what we read in the paper or what we saw on the TV and now it's a completely different vehicle we drive. It was a different world.

Q - And you can't believe everything on the Internet either.

A - There's thousands and thousands of Rock journals and blogs on the Internet and what have you. I'm fortunate that I've been around long enough to drive away and drive back. I use the Internet appropriately. It's a great vehicle. It's also a thing that could cause trouble for people if they go that route, but I'm very conscious of that. I'm very resistant to go down a road I shouldn't go, so I use the Internet appropriately.

Q - When you came into Deep Purple you were formerly in a group called Trapeze, correct?

A - Yeah.

Q - So, you went from Trapeze into a starring role in an all-star group, Deep Purple. You hit the ground running. You didn't have a chance to ease into the group, was there?

A - No, and you know bro., you're my age so if you didn't know too much about Trapeze, Trapeze was a band that was born in '69. It was a five piece and then in the Spring of '70 we became a trio, Mel, Dave and myself. So, we went to America in December of 1970 with The Moody Blues and from that moment all the way up to '73, let's just say for three years, I was touring America constantly. So, by the time I joined Deep Purple, Trapeze was selling out 5,000 seat venues in some parts of America, so I was sort of getting ready if you will for the next stage of my career, which obviously was Deep Purple.

Q - I see. Selling out 5,000 seat venues was pretty impressive back then and would be today as well.

A - Yeah.

Q - Not many bands can do that.

A - Back in the day a lot of successful bands like Led Zeppelin would take Bad Company, and The Moody Blues would take Trapeze. The following that Trapeze got even before we made an album, was huge, especially in the Southern part of America. It was absolutely massive. Again, it's a different vehicle than it is today. It's so hard to break Rock bands now. It's so very difficult.

Q -I haven't read your autobiography, but what could be better than being in a famous Rock group like Deep Purple?

A - For me, I was twenty-one when I joined the band. I'd been touring since I was eighteen in Trapeze in America pretty much. If you remember back in '73, Deep Purple, if you look at Billboard, were the number one act on the planet. They sold more records than any Rock band. So, here I am joining a huge band in collaboration with Blackmore, Paice and Lord and having a new comer with David Coverdale who hadn't really ever been on stage before, and looking back I grabbed the challenge. I've always loved a challenge if you know anything about my life. So, I grabbed it and said I'm going to be a team player here and the band was new again. So, it was a great feeling. I think when Gillan and Glover left Purple there was a lot of mis-trust and a lot of gibberish going around, this and that. It was a very nasty break-up. But with David and I coming in, it renewed the group. It gave 'em a youthful attitude. I think with the "Burn" album, which went on to become a Top Five album around the world, I think it was a really great album considering the band had already made "Machine Head", which was a huge record in '72. So, yeah.

Q - One of the lines used to promote your autobiography: "I had a constant fascination with the dark side." What are you talking about there?

A - Well, remember now, and this is kind of relevant to what we're talking about, Rock 'n' Roll, Rock music, Country music, kind of good ol' boys music, shit-kickin' music. Rock music has always been about communication. The dark side for me obviously would have to have been the fast lane which would be alcohol and drugs. When I joined Deep Purple I barely had taken drinks. I wasn't drinking at all. Let's just call it with profile or when you get known in any walk of life, whether you're an athlete, an artist or a dancer, if you have some sort of fame, you get people that surround you. There are dark kind of figures, you know? I wouldn't call somebody that gives somebody drugs for the first time an angelic person. I call them a dark entity. So when I call it the dark side, I was surrounded by good people in the right form of friends, but when you have success so quickly, the other side of things happen. People want to give you things. They want to show you what things are. That's the kind of stuff I'm talking about.

Q - You're not talking about the other band members, are you?

A - No, no.

Q - You're talking about the hangers-on?

A - No, no. The dark side to me is when someone falls prey to a disease. It could be madness. I could be anything. My disease was alcoholism. Not knowing I was an alcoholic 'cause I really didn't drink, back in the day as they say it was actually okay to get high with so and so. People weren't going into bathrooms to do drugs. They were doing it in the open. I overcame it. I have a lot of sobriety now. Back in the day, didn't everybody snort coke on stripper's bosoms?

Q - Don't ask me! I'm not a Rock star.

A - Well, it's kind of a quote I've used before. It's really a joke, but it really isn't. All the people I was hanging out with, famous or not, were doing ridiculous things. They probably still do it today, but that's the dark side. Again, the dark side for me, actually walking in fear and not being able to deal with it 'cause I didn't have the tools. It's like I'm twenty-one years old and I have all these things happening and people chasing me, and famous friends coming around and we were all sort of dabbling with the devil if you will.

Q - What's the story with California Breed? That was Jason Bonham?

A - The band has broken up. I'll make it brief for you. I formed a band with Jason and we made a record and then we were going to tour. Then Jason decided he didn't want to tour, so it became a little bit difficult for me to carry the name of the band without him. So I decided to do the gentleman thing and say to the management, "I'm going to do the tour you booked for me and at the end of the tour we replace Jason with another guy." At the end of the tour I thought it appropriate to step back and go, "Well, I tried. It didn't really work." So I had to move on with my own life and do other things that were controllable on my behalf and my new management. I have no resentment. It's just one of those things that didn't quite work out. I think everybody was hoping the band would continue. You had me and Jason and someone who was really unknown and when one person with fame leaves the other guy, people conceptualize the idea of change, so it was the wrong vehicle for me to be in. So I decided to get out of that car and do something else. I think it was the right thing to do.

Q - What is the something else you're doing today?

A - I am and with Kings Of Chess, the band I have with Matt, Duff and Gilby from Guns 'N' Roses. Slash is with us and Robin Zander and Billy Gibbons.

Q - That's an all-star band!

A - Yeah. It's an all-star band. We haven't really played America yet. We play all over the world. We've been to Australia, Africa, South America. So it is a supergroup, although we don't like to be called it. But that's exactly what it is. It's so simple to see. It gives me an opportunity to play and sing with my friends, my brothers who I've known for years and years. It's a really great family. I spend time doing Kings Of Chess shows. What I'm actually doing with you right now is I'm actually announcing for the first time, I'm actually preparing to do a solo tour this year (2015) and I'm going to be playing South America in August and Europe in the Fall.

Q - I'm assuming the solo tour will have you singing all new songs?

A - No. You know what it's gonna be? I'm gonna have an Evening Of Glenn which is going to be solo material of course, which I really love. There's a lot of people around the world that I go to that I haven't played for before and they all want to hear "Burn" or something from Black Country Communion or California Breed. So, I'm going to do an Evening Of Glenn which will sort of be a Rock evening of the songs that I think will be appropriate for the audience that is coming.

Q - Back up for a minute. In Kings Of Chess, each member gets to sing their hits? Is that how it works?

A - Yeah. for instance, when Robin Zander is on stage he's gonna sing Cheap Trick songs. Robin is also going to sing "Rebel Yell" because Steve Stevens is playing guitar. I'm going to sing "Going Down" with Billy (Gibbons) because Freddie King is one of his favorites. So, we're playing ZZ (Top) songs. We're playing Deep Purple songs. We're playing Guns 'N' Roses songs. So we're doing the hits, but we're also doing a couple of cover songs that we think are appropriate. I'm also right now working with Billy Ray Cyrus on songs we're working on together, which we will announce soon. That's going really well. It's another genre for me. It's a beautiful thing. I love Billy Ray very much. There's a lot of things going on that we'll obviously announce as we move forward this year.

Official Website: www.GlennHughes.com





© Gary James. All rights reserved.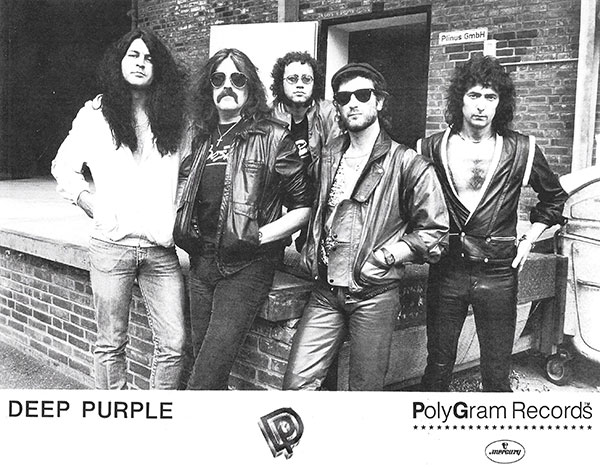 Photo from Gary James' Press Kit Collection