Circus magazine once wrote he had a voice that Robert Plant might envy. His unique vocals made Foreigner one of Billboard's Top 100 Artists Of All Time in hit songs history. He was the lead vocalist on all of Foreigner's hit songs, including "Feels Like The First Time", "Cold As Ice", "Long, Long Way From Home", "Hot Blooded", "Double Vision", "Blue Morning, Blue Day", "Head Games", "Dirty White Boy", "Urgent", "Juke Box Hero", "Break It Up" and "Say You Will". He co-wrote most of the songs for the band which achieved two of its biggest hits with the ballads "Waiting For A Girl Like You", which spent 10 weeks at number two on the 1981 - 1982 American Hot 100 and "I Want To Know What Love Is", which was a number one hit internationally (United States and United Kingdom) in 1985. Their first eight singles cracked the Billboard Top 20, four went Top 10, making them the first group since The Beatles to achieve this. His contributions as a singer and songwriter with Foreigner and his own band resulted in six multi-platinum albums. Six albums he was involved with broke into the Top 10, eight into the Top 50 and nine into the Top 100. According to The Recording Industry Association Of America, Foreigner ranks 40th of all time in records sold. Factoring in his solo work, he is responsible for some 70 million records sold. In May 2013, Triumph Books released his autobiography , Juke Box Hero: My Five Decades In Rock 'n' Roll. On June 13, 2013, along with Foreigner bandmate Nick Jones, he was inducted into The Songwriters Hall Of Fame. We are talking of course about Lou Gramm, who happens to be a fellow Central New Yorker. Lou spoke with us about Black Sheep, Foreigner, and his life today.

Q - Lou, I actually saw Black Sheep as an opening act at the Syracuse War Memorial in the early to mid-1970s. Problem is, I can't remember who it is you opened for.

A - Aerosmith.

Q - Do you remember playing a club in Syracuse called The Brookside?

A - The Brookside, and do you remember a club called The Yellow Balloon?

Q - I do.

A - We played there quite a bit.

Q - You would have remembered the owner of The Yellow Balloon (later called The Lost Horizon), Greg Italiano?

A - Absolutely. Yes.

Q - Did you know he passed away a few years back?

A - I didn't know that.

Q - He died at 59.

A - That's a shame. That's young.

Q - You were in a group according to your autobiography, called Poor Heart. What clubs did you play in here in Syracuse with that band?

A - I don't remember. I really don't.

Q - Recently I interviewed Bob Murray, who fronted the band Wale.

A - I know Bob.

Q - He said Black Sheep used to open for Wale. Do you remember those gigs?

A - We co-headlined with Wale. I don't believe we ever opened for Wale. (Laughs).

Q - All right. When you were growing up in Rochester, did you know the names of the bands in Syracuse?

A - Not that well.

Q - Your father did not like rock 'n roll.

A - Not initially.

Q - He said, "You are not playing that garbage in our house. It's nothing but noise and the lyrics are filthy." Who was he talking about?

A - I think he was talking about The Kingsmen, "Louie Louie", which they were filthy.

Q - They were? I never could understand what they were singing.

A - There was a part, "Every night at 10, I lay her again. She's just a girl across the way."

Q - Your father was able to understand that, to hear that?

A - Yeah.

Q - Wow! I'm impressed.

A - He did know his stuff.

Q - You and your girlfriend at the time saw The Rolling Stones in Rochester, New York on November 1, 1965. They were at the Syracuse War Memorial on October 30, 1965.

A - Oh, that's cool.

Q - You saw Brian Jones up close after the concert.

A - Oh, yeah.

Q - Tell me if you agree, to me The Rolling Stones were and will always be Brian Jones.

A - Well, I think he played a huge unsung part in that band. Really they never were the same after he passed away.

Q - When you were introduced to rock 'n roll, everything seem so magical, didn't it? Hearing the records being played on the radio. How the records were being made. What was it like in a recording studio?

A - Oh, yeah.

Q - That's the difference between then and now. We are jaded because we know what goes on at a radio station or in a recording studio.

A - I think you have hit it on the head. I agree with you. I had those thoughts myself.

Q - Page 41, you are talking about Capitol Records and the fact they didn't spend enough money to promote Black Sheep. Why would a record company sign a group they didn't want to get behind?

A - To be honest, what I heard is they would sign far more groups then they had plans of promoting and shelve them and then write them off.

Q - Using it as a tax write off in other words.

A - Yeah. I think it's despicable, but that's the way it was.

Q - Unlike other books I've read of late, you relay more business stories about your groups and no stories about groupies. I take it that's deliberate on your part.

A - Absolutely. I didn't want to get into it because I really think it's something not worth mentioning.

Q - When I would pick up a magazine like Rock Scene and see a photo of you exiting a nightclub, I had the feeling the way a caption might be worded that you didn't go out to clubs much in your Foreigner days.

A - I really didn't. Once in a great while I did, but not as a matter of habit.

Q - when you would go into clubs, did patrons of the club know who you were?

A - Not really. I'd liked it that way.

Q - I think that's terrific, almost like being in Kiss. You are a star on stage, but offstage you can go about your business.

A - Yeah. That was actually something that was deliberate.

Q - Rolling Stone referred to Styx, Foreigner, REO and Journey as "Faceless" groups.

A - I know that term.

Q - I believe in your book you used the term "corporate."

A - Corporate was used too.

Q - What does "Faceless" mean to you?

A - It means that there is no one memorable in the band. There is nothing about the band that you would remember.

Q - You don't agree with that, do you?

A - Oh, I don't agree with that at all.

Q - I don't believe any of the groups stood up to Rolling Stone on that comment, did they?

A - I seem to remember that when we did radio interviews and those Rolling Stone articles were mentioned, the phones would light up. There would be countless number of people who thought that that article was jaded and really unfair.

Q - When Mick Jones would tell you stories about his days with Sylvie Vartan and Johnny Halliday and opening for The Beatles, what would he tell you?

A - He said it was an unbelievable scene, the screaming when The Beatles were on, it was ear shattering. When they played some of those clubs in Germany and France, he actually hung out with them for three or four days, including going on stage and actually jamming with them.

Q - He would also catch a ride in The Beatles' limousine, wouldn't he?

A - Oh, yeah. Totally. I heard all those stories. More than once. (Laughs)

Q - And that's not a bad thing either. That's great!

A - I think so.

Q - Foreigner was not one of those groups that were ripped off by management. You praise manager Bud Prayer in your book.

A - I thought he was a good hands-on manager. He was able to deal with people, whether it be the record company or booking agencies. He could be very stern and get more out of them then I think they may have wanted to give, but he would do it in a way that made them want to push harder for us. He didn't go around belittling anybody.

Q - Did Foreigner travel by bus or by plane?

A - We mostly traveled by bus. There was a time during "Foreigner IV" when we were doing so many shows in a six or eight week period that actually getting from point A to point B by bus would be almost impossible. We found the only way to really deal with our commitments was to get a short-term lease on a four engine prop plane. DC-9 I think it might have been. It was fitted out with reclining chairs and a little kitchen and a little bar. It was nice. We would go straight to the airport after a show and get on board this and travel 700 or 800 miles in less than an hour and be in bed at a reasonable time, if that's where we went, or better yet, be in the next city before Last Call.

Q - There you go! You want to be a judge on one of these talent shows like The X Factor or American Idol.

A - I thought that would be a lot of fun.

Q - You should be on one of those shows. What's it going to take to make that happen?

A - I think it's not what you know, but who you know. Apparently they have those people lined up pretty deep. If somebody leaves the show, they already have the next person in place. I don't think it's worth going to the end of the line.

Q - It would be nice to have a Rocker on the panel.

A - Yeah, a real Rocker.

Q - Not J-Lo.

A - Or, any of these Country guys.

Q - Like Keith Urban.

A - He is good, but he don't get it.

Q - Lou Gramm has to have a seat on the panel.

A - I would love it. I think I could seriously lend some credibility to the perspective where I came from.

Q - And enough of these divas! We gotta have some Rockers as contestants!

A - For sure. They come across every now and then, but it's mostly girls and they are mostly singing Whitney.

Q - Or Country.

A - Oh, yeah. There used to be a few Country contestants, now it dominates it.

Q - Do you know there are Foreigner tribute groups out there?

A - I think Foreigner today is a tribute band.

Q - I'm not talking about "the" Foreigner. I'm talking about guys who put a tribute band together of Foreigner music, like guys who put together a Beatles tribute act.

A - I don't doubt that a bit.

Q - Have you ever seen a Foreigner tribute act?

A - No. I've never seen one. I've heard they are out there. I've never had the desire or opportunity to see one.

Q - You have a band that you perform with today, correct?

A - Yeah. It's been the band I've performed with for the past 10 years, with a few changes.

Q - That's what keeps you busy these days then.

A - Yeah. It seems harder and harder to get work. I have 14-year-old twins and I want to be a full-time dad, so I don't plan on doing any bus tours. We do weekends. I'm ready to do Friday, Saturday and Sunday. Most weekends we perform one day a weekend, one show. We fly out and then we fly home. It's just very tough to get shows.

Q - Central New York is a tough marketplace.

A - Yeah, but I play all over the States and Canada. The money is almost half of what I'm used to and falling every year.

Q - You probably play festivals. Do you still play clubs?

A - We play casinos. They have these 3000 - 3500 capacity Rock clubs and we'll play that.

Official Website: www.lou-gramm.com





© Gary James. All rights reserved.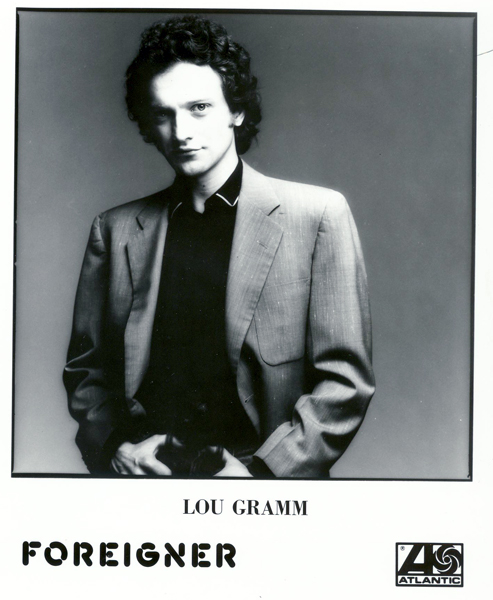 Lou Graham