Florence La Rue gained fame as one of the main singers in the 1960s recording and touring group, The Fifth Dimension. The Fifth Dimension enjoyed a number of hit records including "Up, Up And Away", "Aquarius / Let The Sunshine In", "Wedding Bell Blues", "Stoned Soul Picnic", "Puppet Man" and "Save The Country". The Fifth Dimension racked up fourteen Gold records, six Platinum records and six Grammy Awards. These days you can still catch Florence La Rue's act. It now called Florence La Rue And The The Fifth Dimension. We spoke with Florence La Rue about her musical career.

Q - I was watching an HBO Special recently on Frank Sinatra. Either I forgot or I didn't know, but there you were, singing with Frank Sinatra in a TV special. You also went on tour with Frank Sinatra. What was it like to share the stage with Frank Sinatra? Did that impress you?

A - It was really great being with Mr. Sinatra because we played some of the finest stages in Europe and in Las Vegas. We performed with him at Caesar's Palace and the performance you saw was when we performed on his television special. He donned an outfit matching ours and was a Sixth Dimension. It was great. He was a gentleman. He was very professional and wonderful to work with.

Q - I saw you in concert at the New York State Fair in Syracuse in 2013 and the crowd just loved hearing those songs! Do you typically play that type of venue?

A - Actually Gary, we play all types of engagements. We just returned from doing a private performance in Palm Spring at a casino. We perform at colleges, fairs, casinos, performance centers. We do all kinds of different performances.

Q - I recall you being interviewed on a local TV station and you were excited about performing in Beverly Hills.

A - We were excited because we rarely perform in the Los Angeles area for some reason. Normally we're on the East coast or out of the country.

Q - You've written a one woman show called Just As I Am. That must be about your experience in music?

A - It's about my experience in life actually. I do tell how I became a member of The Fifth Dimension. The reason I call it Just As I Am is because I really tell more about the real Florence La Rue rather than the star with The Fifth Dimension. I found it's been a great way to encourage other women who start from meager backgrounds who feel like "I'm too old" or "I don't have the money," to show them that if you have a dream that God has given you and with hard work you can make your dream come true.

Q - You probably wanted to be a teacher after you graduated college. You didn't have aspirations of being a recording and touring artist, did you?

A - Actually I wanted to be a teacher when I was a child. When I was a child I wanted to do two things, be in the movies and teach. My mother encouraged me to get my teaching credentials first so I would have something to fall back on if the career in entertainment didn't work. Actually I did not do it for that reason. I feel that teaching is a very important vocation and teachers should be paid more then any athlete or performer. But I did get my teaching degree before I became a member of The Fifth Dimension. I had no desire to be a recording artist. I didn't even want to be in the group when they asked me because I was not a singer. I was an actress, but they convinced me to join the group and the rest is history, thank God. (laughs)

Q - Before The Fifth Dimension there was this vocal group, The Versatiles. Did The Versatiles play clubs? Was it strictly a recording group?

A - The Versatiles were The Fifth Dimension. We changed our name because the record company decided they wanted something jazzier. We called ourselves The Versatiles because we were a very versatile group. We had five people with very different musical backgrounds. But the recording company wanted something more "hip" as they said. So we changed it from The Versatiles to The Fifth Dimension.

Q - Did Johnny Rivers give you that name?

A - Actually, we recorded on Johnny Rivers' label, but Johnny Rivers and Marc Gordon co-produced "Up, Up And Away". So it was the two of them.

Q - When "Up, Up And Away" became such a hit, how did your life change?

A - Well, first we all had to quit our day jobs. I was just finishing college and working as an electronic assembler. We all had to take the chance to leave our job to a career that didn't promise anything, (laughs) be that paycheck.

Q - You performed for President Nixon at The White House. Was he a fan of the group?

A - We actually performed at The White House three times. It wasn't always necessarily the President of our choice. The reason we performed there is it's always an honor to perform for The President Of The United States. Yes, he (President Nixon) was. As a matter of fact, we performed for Reagan, Carter. I would really like to perform for President Obama. We haven't done that yet.

Q - We've got to stress that point in this interview. His time there is ticking away.

A - That's right. It would be an honor to perform and to perform for the first African - American President would be an honor.

Q - I interview so many people from the 1960s who were ripped off by a manager or a record company. Tell me that didn't happen to The Fifth Dimension.

A - I'll just say it didn't happen as much as other people maybe in the '60s. There have been times when perhaps things weren't always the way they should have been, but basically we were quite well treated. I hope your audience will get to see our show when we're in their area. I'm celebrating 50 years as the only original member of the group and I'm so honored and pleased that people still like those hits, as you know. We still sing them the way they were recorded, using the same arrangements. We don't try to update those songs. We do intersperse other songs. But I'm very proud of the fact that we still have a very family oriented show and that people are still coming.

Q - These songs of The Fifth Dimension received so much radio airplay that people certainly remember them and they are timeless.

A - I'm honored because we sang songs that were mostly positive. Of course, "One Less Bell" was a sad song, but it was a beautiful song written by Hal David and Burt Bacharach. But, as I said, I'm very proud of that music. We worked very hard to get the harmonies right. I'm very proud to be a part of this group. I don't know if you know this, but I also have a solo show which allows me to stretch out and to sing songs that we don't have time to sing within The Fifth Dimension. With The Fifth Dimension, people come to hear our hits. So we give them what they want. But by doing a solo show I think it also allows me to stretch out and sing some Jazz songs that I like and keep me fresh and up to date.

Q - I almost forgot to ask, you're working on a book, Let Your Light Shine. An autobiography?

A - It's a beauty book. PMS on Physical, Mental and Spiritual beauty. The premise of the book is, don't try to be like anyone else. God made each one of us special and instead of trying to look like a model or the magazine cover, use what God has given you to the best of your ability. Let your light shine. No matter if you're an entertainer or teacher or whatever, you should just be yourself. Be true to yourself.

Q - That book is coming out in the future then?

A - I hope so. I've been so busy I haven't had a chance to finish it, but I hope to finish it. I have to tell you, there is so much competition in this world and competition isn't necessarily good because there's always someone prettier. There's always someone taller. There's always someone who can sing better. That's why I wrote Let Your Light Shine. I think competition should mainly be on the sports field.

Q - But see, you're in a different category. The Fifth Dimension has a name.

A - Right.

Q - The line is moving so fast these days. Next! Next! Next!

A - I know we're like a microwave society. We want everything right now.

Q - The public doesn't really get a chance to enjoy the music that's out there.

A - Right.

Q - I can't keep up with everything that's being released.

A - (laughs) Me either, and I'm in the business.

Q - And now with American Idol entering its final year, that's one less opportunity for new talent. It's going to be that much harder to get a break.

A - I think they're going to be going to the Internet, putting their music on the Internet.

Q - And you just have to hope you get seen by the right person, whoever that may be.

A - Right. And you're different enough.

Q - There are Beatle tribute groups, Rolling Stone tribute groups, Elvis tribute artists. Is there a Fifth Dimension tribute group that you're aware of?

A - There can't be because it's a patented name. I don't think there can be. I'm not sure. To my knowledge there is not one.

Official Website: TheFifthDimension.org





© Gary James. All rights reserved.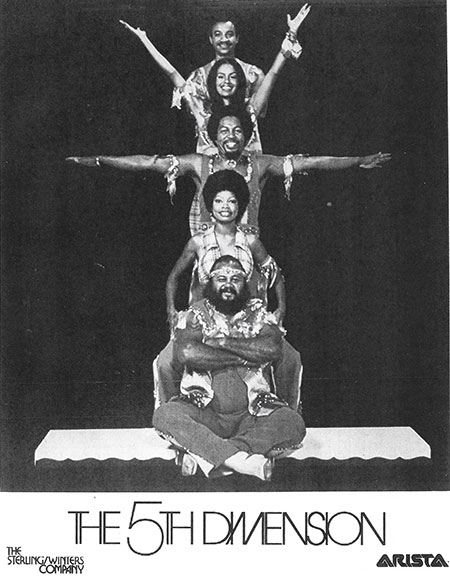 Photo from Gary James' Press Kit Collection