He was born Donovan Leitch, but the world knows him as Donovan.

From 1965 to 1969, he enjoyed thirteen straight hit singles, including "Mellow Yellow", "Sunshine Superman", There Is A Mountain", Hurdy Gurdy Man", Jennifer Juniper" and "Riki Tiki Tavi" to name just a few. John Lennon said of Donovan, "Donovan is as important and influential as either Dylan or The Beatles." John Mellencamp said "Donovan was one of my inspirations when I first sat down with my guitar to write songs." Graham Nash said "When I first started to write decent songs in the late '60s, I badly needed encouragement. Who was there for me? Donovan." SPV has recently released (October 7th 2008) a three hour feature length documentary about Donovan's career titled Sunshine Superman: The Journey Of Donovan.

Donovan talked to us about his career in music and this newest DVD on his life.

Q - I take it that Sunshine Superman: The Journey Of Donovan is probably the most detailed film about your life.

A - Yeah. This is probably the most extensive film work on me, although there was a documentary very early on in '66 that kind of just talked about me on the road with Gypsy, some clips of which are on this new DVD. So yeah, it's the first.

Q - Why was it thought that now was the time to release such a documentary?

A - Well, you know the 40th anniversary came up in 2005. Everybody loves an anniversary and people were talking to me..."When are you finally gonna finish that book?" The book I was working on for many years, I decided to put it together for release in 2005. But, I met a documentary maker two years before that...2003, something like that, and I was sort of hanging out with him in Vienna. Hannes Rossacher, and realized he was the real thing. He'd done The Untold Story of Freddy Mercury and Tom Waits and Marianne Faithful and Miles In Montreaux and Grammy nominated. We got on really well. He said "Are you going to do a documentary as well as your book?" I said "you know, I think I would like to 'cause I've got some footage and I love film and film loves me." And we went into the basement and that's how it began. He saw stuff that nobody had seen, in perfect condition and that's how it began.

Q - Where did you get all this vintage film of Scotland from?

A - Oh, well, there's lots of stuff in there. I got Greece. I have Japan and there was an early documentary. There was lots of TV shows. The piece of Scotland you're talking about, I'm not quite sure what you mean. What is that bit Gary?

Q - Your growing up years.

A - Well, I didn't have a camera in those days, although my father was a photographer. (laughs) That's archived from the bombed out streets of Glasgow, just after the war (World War II), where I was born.

Q - And at least on the first DVD, it shows you sitting in a chair in a living room. That is in your home?

A - That's my Irish home that Linda and I live in, in Ireland.

Q - John Lennon gave you quite a compliment, didn't he?

A - Yes, well, it has worked out that I have moved and encouraged so many to write and compose in different ways. Even the Beatles themselves. You know, on The White Album, I was right in there. I didn't realize how deep I was in there, encouraging them to write in different ways for The White Album. But, John and I were quite close in those early days when The Beatles and me and Gypsy Dave found in each other a common bond. And he was an early supporter, coming to the concerts at the Royal Albert Hall and encouraging me as a young artist. I was three years younger.

Q - Did you know John Lennon was in the audience?

A - Nobody knew that he was in the audience. He said he wasn't coming because he didn't want people to know he was there because he said to my father, "If I come to your son's concert, everybody will be looking at me, Mr. Leitch, and not your son." I thought that was a wonderful thing. My Dad told me that later. But, then again, I heard that he was up there. Way up there. In the boxes with the other Beatles, checking out my first concert at the Royal Albert Hall, and there to encourage me. But, he couldn't do it publicly.

Q - Now, what year would that have been?

A - '65, '66 maybe. I think it was '65, maybe early '66.

Q - I've heard it said that the British fans almost had an inner radar in that they knew when the musicians of the day were out on the town, be it a movie theatre or a nightclub. Was it that bad? Would you get mobbed?

A - Well, 200 girls screaming, chasing you with scissors is quite dangerous. Although, we all laughed a lot. You saw it in A Hard Day's Night. (laughs) It looks tame there, but it was quite dangerous. Sometimes Gypsy, my pal, would say "Should we let them catch us?" (laughs) But that's when we hoped they didn't have scissors.

Q - You just have to wonder what they would have done had they caught you.

A - Aah, well Gypsy had other ways of handling that. (laughs) But he didn't hurt them. He was just very commanding. There were a lot of escapologists we found to help us get in and out of buildings with a limited amount of damage to ourselves and the fans.

Q - You say in this newest DVD of yours, the song "Love Me Do" really turned your head around.

A - Well, yeah. Not that I wanted to be a Beatle suddenly. The energy and the use of acoustic guitars and harmonica and the harmonies, it became clear to me that The Beatles were not singing American. They were singing Celtic. They had these Celtic sort of harmonies that we use and it was fascinating to me. But, I didn't know how to put the Folk, the Jazz, the Blues, the poetry, the civil rights, the protest...all of this together in one package. I realized when I heard these guys, I didn't know who they were. I just heard the song "Love Me Do" and I said, that's what I'm gonna do. That is it! I didn't quite know what it was. Now I know what it was. Now you must appeal beyond the Folk world and take the Bohemian ideas of the culture that is full of energy and the young will help change the world. And that is where I was headed. And nine months later Gypsy and I were in the same room with The Beatles.

Q - What's so surprising about that particular record is, I don't think it sold all that well, maybe 17,000 copies. And it's rumored that Brian Epstein bought a lot of those records to move it up the charts.

A - (laughs) Yeah, yeah. It wasn't to do with the sales. I don't think any of us were really told how much records sold. We weren't interested. And that was our downfall later, not to be interested in the business side of things. We had to take responsibility later because people were stealing the money and leaving us a mess to clean up. The poor Kinks and Small Faces. Oh God, the horror stories. The money they had to payback to the government taxman. And they didn't even spend the money.

Q - I've heard those stories.

A - Horror, horror stories.

Q - You would think that someone was watching the money, but I guess that was not the case.

A - Well, that was the business and that was it. The publishing saved me.

Q - You show the Cafe Jaconda in this DVD...

A - The Jaconda in the Tin Pan Alley of London, yeah.

Q - Brian Jones would sit in this cafe and write as well as David Bowie?

A - Well no, Brian wasn't a writer. Keith and Mick would become writers, but Brian was a mover and shaker. He was the first charismatic Rock star of Britain before John Lennon, before anyone else. Brian was in the street recording demos with his band The Rolling Stones in a basement.

Q - Southern music?

A - Essex music. I was in Southern music and he came down and he was very, very encouraging by telling the television show Ready, Steady, Go that there is a new kid on the block. He's got something to say. You should have him on the show. And they did. He started a triangle that would be very fascinating in my life, because in that third week on television meet Linda Lawrence, who just had a wild, two year affair and a child with Brian. Without me knowing that he knew Linda or Linda knew me, we didn't know each other, all three of us, when we first met.

Q - When you were on Ready, Steady, Go, were you the only featured performer, or would there have been other performers?

A - Oh, lots. Everybody sang their song. It was cabaret style, but with a difference 'cause art students had taken over the control room. (laughs) Their camera angles and the shoot were rather like film than cabaret. It was a changing world. But I was the only 'live' one, that was the artist thing, because I didn't have a record to mime to. But The Kinks, The Who and The Walker Brothers and even The Beatles and The Stones...The Stones for sure, maybe not The Beatles, everybody kind of played on this show once a week.

Q - Had you been a viewer of the show before appearing on it?

A - No. I never went to the show myself. I was sleeping on the beaches and around people's houses. Sort of shuffling around really. I didn't have a television or watch it. But I did hear the radio of course.

Q - It's always been rather fascinating to me how Americans didn't hear about The British Invasion bands until 1964. No one seemed to grasp what was going on musically in England.

A - All the stuff what bubbled under in little clubs, The Who, The High Numbers playing in ballrooms. Rhythm and Blues clubs were beginning to happen. Brian Jones and The Yardbirds and all those boys. Yeah, that was all sort of bubbling under. I guess you had a similar thing bubbling under with your bands that were about to emerge...The Spoonful, Buffalo Springfield and, oh God, The Grateful Dead must've been cooking somewhere. (laughs) We had it all in different venues, different styles I guess. We were in pubs and clubs.

Q - I'm saying we didn't hear anything about what was going on in Britain in 1963.

A - Really? And then there was the Invasion. You got two invasions, didn't you? The first was The Beatles and The Stones and the second one, I came in on '65. It was great meeting the American musicians when I did come over. I just ran into my old pal John Sebastian from The Spoonful in Woodstock, where I presented the film in the film festival there this weekend. I came over specially to present it at Woodstock to do the film press there. It was the first premiere of it in the States. Arlo Guthrie is in the film and he came to the premiere, living close to Woodstock.

Q - I would say one of the points you wanted to get across in this film is that you're a Folk artist as opposed to what we thought you were in the States, which is a Pop artist.

A - Well no, I'm both. I embrace both.

Q - Before you went to India in 1968 to meet with the Maharishi, what were you expecting? What is it you were looking for?

A - Meditation and how to do it even deeper. Part of the trip was to say, look, we've got to find something for ourselves so we don't get the blame for moving this terrible thing out there that we're trying to turn the world onto drugs. We're trying to turn the world onto awareness and to sanity in a crazy world and it's in all our songs. You can hear it.





© Gary James. All rights reserved.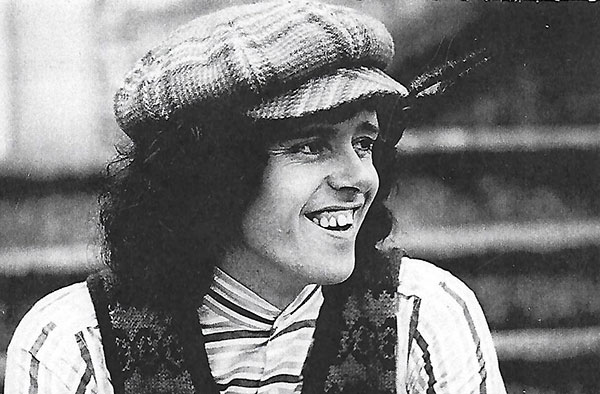 Photo from Gary James' press kit collection