She is celebrating her 50th year in the music business with the release of a new CD, "Only Trust Your Heart". (MPCA Records) and her autobiography My Life As I See It (Simon And Schuster Books). She's won five Grammys, the first for her 1968 recording of "Do You Know The Way To San Jose?". She charted twelve consecutive Top 100 hit singles from 1963 to 1966. She's performed before Kings, Queens, Presidents and Heads Of State. She was the first female artist to win the Best Female Pop and Best Female R&B Performance awards.

We are talking of course about Miss Dionne Warwick.

Q - Ms. Warwick, did you know there's a Syracuse N.Y. connection to your new CD? Two of the songs you recorded for the CD were co-written by Jimmy Van Huesen, who was born in Syracuse N.Y.

A - You just gave me some information I didn't know.

Q - Will there be anything in your autobiography that will come as a surprise to your fans?

A - No. I think what it will do is to quell all what people think as opposed to what I know, and give you a true insight into who I am.

Q - You'll talk about your early years and touring and the 1960s?

A - It'll carry you right up to present date.

Q - I like your philosophy; "If you think it, you can do it."

A - That's right.

Q - Did you always have that attitude?

A - My grandfather gave me that when I was about seven or eight years old, and it's been a part of my life ever since and will continue to be.

Q - Were you encouraged or discouraged by the people around you when you said you wanted to be a singer?

A - That was inevitable. I come from a family of singers. So the apple doesn't fall far from the tree, as they say.

Q - You started singing in churches. Did you ever sing in nightclubs?

A - No.

Q - Lucky you.

A - Yup. (laughs)

Q - You appeared on American Idol, didn't you?

A - Yes, I did.

Q - Each week the contestants will be asked to sing a song from a different year, a different style of music. Does that really showcase the talent of a singer?

A - I believe it does. It's an opportunity to see how many genres they can actually master.

Q - Take someone like Carrie Underwood for example. She's a Country singer. That is what she did best.

A - Well, I think Country singers can sing Pop. One that comes to mind is Faith Hill. So, her being able to sing Pop music I think is a testament to her talent. If she's going to corner herself into just one genre of music, I don't know if that's really using the full ability of what she has to offer.

Q - The songwriters that wrote the standards that you recorded for the CD "Only Trust Your Heart", how does the material being served up by today's songwriters compare?

A - Completely different genres of music.

Q - Roy Angry says in the liner notes of your CD "The stories alone told during those recording sessions were priceless." You were talking about your past experiences in the studio?

A - We were talking about recording, yes.

Q - You're in a very special category. You've sold over 100 million records. Not too many people can say that!

A - It took a long time to do it, I'll tell you that! I've been blessed. I truly have.

Q - You appeared on The Ed Sullivan Show, didn't you?

A - Several times, yes.

Q - Did he ever mis-pronounce your first name?

A - All the time.

Q - That's what I thought you would say. He never could get Diana Ross' name right.

A - I think it was par for the course not only for me and Diana, but several people who appeared on the show. (laughs)

Q - You had a good experience on that show, didn't you?

A - Absolutely. He was one of the kindest men I worked with.

Q - You're touring behind the new CD?

A - Correct.

Q - And doing book signings for your autobiography?

A - I did and am still doing them.



© Gary James. All rights reserved.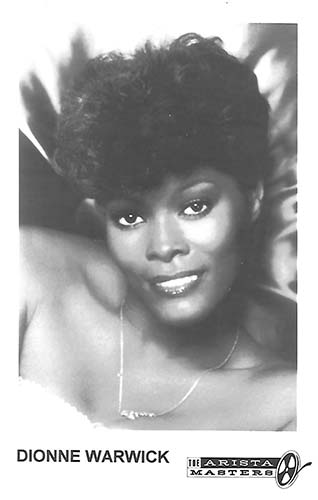 Photo from Gary James' Press Kit Collection