She was born Concetta Rosemarie Franconero, but the world knows her as Connie Francis. From the humblest of beginnings to the very top of the recording industry, Connie Francis has seen it all. Within two years of her first hit recording "Who's Sorry Now?", a song that's really become her signature song, Connie Francis had achieved world wide record sales surpassing that of all female predecessors and contemporaries! For the record, Connie Francis is the only recording artist to have been awarded 10 Gold Records for 10 individual titles within a two year period. At last count, Connie had 16 Gold Records to her name, and sold over 100 million records. Her awards are many and include being named the Female Entertainer of the Century by Canada's Expo '67; the Top Juke Box Artist in America of 1961 by the Juke Box Operators of America; the Number One Female Vocalist in Worldwide Sales by a special Billboard survey of All-Time Best-Selling Artists for seven consecutive years; voted not once, but four times as the best Female Singer in the World by readers of Britain's New Musical Express; and declared the Best Female Vocalist of the Year by Photoplay Magazine. Connie was also named the Best Female Singer of the Year by fans of Dick Clark's American Bandstand.

Connie's motion picture debut in "Where The Boys Are" was a box office triumph. The film became one of the Top 10 Teen Films of all time. The million-selling title song, which Connie sang, topped the charts in 15 countries and six languages simultaneously! Billboard and Cashbox Magazine proclaimed Connie to be "The Most Programmed Female Vocalist" by disc jockeys for a record seven consecutive years.

These days you will still find Connie touring and performing. She performs to sell-out crowds all over the world. Connie recently (1997) recorded a tribute to Buddy Holly, "With Love to Buddy" for the UK's Carlton Records. In addition, Connie was the first artist approached by Dick Clark's new label, Click Records. She signed a deal with him for a recorded 'live' album while performing to three sell-out crowds at Atlantic City's Trump Castle. And, as if that is not enough, Polydor / Chronicles released a four CD box set entitled "Souvenirs". It contains 118 selections, digitally remastered from her original master tapes, including every US and UK chart hit, non-charting singles, rare B-sides, album tracks and rare stereo mixes. It also features a 72 page color booklet.

What's left to say? We're very proud to present an interview with one of popular music's most talented singers and performers - Miss Connie Francis.

Q - Connie, you used to perform in Syracuse at a club called Three Rivers Inn.

A - Yes, the Three Rivers Inn. It was owned by a man named Dom Bruno who was a very, very close friend of ours. I used to work there every summer. Dom's sister became my hairdresser and traveled with me for seven years on the road. So, Syracuse and I go way back. It was a great club.

Q - Did you ever have the chance to get out and see a little of Syracuse?

A - No, because it (Three Rivers Inn) was out in the country. There wasn't much around. After the shows, we would go to an Italian restaurant that a friend of ours owned and so I didn't get a chance to see much. Actually, that holds true of most places I've been. There are some cities that I did take time out to study, 'cause I love history and one of them was Boston, and of course Rome and all of those places like that. But, in Syracuse or Rochester, or any of those places, no. All I've seen is the nightclub and the menu.

Q - You don't remember the name of the Italian restaurant do you?

A - No.

Q - I consulted a couple of books about you. One of them was called The Encyclopedia of Rock 'n Roll by Brown and Freddrich. They write "Before long, Connie became an adult favorite too, and probably more than anything else, this is what turned off the kids to her singles." Would you agree with that?

A - No. That was far from the truth, very much like Bobby Darin had "Queen of the Hop" and "Splish Splash" and songs like that when he did "Mack The Knife", I remember Dick Clark saying to him "Don't release the song, Bobby, as a single, because it's going nowhere. The kids on American Bandstand will hate it." When I did "Mama", and I played it for him, and told him I was releasing it as a single he said, "Absolutely not. It'll be turn-off." Well, what it did was to allow Bobby and I, for the first time, to play the Copa and to play Las Vegas and Harrah's and Reno and Tahoe and all the spots that considered us Teenage X. We didn't lose our teenage audiences, because right after "Mama", I don't remember the hit that exactly followed it, but it was a real bubble of a song. What it did was expand our audience, not exchange it.

Q - Was Arthur Godfrey the gentleman who suggested you change your name to Connie Francis?

A - Yeah. He said "Little girl, come over here with your accordion. How do you pronounce your name again?" And I said, as if speaking a foreign language "Franc-o-nero." He whistled and said "That's a toughie. Why don't we give you a nice, easy to pronounce old Irish name like, let's see, Francis." I said "Oh, Mr. Godfrey, please, please let me be Connie Franconero just for tonight. My father will have a fit." So, he struggled through it and said Connie Franconero, which incidentally, my name has never been legally changed. After that, my father said "Yeah, Connie Francis. That has a nice sound to it. That's not too bad. We'll use that."

Q - Did you like the name Connie Francis?

A - Yeah. I thought it was cute. (laughs) Easy.

Q - I read you autobiography "Who's Sorry Now". The one thing I'll always remember is the role your father played in your career. If Elvis had the Colonel and the Beatles had Brian Epstein, Connie Francis had her father.

A - That's right.

Q - I'm just wondering. If your father hadn't been in the background, pushing and promoting all the while, maybe you wouldn't have had a career.

A - It wouldn't have happened. He had insisted on "Who's Sorry Now" for a year and a half. I had gone through 18 bomb sides, nine releases on MGM. We were down to our last recording. My father said "Look, dummy," he had this great, but very elusive charm, "You picked out 18 duds. Let me pick one song. Sing this song. For a year and a half I've been trying to get you to sing this song." I said "Don't tell me it's Who's Sorry Now again." I said "Please Daddy. It was 1923. The kids will laugh me right off American Bandstand." He said, "Unless you do this song, sister, the only way you'll get on American Bandstand is if you sit on top of the TV set." (laughs)

Q - He had a great feel for what people liked, didn't he?

A - For me, anyway. He just knew what the public would accept from me, and what they wouldn't accept from me. For instance, my first few Italian albums, I didn't speak Italian. I just remembered songs my grandmother taught me, and songs that I learned for the recordings. But, then I learned to speak Italian. When I was there, I hired a professor who stayed with me 24 hours a day. She wouldn't let me speak a word of English. I learned Italian in three months. So, I was very keen on all the new Italian music that was being written. I wanted to introduce it to the American public. So, I did an album called "Connie Sings Modern Italian Hits". He wasn't at the session. It took place in Italy. When he heard it, he said "That record is gonna sell." I said "Do you think so Daddy?" He said "Yeah. Like five copies in Brooklyn. It's going nowhere." And he was absolutely right, because the people who came to this country from Italy were immigrants. They were Neapolitan people. They were Sicilian people. They were people who spoke with a dialect. They didn't understand perfect Italian. And, the album did not sell, and he was right about that. He was right about country music. He used to listen to this disc jockey, Jerry Brenner in New York, who would play country music once a week. We'd drive in the car and I'd say "Daddy, please, that Ozark stuff is killing me." I'd get a headache. He said "The Ozark stuff is going to beat pop music one of these days."

Q - He was right about that.

A - Right. I said no way. The purists won't let them use strings. He said "It's going to make it and it's going to make it big. It's gonna take over the pop charts." I was probably one of the, if not the first American popular artists to record in Nashville. It was like a really weird experience. I was used to recording in L.A. and New York. Every session started at 12 o'clock. If you went one minute past four hours, you had to pay for the next four hours. So I walked into the studio and there were musicians with beards and jeans and plaid shirts and suspenders and they were drinking beer. They were eating hot dogs and pizza. I said "Hi everybody. I'm Connie Francis. Let's go. It's two minutes after twelve." They said "Please, Miss Connie, we're all waiting on Grady. Grady's wife is feeling poorly. So, we're just waiting for Grady to come. Now relax, 'cause we gotta get your mind right." (laughs)

Q - That's straight out of Hee-Haw isn't it?

A - (laughs)

Q - I wonder if it's the same today.

A - Oh, yeah, it is, 'cause I recorded a Buddy Holly album for the UK about six months ago, and it's exactly the same way.

Q - How long did it take you to record "Who's Sorry Now?" Did you get it on the first take?

A - The second take. The first take was bad because there was something wrong with the orchestra. We did it on the second take, in 16 minutes. I finally agreed with my father to do "Who's Sorry Now?" Usually we could do three songs on a session. We didn't attempt to do four songs. I placed "Who's Sorry Now?" fourth, so we wouldn't get to it. So there were 16 minutes left. I was in the control room and I pressed the button and said to the musicians "Sorry guys, there's no time for "Who's Sorry Now?" Lipton said, "Get in the god-damn studio and record the tune before I kill you." (laughs) So I marched into the studio and recorded "Who's Sorry Now?". It was the first time that I ever recorded that I didn't try to imitate somebody else. I was doing demos when I was 14 years old. I was earning ten dollars for four hours, which went a long way in those days. Each of the publishers would have a particular artist in mind that they wanted to gear this song to. So they'd say, "C'mon Connie, give it a Rosemary Clooney sound. Give it that great Patti Page or Jo Stafford sound." And so I would do it, and sound like them. But I didn't have a style of my own yet. On "Who's Sorry Now?" I hated the song so much that I didn't care what I sounded like. So I just sang it.

Q - And sang it so convincingly. You really sounded sorry.

A - I was sorry I had to do the song. (laughs)

Q - How many records did that sell?

A - Oh, well over a million.

Q - Were you encouraged by a producer to write your own material?

A - No. I was never encouraged to do it and I played the accordion, which I hated. I wish I had taken piano because I definitely would have written more songs of my own, but I didn't. In those days, they didn't have producers. I was my own producer. They had A&R men (artists and repertoire) who would bring you material, but I never liked any of the material they brought me. So, when it was time for a session, I would sit for hours in my office and listen to every publisher, every songwriter, every old songwriter until I would find something that I liked or a standard that maybe I would do. A producer, if you think about it, is a person who finds the right marriage between an artist and a song, chooses the right manager and I did all of those things. I had complete carte blanche contractually to do all of those things and never release any of 'em that I didn't want to release. It was an incredible contract.

Q - Was it difficult to work both sides of the control booth?

A - No, it wasn't. I would lay my voice down with the whole orchestra. Don't forget in '58 when "Who's Sorry Now?" was a hit, there wasn't even stereo until the end of the year. So, when you left that studio, you had to have a perfect mix. You had to have a perfect orchestra, and a perfect vocal take. You couldn't go back in and put your voice over something or put instruments over something. That was it. And that was a great way to record. I still like recording with the orchestra there. I don't like recording into a track.

Q - Did you always want to be a singer?

A - Always.

Q - Did you tour with those Dick Clark Caravan of Star Tours?

A - Oh, sure did. We went all over the place.

Q - All over the United States?

A - Yes. And then my father didn't want me traveling with rock 'n rollers. (laughs) Like I wasn't one myself, you know.

Q - Even though you sang those slow ballads, you were.

A - Right. I was a rock 'n roller. But he didn't want me traveling with these rock 'n rollers, so that was the end of that.

Q - Do you remember who you appeared with?

A - With everybody. Chuck Berry, Fats Domino, Jerry Lee Lewis, Bo Diddley, The Big Bopper, Buddy Holly.

Q - Did you get a chance to sit down and talk with these people?

A - Oh, sure. But we didn't have that much time. But, in the course of doing a show, you talked with them, and exchanged ideas. The would tell you what record they liked.

Q - Did you get to meet Elvis, The Beatles and Frank Sinatra?

A - Elvis and Frank Sinatra. Not The Beatles. I never met The Beatles.

Q - What can you tell us about Elvis?

A - Well, I thought he was a gentleman. I thought he was a sweetheart. I thought he was surrounded by the wrong people who would be detrimental to him, and I told him that one day. The first time I met him was shortly after his mother died. He came to see me at the Sahara Hotel in Las Vegas. When I started to sing "Mama", he just started to cry and got up and left the theater. The next day he sent me two dozen yellow roses with an apology.

Q - How about Frank Sinatra?

A - Frank, I've been a part of his family and his life for as long as I can remember. I was very close to his parents. Close to Nancy...Nancy Sr. and Nancy Jr. Close to Frank Jr. He's been a part of my life throughout my career.

Q - I want to go back to something you said about Elvis. Why did you think he was surrounded by the wrong people?

A - Well, they were yes men. They overlooked his excesses and the chemicals he was taking. For a Cadillac, they would say the right thing. I said, "God forbid that day comes that you die Elvis. Red West is gonna write a bad book about you," and I was absolutely right.

Q - When you were starting out, most of the record companies rejected your demos. Is that correct?

A - All of them except the last one, which was MGM. They all said, save your money, this kid is going nowhere. Mitch Miller said "Save your money. This girl sounds like 50 thousand other girl singers." It was very discouraging. (laughs)

Q - According to Irwin Stambler's book, The Encyclopedia of Pop, Rock and Soul, "Connie Francis might be considered another example of the show biz hex of too much, too soon. In her late teens and early 20s, she ranked as one of the top favorites of teenage fans, able to turn almost every record into gold sales material. Later on, when her star began to wane, she wasn't able to put the entertainment business behind her and go on to other pursuits." You weren't looking for other pursuits were you?

A - No, I certainly wasn't. First of all, it's something that occurred to every American artist including Elvis simultaneously with the surge of British material that came in. I mean, there was nothing American artists could do right. The public wanted the stuff from Britain, and that's what they got. By that time, I was working Vegas 12 weeks a year and working the Copa twice a year and working Reno and touring the world and recording in foreign countries. So, even though I wasn't doing very much here, my career was going full blast all over the rest of the world.

Q - What keeps you busy these days?

A - I was just in San Francisco at Louise Davis Symphony Hall. I'm appearing in Rochester at Kodak on the Ridge. They have a new series called "Legends of Las Vegas" and I'm the first person in that line-up. Wayne Newton will be next . Then, Paul Anka. They have a whole line-up of people. I'm going to be touring Singapore, Malaysia and Hong Kong the end of May. In October, I will be touring New Zealand and Australia.

Q - I was trying to think what the best thing about being Connie Francis would be. I don't necessarily think it's the fame or even the money. But, I think as long as there are radios, albums, CDs, or cassettes, your music will be played. In other words, you're going to be remembered. Am I on the right track?

A - Yeah. You're on the right track. I think it's great. I often say, I'd like to be remembered not for the heights I've reached, but for the depth from which I've risen. There are a lot of people who have had my success in this business. There were exhilarating highs and abysmal lows. But, it was fighting to get out of those lows that I feel most proud of. It was struggling to reconcile all of the tragedies that had occurred in my life and I'd like to be known for my music and I'm always honored and privileged when people remember and it brings back happy memories for a lot of people and that makes me happy.



© Gary James. All rights reserved.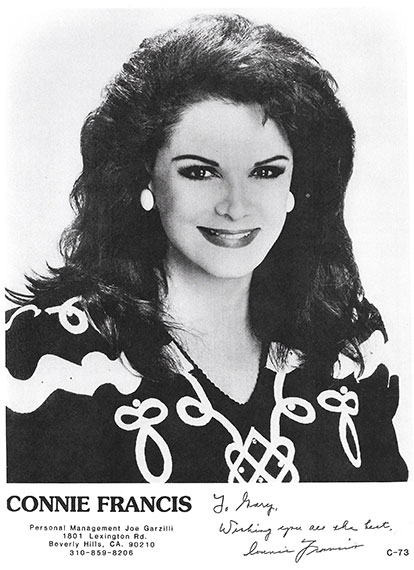 Photo from Gary James' Press Kit Collection