The Box Tops were the first recording artists to have a Memphis recorded, nationwide, number one hit! This includes all the previous Sun, Stax and Hi Records up to that time. "The Letter" was number one on Billboard Magazine's Hot 100 for the entire month. It went on to be a worldwide Top Ten hit. "The Letter" was Cashbox Magazine's Record Of The Year for 1967. The Box Tops received two Grammy nominations in 1967, Best Performance By A Vocal Group and Best Contemporary Group Performance, Vocal Or Instrumental: "The Letter". The group was awarded two Gold Records for "The Letter" and "Cry Like A Baby". Bill Cunningham, bassist for The Box Tops, talked with us about the history of his group.

Q - So Bill, The Box Tops formed in 1966 and a year later "The Letter" was riding high in the charts. You guys didn't have to wait very long for success to come your way, did you?

A - That's right. Actually, the band was formed under a different name, The DeVilles, for a time. When I joined it was still called The DeVilles. I was actually the last one to get included in the group as it stood as The Box Tops.

Q - When did you join?

A - I actually came in very early in the year in 1967. "The Letter" was recorded and put out very quickly and took off very quickly, by the summer I think here in the States. I played our first gig in July 1967 as The Box Tops.

Q - Before The Box Tops, where were The DeVilles playing?

A - Playing dances around town and going out for everything a normal Memphis band would do, going around playing parties and events.

Q - How did the band get a record deal with Bell Records?

A - Well, the band had already recorded a couple of tunes with various singers and various members under the name The DeVilles. They had some local releases. One of them was called "Cindy's Carousel" I think. Something like that. So, they were sort of known locally. I actually played in some competing bands against them in some Battle Of The Bands we did. The point is, they already had some recording experience, some contact with American Studios at that time. The management was basically run by a DJ, a local DJ in town and he had connections too. So, that's how the studio connection came about. When Bell Records picked up "The Letter", it just happened they were coming down to pick up some James and Bobby Purify recordings from American Studios and they overheard it playing and I guess decided to buy it and that's how it happened.

Q - How did life change for you and The Box Tops when "The Letter" went to number one?

A - Well, obviously it didn't go immediately to number one. It took a few weeks, which is a short time, but it sort of changed in that we would go out to Birmingham, Alabama or Philadelphia, Pennsylvania... different places that we just never really went to as a group. As we got out there, more and more people were hearing it and eventually we stopped traveling in cars and vans and we bought larger vehicles and then we stopped traveling in those vehicles and started traveling by bus. Then, we stopped traveling by bus and we started traveling by air and had equipment people traveling and doing the set-up as opposed to setting up the equipment ourselves. So the whole thing changed pretty quickly. The mode of transportation changed. The distance between gigs changed. The amount of staff we were employing changed.

Q - According to The Rolling Stone Encyclopedia Of Rock: "The band toured infrequently and Alex Chilton described the band's 'live' abilities as terrible." Is that true?

A - My comment on that would be, like everything else that's written, there's some truth and some distortion in it. The band toured very frequently. I know my mother was keeping records and in the year 1968, which is a year after "The Letter" came out, about the "Cry Like A Baby" time, the band toured every day. We played a gig, with the exception of eleven days that year. So, we played one or more gigs, and sometimes we played as many as three States on the same day.

Q - How'd you do that?

A - We used to play an afternoon performance, an early evening performance in another State, and a very late evening performance in a third State. So, we were really working hard on the road. The statement that we toured infrequently is not accurate at all. They kept our rear ends out on the road to promote our records to make any kind of money we could, being out there. They ran us ragged. So, that's wrong. Alex's statement... I'll let them stand for themselves. I know that he said he didn't think very much of the band, which I don't take personally because he is a friend of mine. He thought enough of me to actually ask me to join. (laughs). When the band started out, we hadn't been together that long. We didn't know that many songs. We really weren't that tight. Over time, traveling, the band got better and better. But, we also had member changes, so that would throw us back somewhat. In a way, there was a camaraderie or band feeling and in another way there never really was one. We didn't grow up all wanting to play together. The only person that I ever knew in the band that was a friend of mine and that I had grown up with was Alex. So, the other guys I didn't even know until I got in the band. Maybe he felt that way too. I think he came in by somebody calling him out of the blue and asking him to come in.

Q - Were you a support act on the road or a headliner?

A - We started out as a support act. One of our first really big tours was the Wilson Pickett Revue, which had Wilson Pickett, Rufus Thomas and I believe Carla Thomas and The Staple Family. So, we were the only white act on that particular show and we were thrilled with that actually, 'cause most of us really liked the R&B and Black music. After the Pickett tour, Brian Wilson heard "The Letter" and wanted the band very much to go out with The Beach Boys and we did do that and became friends with them. We toured with them actually for about a month every year that we were together. We played all kinds of arenas, coliseums and small clubs.

Q - Did you play any gigs with The Doors?

A - We did. Right when "Light My Fire" was climbing up the charts and "The Letter" was climbing up the charts. I think they were one and two in the United States at the time. We did a five day festival down in the Dallas / Ft. Worth area with The Doors. That was very interesting because that was one of the first sort of getting out of Memphis into the Hippie scene that we discovered, where people walked around smoking grass. People wore different clothing than we did. It was a real education and a lot of fun. I was always a big Doors fan anyway. I'd found their records in the bins early on, at least their first albums before "Light My Fire" became big.

Q - Did you ever play on the same bill with Hendrix or Joplin?

A - We may have played some shows with them that were just huge shows, something like the Miami Pop Festival. I don't think Hendrix was on that. I remember seeing Hendrix perform once, but I don't remember where he was performing or if we were part of the show. We were certainly on with most of the big acts at the time.

Q - Did two of the members of the band quit at the height of The Box Tops success to return to college?

A - Yeah. That related in a very big way to the Vietnam War and the draft situation at the time.

Q - Their feeling was they might've been called up, so it was best to get that college deferment?

A - They weren't in school. So, they were liable to get drafted, whereas Alex and I were underage. So, we weren't going to get drafted at that time.

Q - The Box Tops actually disbanded in early 1970.

A - Yeah. I quit in the first week of September of 1969. After I quit, they went through a couple of different member changes. The story that I got from both Alex and Gary, the two that stayed all the way through, was that they went to England and the equipment was so poor, they were going to be asked to play on for the tour in England that they basically... well, Alex anyway, refused to play in public. They just dispersed to spend some time in Europe. Different people going different places. Then, they came back to the States in early 1970. The word I got, at least Alex mutually agreed things weren't worth trying to keep together and they just decided to call it quits, unlike what's in the liner notes or elsewhere that reported Alex walked off stage in the middle of a performance. That didn't actually take place.

Q - How long before the group reformed?

A - Well, they got back together for one special occasion with a bass player or somebody who had replaced me, I think because his sister had AIDS and they were looking for a collection to help her with medical bills. They did one performance in 1985. Other than that, I don't think there was ever another performance until I called everyone and asked them to go back in the studio in 1996... October, November of '96. When we went back in, and I don't even know how they found out we were going back in, people started flying in from around the country asking to book us. We said we've got other careers. We're not interested in doing this full time, but if you want to try and book a few gigs, we'll see. And it's been going like that ever since.

Q - And where does the group perform today? It's not just, and I hate to use the term...

A - Oldies concerts? Well, that's okay. The nice thing is, a lot of the young kids and people that follow Alex's independent career and other people's careers, often write on the Internet that the one thing our performance doesn't seem like is an oldies performance. It sounds very fresh.

Q - Will we see any new Box Tops CDs out with original material?

A - Well, it's not exactly original material, but just about a week or two ago there was a release of a thing called "When Pigs Fly", which is a compilation material. It's basically a New York producer who decided to get a bunch of different acts together from various genres and have them do people's songs that were very well known from completely opposite genres of the ones that the performers are known for. For instance, he got Jackie Chan, the karate guy over in Hong Kong, to record with Ani De Franco, "Unforgettable", that Nat King Cole song. We ended up doing Blondie's "Call Me". The Oak Ridge Boys did Kansas' "Carry On Wayward Son". Roy Clark did Louie Armstrong's "Wonderful World". Do Ho did Peter Gabriel's "Shock The Monkey". Devo ended up doing "Ohio", the Crosby, Stills, Nash And Young song. It's a very weird, sort of droll, funny kind of thing. However, the performances on most of 'em turned out to be quite good. It's sort of interesting listening. So, that's been recently released. We're toying with the idea of going back in the studios to do something and I'm not sure if we will do it or when we will do it. A number of us are writing, including Alex. If we can get up enough material, we may go back in and do something that has a lot of original material on it.

(Sadly, Alex Chilton passed away on March 17th, 2010 at the age of 59.)



© Gary James. All rights reserved.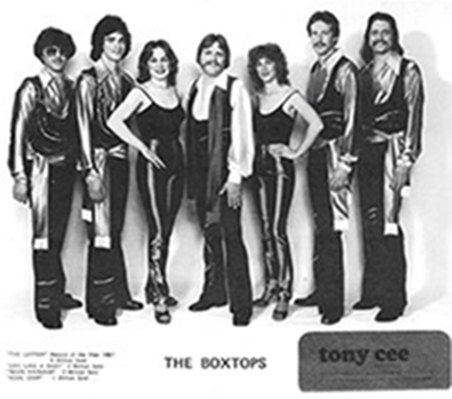 Photo from Gary James' Press Kit Collection