From 1959 to 1970, Bobby Vee had 38 singles enter Billboard Magazine's Top 100. You might remember some of them, songs like "Take Good Care Of My Baby", "Rubber Ball" and "Come Back When You Grow Up". In a career that's spanned over a quarter of a century, Bobby Vee has released over 25 albums, yielding six gold records. Bobby's big break came when he was asked to join the line-up of a February 3, 1959 concert in Fargo, North Dakota. An opening existed because of the deaths of head-liners Buddy Holly, Ritchie Valens and The Big Bopper. Bobby Vee today, sounds as good as ever! And we're not just saying that to be polite. The man can write. The man can sing. His latest release is titled "The Last Of The Great Rhythm Guitar Players". (1995) We talked with Bobby Vee about his career, a career that strongly parallels the rise of rock 'n roll.

Q - Bobby, if you're the last of the great rhythm guitar players, there are two guys who are no longer with us who were pretty good in their time, Brian Jones and John Lennon.

A - Oh, absolutely. It was kind of a title with a smile, I guess. I sat around in the studio writing my songs, and the kids would come by and they would say, 'There he is, the last of the great rhythm guitar players.' I never aspired to be a lead guitar player. I loved the rhythm guitar. I still play it through half of my show.

Q - Rhythm guitar is not as easy as most people would think.

A - It's the most underrated instrument in the band. It's done primarily for fill, and you work off the drums, and it's not a featured instrument in most cases.

Q - You got a great review recently where the critic wrote, "Vee is in good voice, good shape, and exudes warmth, energy, and enthusiasm." You were called, "Very much a performer of today." How have you retained your enthusiasm for the music? Are you surprised your career has lasted this long?

A - Well, I'm into my thirty-fifth anniversary now. I remember when I was first starting out in the late 50's, and everybody at that time said rock 'n roll was gonna die. I was 15 years old when I started, and I certainly didn't believe that was true. I thought anything that feels this good and makes me want to tap my foot like this can't be a passing fad like everybody says. Of course, they were wrong, and here we are in the 90's and it's alive and well, and getting programmed all over the country, and really all over the world. So it's been a great journey. There's certainly been some ups and downs, but, it sounds like a cliché, but I'm really having more fun than I've ever had. Working conditions alone are better today. We're travelling better, and eating better. The equipment is better. Back in the 60's, we' had to play the string parts on 'Take Good Care Of My Baby' on a B-3 organ, and now, we've got all of the electronic toys to play with. So that part of it is really fun. And, we do a wide variety of shows, so, it keeps it interesting. As long as people want to hear the old songs, I enjoy performing them. My job is to make it live every night. I decided a long time ago, that, rather than walking through it and not enjoying myself, I want to show off as much as I can, and be there. This is my thing.

Q - Europe must be one of your best fan bases.

A - Yeah, it really is, England in particular. They view America differently than we do as Americans. I think they really see us as a giant jukebox or something, all of this great music that has come out of this century in the last 75-100 years. Dixieland music. Jazz, and some of the great Bluegrass, and the Rockabilly. The pop music of the 60's. Certainly the hard core rock 'n roll of the mid 50's. This is our music. I think they give American acts points for this. Just by association they like you. (Laughs). When you do a theater date in England, we tend to get the people that grew up with the music, and their kids, and the people that have discovered it since then. So, you really get the die-hard fans. Nothing could be more fun, to work to an audience that know your songs and they even know the B-sides of some of the album cuts. I always, in my show, reserve a portion for requests and people shout stuff out of the audience. If the band doesn't know it, I just do it on my guitar and just really have fun with it. That's kind of what sparks me. On the other hand, we'll do a convention for General Electric and those are unsolicited jobs. You go in to do your show and people often don't know who's performing until they get there. Everybody thinks they love old rock 'n roll, but if you ask them to name a song they'll say "Rock Around the Clock" So, you're working for an audience of people that maybe or maybe don't know who you are. That's part of the fun of it for me. You kind of set the ego aside, go out and sing and have fun with 'em, and that keeps the variety for me. I wouldn't want to have to do it all the time, but it's a lot more fun to work for people who know who you are.

Q - You were in England in the early 60's, and saw The Beatle thing coming. What did you see?

A - It was probably what I heard. I was over doing a tour, listening to the radio as we do when we're out on the road, and I kept hearing a song by a group called The Beatles - 'Love Me Do'. I heard people talking about this group. You could just feel the excitement going on around them. I loved the record. To me it had that old 50's sound to it. It had a rawness and an energy to it. It kind of reminded me of the stuff Buddy Holly and The Crickets did. My producer was with me, Snuffy Garrett, and he tried to buy the rights to it for Liberty Records for American issue and they didn't succeed at that. That sort of alerted me to this English thing that was happening up in Liverpool, the Mersey Sound. I came back the following year and of course 'Love Me Do' had peaked and they came out with the follow-up, 'Please, Please Me' and 'She Loves You'. I remember at that time, it was like bang, an overnight sensation they were. I remember being invited to a party of theirs in London. The record company or management was throwing a party and I went back and met the guys in the Mayfair area and the following day we did a television show together. But, they were wonderful. Even at that time, it was just all this energy that they had going. There's nothing more exciting than being around acts that finally break through, 'cause they've all got their story to tell about getting there. They had obviously broken through. They had a couple of records that were doing well. They were on the verge of really making it big time in America.

Q - Did you meet Brian Epstein at that party?

A - Oh yeah, I met Brian. He was there.

Q - What was he like? -

A - He was a very talented guy. He had great 'ears'. He knew the music. He was as green as they were at the time really. I remember Tito Burns was my agent in England at that time. I remember Tito telling me that Brian Epstein had called him because he had an offer to go to New York with The Beatles to do a show. They didn't want to do the show. They'd been out working and things were going so well for them and they really wanted some time off. Tito said, 'Well, you never really turn down jobs. You don't turn down work. What you do is just raise your price. If you get it high enough, they'll say we'd love to book you, but it's too expensive.' So, he threw them a price he knew they would turn away from and not accept, and they accepted it. Tito loved to tell that story because he said that was one of the first signs that he had that this was happening. I don't remember what they were working for, it was probably a couple of thousand dollars a night, if you're really 'hot'. They asked for $7,500 and the buyer accepted it.

Q - Would the buyer have been Sid Bernstein for The Beatles Carnegie Hall performance?

A - That might have been the show.

Q - Nik Cohn in his book Rock From The Beginning wrote about America and the music of the 1960's: "Hard rock was done. What had replaced it was a continuation of high school - pretty nothing boys, Brian Hyland, Jerry Keller, Johnny Tillotson, Bobby Vinton, and pretty nothing songs. Bobby Vee was not much better, but was given good songs like 'Rubber Ball' and 'Take Good Care Of My Baby'." Is that one of the reasons you were so popular - you had good songs?

A - Well, it sounded like, in the first part of the review, he didn't even give credit to the songs. I would certainly have to disagree with him on the songs and certainly the talent too. It was a different time period. That early 60's time period was sandwiched in between Little Richard and The Beatles. It was an interesting time period. I always loved it. I was there. I loved the songs that I did and always felt fortunate to be part of the Screen Gems, Carole King, Gerry Goffin, Barry Mann, Cynthia Weil thing - the Brill Building really. That's where those songs came from, in New York. There were some great songs. How can you not like 'Save The Last Dance For Me' or 'Stand By Me' or 'Will You Still Love Me Tomorrow' and hopefully, some of my songs. They're very well-crafted songs, written by people who are still valid in the business.

Q - Brown and Friedricks Encyclopedia of Rock And Roll says this about you: "Although his weak voice was heavily echoed, the sound remained as close to that of Buddy Holly as anyone has ever managed and the public just ate it up." Is that a fair statement?

A - No, I don't thinks so. It's difficult for me to be objective about the whole Buddy Holly thing, because it was so close to me, getting started. I was a big fan of his. I did the first tribute album to him, back in the early 60's called 'I Remember Buddy Holly', which has just been reissued on CD. I love the Buddy Holly stuff. If you really want to get technical about it, we've really never used much echo on my voice. If you listen to the records today, they're almost dry by today's standards. So, I don't know what to say.

Q - You lived in California for a good part of the 60's and 70's. Today you live in Minnesota. What are you doing there?

A - Oh, just looking for peace of mind. I loved living in California while we were out there. I cut my first record there in I960 and I commuted. I was still in school. Finally in late '61, '62, I had an apartment out there and basically was there until the early 80's. My wife and I and the kids moved back to Minnesota in 1982. It's been a great move. I got tired of California, it was like I had mentally moved two years before we packed our bags. We always would come back to Minnesota in the summertime and spend our summers here. Always had a lake cabin. This is beautiful country here in the summertime.

Q - But the winters must be hell.

A - Well, they can be. (Laughs). Living in California and being in Hollywood and all of the hype that goes on, even the people in the business hyping each other - I just got tired of it.

Q - You don't think your career has suffered because of your move to Minnesota do you?

A - I don't think so. As a matter of fact, for the last 12-14 years we've been here, I'm close to Minneapolis. I can actually get anywhere in the country and work the same day. So, from that standpoint, it's helped me. But, the demand for performing, even when I go to England, it's not because of the things I'm doing currently, it's because of the songs I've had in the past. I'm grateful for those songs because it gives me an opportunity to continue doing what I do.

Q - Were you happy with your record label, Liberty Records?

A - They were wonderful. It was really a family of people. When I cut my first record, it was for a regional company here in Minnesota. That became a number one record in the Summer of '59. We started getting calls from labels wanting to pick up the master. A disc jockey friend of mine from Minneapolis, Charlie Boone, who's still with WCCO, recommended Liberty Records because they only had a couple of acts. I really knew nothing about the record business. They had the Chipmunks, Eddie Cochran, and Patience and Prudence. They were looking to build their roster. So, that seemed like the best choice. And, in fact it turned out to be a great working relationship. It was a very young company and they had this energy going for 'em. They wouldn't take no for an answer. The promotion staff was always excited about the product we put out. Through 1965, just about everything we put out hit the charts. And even more than the promotion, in my mind, Liberty stands for quality. They made some of the best records from that early 60's time period. And it was not by accident that they did it. They hired the best musicians, the best studios, the best engineers, and they had the best songwriters, and hopefully the best talent singing the songs. And it worked for 'em. They were very successful. Even today when you listen to the reissues on EMI, it's pretty impressive. They cut some great records. Gene McDaniels. Johnny Burnette. Later Jan and Dean. Later than that on Imperial, Johnny Rivers. So they had some wonderful product.

Q - What kind of place was Fargo, North Dakota to grow up in, in the 40's and 50's?

A - It was America, USA. It was a little, small town. It was a city in a stretch of land that was mainly country. It was where all the farmers came to sell their wares. We had a Class 'C' baseball team there. I used to go to all the baseball games. My job was delivering the Fargo Forum. I played saxophone in the high school band. It was just rural America. It certainly was not a place you would go to, to get into show business. So, I was pretty fortunate. (Laughs)

Q - Bobby, how would your life have been different if Buddy Holly hadn't died?

A - You could really make a good case for me never having entered show business I guess. Although I was 15 years old and had my guitar and I was rockin', that really provided the platform for me to be seen by this agent and for him to come up and give us his card and for us to call him, and for him to sort of guide us in those early years of my career. I really had no plans on being in this business. It was just something that gave me a lot of joy, just like a lot of people. A lot of young guys pick up a guitar, sing a few songs and think they sound pretty good. People applaud and it never gets beyond that.

Q - So, you still might've been in the garage then?

A - Yeah, I might still be delivering the Fargo Forum, our local newspaper.

Q - Who came up with your name Bobby Vee? You or your manager?

A - Well, my legal name is Velline. When we first started out, we didn't even know what to call the band. I was the only one who spent time trying to think of names for the band, and when we filled in for Buddy Holly, the disc jockey turned around and said "What's the name of your band?" He was about to introduce us. Nobody had thought of a name except me and I just picked the name I liked the best and said "The Shadows", and he said "Here they are ladies and gentlemen, The Shadows." This happened so fast for us. We were really a garage band in 1958. Of course, the Buddy Holly tragedy was February 3, 1959. After that, there was a guy in the audience who introduced himself and started booking us. He decided that I should give myself a name. He thought that Velline was not a name people would remember. He suggested I shorten it to Vee. So, we did that about the time of "Suzie Baby".

Q - You recorded "Suzie Baby" for $500 on June 1, 1959. How long did it take you to record that song and how many copies did it sell?

A - It took us three hours for the session. You'd never do a session like that today. We went in at nine in the morning and by noon, we had four songs finished. Two of 'em were vocals, "Suzie Baby" being one of 'em and the other two were instrumentals. The deal was, for $500, they were gonna give us two releases and give us a thousand records each, which we basically had to promote ourselves. Which we did. We got in the car and drove around to radio stations and introduced ourselves and they were good enough to play the record. And people responded to it. They started buying it. All of a sudden, it looked like we had a regional hit on our hands, a local hit. And then it started spreading across the three state area. It was an exciting time and a fun thing to be part of.

Q - You toured with both Rick Nelson and Del Shannon back in 1985 in England. What do you remember about those guys and that tour?

A - It was a wonderful tour and an exciting time. The English audience was really looking again with the old rock 'n roll. We did 12 or 13 shows and they were all sold out. It couldn't have been more fun. It was a wonderful line-up. Bo Diddley was on the show. Frankie Ford, a Marvelettes act, it wasn't the original. It was a terrific show. In 1985, Rick Nelson had made peace with himself and his old songs. It was a joy to watch him perform 'cause he was really doing a rockabilly show. He was really doing his roots of rock 'n roll. He was singing well. He looked great. He couldn't have pleased the audience any more.



© Gary James. All rights reserved.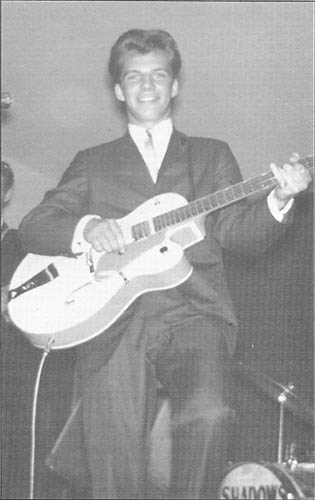 Bobby Vee