It's difficult to remember a duo that was as popular as The Righteous Brothers were in the 1960s. These guys ruled the American airwaves with such chart toppers as "You've Lost That Lovin' Feeling" and "Unchained Melody". When this interview was conducted on May 31st, 2002, The Righteous Brothers were still performing. Now that's Righteous!

On that day I had the opportunity to interview Bobby Hatfield. Less than a year and a half later, on November 5th, 2003, Bobby Hatfield passed away. He was 63 years old.

If There's A Rock And Roll Heaven...

Q - Bobby, did you ever get upset when your music was referred to as "Blue Eyed Soul", whatever that was.

A - Not necessarily upset. Actually in the beginning it was a real nice thing. I mean, it was a nice thing for me and Bill. We were really appreciated by the Black audiences. I think eventually, later on it kind of turned into any Black sounding music that White people sang.

Q - In 1962, you met Bill Medley at a small club in California. Do you recall the name of that club?

A - It was a coffee house is what it was. I can't remember the name of it. The club we worked for six months when we started out before we got fired was called John's Black Derby. I remember that.

Q - Why did the two of you decide to join forces? Did you admire each other's talent or did your personalities work together?

A - We were down there in almost all-White Orange County and we were the only ones that were singing Rhythm and Blues. That's what brought us together. We both loved R&B. We weren't out there playing Surf music. (laughs)

Q - Were you surprised at all with the success of "You've Lost That Lovin' Feelin'" and "Unchained Melody"? Those songs have become standards and sound as good today as when they were first recorded.

A - We're blessed that we have recorded songs that have stood up through the years. That's what makes 'em so important to us. We were surprised for a couple of reasons, especially "You've Lost That Lovin' Feeling". First time out of the box it was slow. It was too long. It was right there in the beginning of The Beatles invasion. And, it was a ballad and there weren't many ballads that were hits at that time. Of course, we were both pleased that it was later featured in Top Gun and became a big hit all over, along with Ghost, which made "Unchained Melody" a big hit all over.

Q - Was it difficult for The Righteous Brothers to keep up with The British Invasion?

A - Actually, no. We didn't mean to be recording ballads, but once Phil Spector produced that first one, we almost had to follow up with another ballad. We were Rock 'n' Roll singers and all of a sudden we became balladeers.

Q - Just how important was Phil Spector to your success?

A - I undoubtedly feel that "Lovin' Feeling" was one of the best produced records ever in the history of recording. It was a magical production and so obviously it was very important to us.

Q - You guys actually did The Beatles' first tour that started in Washington, D.C. in 1964.

A - Right.

Q - What was that like and why would you leave midway into that tour?

A - (laughs) OK. Well, the reason we left it midway was because we had "Little Latin Lupe Lu" and "My Babe" out at the time. We were fine as far West as Denver. We were fine in L.A., San Diego, Las Vegas and San Francisco. But once we got East of Denver, nobody hardly knew us. Those first couple of songs were basically West coast hits. And then, there's just something about trying to sing in front of about 50,000 kids screaming "we want the Beatles" that just wasn't pleasant. (laughs) We went to Brian Epstein and he fully understood. He was cool about and said "I understand. I wish you guys all the best. Good luck." And we were out of there.

Q - Did you have the opportunity to hang out with The Beatles?

A - Oh, yeah. Quite a bit. We partied with 'em a couple of times. We also had some good times with 'em on the plane just singing oldies but goodies. That was one of my fondest memories, sitting around on a plane singing oldies but goodies

Q - They loved people like Jerry Lee Lewis didn't they?

A - Yeah, but they really loved the Doo Wop stuff too..."In The Still Of The Night", Earth Angel", songs like that.

Q - What were their personalities like? Were they as funny as they were in A Hard Days Night?

A - At the time, the friendliest of the four were George and Ringo. Probably the quietest and more off to himself more than anybody was John.

Q - Had Brian Epstein not died in 1967, he would have been your manager?

A - Well, there was a big possibility that he was gonna manage us. It was a real kind of shock to us. Even when we originally talked to him about leaving The Beatles tour, he just wanted to get together later on and said "Maybe we can work together." We admired him and I guess he admired us. That was a nice mutual admiration.

Q - Would you have taken Brian Epstein up on his offer to manage you?

A - I'm sure we would've because through the years we've only had one or two managers. We've basically managed ourselves through the years. I mean, it's not an easy thing to do, but we had one that was slippery out the back door with money that wasn't his. You really need to find somebody whose personality clicks with you and actually the guy who was stealing from us, we got along better with than any other manager. But, that's the way it goes.

Q - You toured with The Stones in England. How difficult was that? The audiences had to have been quite different from The Beatles audience.

A - Well, actually we toured with them here in America. I can't remember exactly how long we were out there with 'em. I think we did about seven or eight dates with them. I can't exactly remember where they were. But they were crazy. We had a great time with them.

Q - You toured with your own nine piece band and sound system. How were you traveling, by bus?

A - No. We traveled by station wagon.

Q - No tour bus?

A - No tour bus.

Q - You didn't fly commercial?

A - Well, we did a lot of flying, which is probably one of the reasons why when we got home we didn't have any money. We not only had the big band, we had our three background singers, The Blossoms. We wanted to make it sound as authentic as possible, as close to the record as possible. That's why basically we used such a big band.

Q - Most bands probably didn't carry a nine piece band and a sound system with them in those days.

A - Oh, no (they didn't). It was expensive, but also neat because we blew a lot of acts off the stage in those days. I won't mention any names, but, like Dino, Desi and Billy. We did a big show with them in Hollywood at the Hollywood Bowl. I don't know how many acts were on the show. It just so happens they were on right before us and out comes our band and all of a sudden it was hey, we exploded. We weren't just doing our songs out there as easily and cheaply as we could. We went out there really to kick ass.

Q - Was the money good back those days?

A - Not really, no.

Q - So, the touring was really done to help promote record sales then?

A - Right, and to make sure that everything we did sounded as good in public as we could possibly make it. I think back in those days if I'm not mistaken, one of the biggest paydays we got for an evening was $18,000, which was major for us.

Q - Now the sound system guys make that!

A - Exactly. (laughs) Right.

Q - How were you able to make the transition from doing a Rock 'n' Roll tour to playing Las Vegas?

A - Well, that's where we started. We worked in Las Vegas in 1964 in the lounge area at the Sands Hotel. Back then we were doing three shows a night. So, we've pretty much continued to work Vegas through the years. At the time we started out, several performers thought it was on the plastic side; it wasn't the proper thing to do. But, what it did do and I think one of the reasons we sustained so many years and have headlined here in Las Vegas for so many years is because we learned to be performers here. We learned to be entertainers and not just a couple of singers.

Q - Did you guys ever write your own material?

A - We wrote a lot of our earlier stuff like "Little Latin Lupe Lu", "My Babe" and several of the B sides. When it came right down to the bone, we knew we were Rock 'n' Roll writers. We couldn't write great ballads like Barry Mann and his wife.

Q - What instruments can you guys play?

A - Bill plays a little piano. We both play a little piano. He's a better piano player than I am. We would just sit down and mess around with different things every once in a while. Probably we should've spent a lot more time writing. But, I don't know. I think we were probably too busy partying.

Q - Hey, when you're young, what do you know? Nobody sits you down and says the money is in writing songs.

A - There you go. (laughs) Right.



© Gary James. All rights reserved.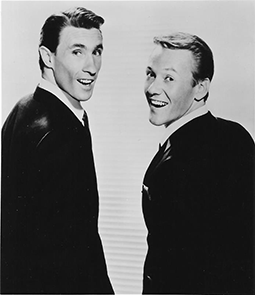 Bill Medley and Bobby Hatfield