For Bobby "Boris" Pickett, it was the song "Monster Mash" that launched his career. He co-wrote it with his friend Lenny Capizzi. "Monster Mash" went all the way to the number one spot on October 20, 1962. Eight years later, it re-entered the Top 100 and reached Number 91 on August 29, 1970. Then, on May 5, 1972, the song made its third entry into the Top 100 and this time made it to the Number 10 position. Only 3 songs have ever made it into the Top 100 three times in music history.

"Monster Mash" is now known as The National Anthem of Halloween. Bobby "Boris" Pickett talked with us about the song and his career.

Q - Bobby, I get the feeling that you always wanted to be an actor, and that your success with "Monster Mash" was just a fluke. Am I correct?

A -That is correct. I came to Los Angeles in 1960 to study acting and work in television and films. I got an agent after many, many months and after two weeks of being with him, he died of a heart attack. So, I was in trouble as an actor. I wasn't getting out there. But what was going on was that Lenny Capizzi and Billy Capizzi, his brother, who had grown up in Somerville, Massachusetts, in the same neighborhood that I was from, had shown up in Hollywood at this time with two other Italian boys, Ronnie Deltorto and Lou Toscano, and they were gonna start a singing group called The Cordials, and they asked me if I wanted to join them. So, of course I did. When my agent died after two weeks, (Laughs), we had sung around Los Angeles, literally singing for our supper at Timi Yuro's club down on Pico Blvd. It was called Alvultumos. It was an Italian restaurant. We literally sang for spaghetti dinners on Friday nights. This is how "Monster Mash" came about. We used to do a tune called "Little Darlin" as The Cordinals. We very seldom had musical background. We sang a capella. We did mostly former "hit" tunes, and one or two original things. One of our big numbers was "Summertime" because Billi Capizzi had a voice like Pavoratti. He could hit those high Cs. He would stop the clock and silence the room when he sang. Anyway, we did this tune called "Little Darlin" that the Diamonds had recorded, and I asked Lenny if I could do a Boris Karloff impression in that part where the bass baritone says, "Darlin' I need you to hold in mine" or something, and I did it as Boris Karloff and the audience loved it. So Lenny said that very night, "You know, we otta do a novelty record, those things sell, and with that voice we could get Gary Paxton to produce it." Gary Paxton at the time had success two years earlier with "Alley-Oop". He was the lead singer for The Hollywood Argyles when he was 17. But now, at this moment in time, he was one of the hottest young producers in Hollywood. So he was the only guy we knew in the music business. One Saturday in May 1962, we wrote the song and put it on a Wollensak tape-recorder and we took it to Gary Paxton and he said "I want to produce this. This is a hit record", so he knew from the start. That's the story. I'm an actor. I've done a lot of acting since then, but it was a fluke. When I went in to record "Monster Mash" I thought it was just a lark and a few Boris Karloff freaks will enjoy this. Gosh, it was number one in eight weeks.

Q - According to The Rolling Stone Rock 'n' 'Roll Encyclopedia, you released a few more records after "Monster Mash", but by 1963, your recording days were over. Is that accurate?

A - No. That's not even close. (Laughs). In 1962, I had done the follow-up "Monster's Holiday" which went to Number 29 in Billboard. Then I did a song called "Graduation Day" which was in the Top 100. I was trying to do my Frankie Avalon, Richard Chamberlain impression on that one. Rather embarrassing, but it did make the Top 100. My album was also in the Top 100. The original "Monster Mash" LP, and then later on down the line I did, oh gosh, "Monster Swim," nothing much happened with that. "Smoke That Cigarette", nothing much happened with that. Then, in the early 70's, I started working with Peter Ferrara. We did a thing called "Startrek" which became very popular on the Dr. Demento show. It was the Top 5 most requested records of all time on his show. Most recently I did a thing called "Monster Rap". That was about seven years ago, in the 80's. Then in Brooklyn, in the summer of 1993, I did a thing called "It's Alive" which is more or less the follow-up to "Monster Mash" some 30 odd years later. So, I did a lot of novelty recordings. None of them were as successful as "Monster Mash" and "Monster's Holiday", but I consider my discography with Dr. Demento to have some meaning and so does he. He plays anything I record, which is a wonderful thing. My recording days were not over, just my number one, Top Ten hit recording days were over.

Q - You're a disc jockey these days?

A - No. I did that in 1993. A little part-time work up in Westchester County, kind of filling in. I thought I might be interested in doing that because I had my own Saturday night show back in 1966 on KRLA in Los Angeles. These days I work as an actor and a writer. I'm working on a sequel to a musical comedy, a monster musical that I'd written with Sheldon Allman, who recorded "Sing Along with Drac" back in 1958, and also was the author of "George of The Jungle" and "Super Chicken". He and I wrote a monster musical in 1966 called "I'm Sorry The Bridge Is Out, You'll Have To Spend The Night". Since that time, right up until this moment, it's getting about two productions a month around the world, in junior colleges, community theaters, high schools, junior high schools and some professional theaters. We're now working on the sequel, which is entitled, "They Came Back". Also, at this moment we are about to begin pre-production on a movie version of "I'm Sorry The Bridge Is Out, You'll Have To Spend The Night", which will go directly to cassette and may even be entitled "Monster Mash." Who knows. But, we won't know about that for awhile.

Q - The first time you went on stage to perform in Everett, Massachusetts, you had to take a couple of drinks. Were you that frightened of performing "live"? Did you eventually got over that?

A - The first time I went on stage in Everett to do a five minute stand-up comedy spoof of monsters, which I had kind of ripped off from a guy I had seen do it on a boat when I was returning from Korea, in 1958, he did a spoof of monsters. I just watched him and thought that's a great act. He was doing Boris Karloff and Bela Lugosi impressions. I said, 'You wrote the act?" He said, "No, I stole it from Jack Carter. I saw it on TV" I said, "Oh, ok. Then you won't mind if I use it." He said "No." So of course I was in the Irish American Club in Everett, Massachusetts in 1959, after I'd gotten out of the army. They were having these talent contests every week where you could win $25, which was a lot of money in those days for an un-employed ex-G.I. So, I did have a couple of drinks. Maybe you've heard about (actor) Charles Laughton, he used to have a bucket in which to vomit before he went on-stage. I don't know if frightened is the word as much as excited and not quite sure if it could be pulled off or whatever. One or two drinks does wonders in releasing inhibitions and relaxing you. I guess I was a little excited about it and the drinks did help give me courage and as time went on, I did get over it. The second and third time I did the act, it wasn't necessary for me to take a drink. These days I can actually do it without taking a drink.

Q - What kind of a place was Somerville, Massachusetts when you were growing up?

A - It was an industrial city about 75,000 people. You had two choices as a young man, you could either be a gangster when you grew up or an athlete. So, most people were either jocks or gangsters, and in between of course were the nerds. But there weren't many of these. Somerville was a tough, tough place to live, but it was a place where you could leave your door open and no one would rob you. Everyone knew everyone, even through it was a city three miles long. Jack Derek, the famous beat generation author, once described Somerville, Massachusetts as "three miles long, three miles wide with three family houses, three feet apart." That's pretty much it, but it was a wonderful place to grow up, I thought. I grew up in the 1940s there and it was an innocent time. It was nice.

Q - You know I used to watch American Bandstand all the time and I vaguely recall your performance on the show.

A - Well then, you may vaguely recall that I may be the only performer ever in the history of American Bandstand, I could be wrong on this, that was asked to repeat the song twice on the same show, the kids loved it so much. Dick Clark, as much as he was amiable and friendly, was not a big fan of the record. He thought it was kind of silly I think, but he was not the only one. Elvis Presley called it the dumbest thing he'd ever heard. As I say at the close of my act when I tell that story, I say, "If you're out there listening Elvis', I'm still here."

Q - How did you perform that song, in a cape and make-up?

A - No. I did today as I did 30 years ago, I wear a laboratory coat with spiders and blood all over it. A cape belongs to Dracula, the voice of "Monster Mash" is of course Boris Karloff who never really did play the mad scientist in any of those old movies. He played the creature, the monster. I felt it was appropriate as a guy who was working in a lab to wear a lab coat. That's how I did it and do it to this day when I perform it.

Q - Did you ever do those Dick Clark Caravan of Tours in support of "Monster Mash"?

A - No. I was never invited on any of the Dick Clark tours. However, they have used clips of my performance on Bandstand which I made once in 1962, where I did it twice and then again in 1973 when it was released for the third time and made the charts for the third time.

Q - How many records has "Monster Mash" sold?

A - Somewhere in the neighborhood of 4 million, I've been told. I've been paid, so I'm gonna believe it.



© Gary James. All rights reserved.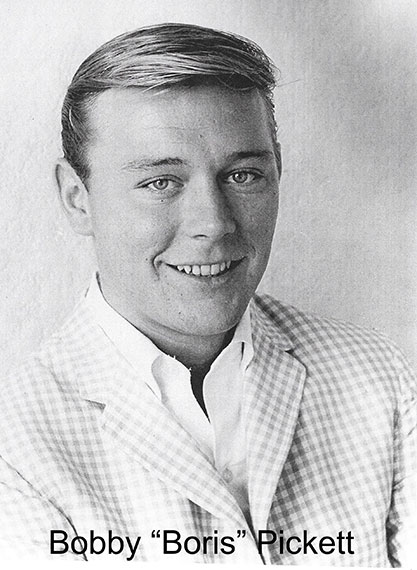 Photo from Gary James' Press Kit Collection