Gary James' Interview With
Ben E. King







He was the voice of the "new" Drifters and carved himself quite an impressive solo career as well. We're speaking of course about the incomparable Ben E. King. As lead singer for The Drifters, the group enjoyed a slew of hits including "There Goes My Baby", "Dance With Me", "This Magic Moment" and "Save The Last For Me". When Ben struck out on his own...well, who can forget "Spanish Harlem" or the classic "Stand By Me". These days (1993) you'll find Ben E. King travelling the world and still recording for the Georgia based label Ichiban Records.

We talked with Ben E. King about a career that's spanned over three decades now.

Q - Mr. King, you weren't even 21 years old when The Five Crowns became the new Drifters. One day you're singing in your father's restaurant, the next day you've got a Top 5 hit on the charts. That's quite a leap.

A - That's quite a big jump. (Laughs).

Q - How did you adjust to that?

A - When I got involved with The Five Crowns who later became The Drifters, and we got this hit record, I still was looking at this as kind of a fun thing. It never dawned on me at any particular time of my life that people are paid tremendous money to sing. (Laughs). To me, singing was fun. I never even visualized for a second doing what I'm doing. When the hit record happened, I just said 'well, it's still fun, and it's a fluke.' I didn't take it all that seriously. I still think my whole career was accidental. I didn't pursue it. I feel like I'm cheating sometimes. (Laughs).

Q - There seems to be two versions around of how you got your big break with The Drifters. The first version has it that a guy named Lover Patterson of The Five Crowns came into your father's luncheonette and heard you sing. The second version has a booking agent asking you if you knew of a good singer, and you asked to audition. Which story is correct?

A - Well basically, the two stories you've told me are one in the same. He was a manager, one of the singers, I guess talent coordinator for the local talent in Harlem. His name was Lover Patterson. He was living right across the street from where my dad had his restaurant. I guess he saw a lot of kids come in, a lot of my buddies. He came over one day and said, 'Look, I see a lot of young guys comin' in here. Any of you guys sing?' So I told him, 'Well, not really.' We weren't professional singers and had no intentions of being. So, he left and then he came over again one day when I was in there by myself more or less and said, 'Look, anybody come by yet who can sing?' So, I told him I could sing a bit. He said, would I be able to bring my group over if you're not busy now and kind of see how you fit in? There wasn't anybody in the restaurant, so he brought the other four guys over. We kind of made our way to the back of the restaurant so we couldn't be seen and we harmonized a little bit. He told me, 'Yeah, you'd fit great, if you don't mind joining the group.' I discussed it with my dad when he got back, and he said 'as long as it doesn't interfere with what you're doing here to help me in the restaurant.' I thought of it as something to have fun with. I never wanted to pursue it as a profession at all. But, that's how it all came about.

Q - How much singing had you done before the Drifters?

A - I had been singing in church. I even had a little group I appeared with at the Apollo called The Four B's, which was two twin brothers and a local buddy. Three schoolmates who used to sing around doing harmonies, doing all the songs by The Spaniels, The Swallows, and all those groups that were hot at the time. So, I had a little feel for the music.

Q - You're still taking your act around the world, is that correct?

A - Yeah. I've been pretty fortunate to travel I guess, all around the place.

Q - What kind of venues are you performing in?

A - Well, it varies really. One minute we can be in a small club, the next minute we can be in a coliseum, and the next minute we can be in a small auditorium. It varies, depending on the promoter, the budget, and the travelling distance. Just recently we did The Blue Notes in Japan, which is very similar to The Blue Notes Jazz Club here. It's a very small room. In this country, we do a lot of hotel venues, and we do Fairs. We do joint concerts at stadiums with The Four Tops or The Temptations or Natalie Cole. I do a lot of Vegas work and work with the comedians.

Q - Did you ever do the Dick Clark Tours?

A - Oh yeah. It was great.

Q - Who were some of the acts you toured with?

A - Annette Funnicello, Paul Anka, Bobby Rydell, The Platters, Gladys Knight. Sometimes maybe you had a head-liner like Chuck Berry or Fats Domino.

Q - How about Buddy Holly or Ritchie Valens?

A - I met those guys, sure.

Q - But, did you get to know them?

A - On bus tours, it's a strange riding situation, 'cause you don't get to know many people as much as you'd like to. You do your show, gather up your little equipment and we get on the bus. You have your little area, and they have their little area. Many times I've gone on tours with Paul Anka. He would have someone sitting behind him to keep people from even talking to him. You were almost in a little restricted area there. It was the first time a lot of Blacks and Whites were on the same bus in entertainment, going through the South. So, that played a very important role as well. We were taken to one part of the town, they were taken to another.

Q - That time in history, when you were growing up, will we ever see that time again?

A - No. It's gone forever. If there's anything about the business that I love and that I'm extremely happy about, is that my career started at that time and that I met some of the greatest entertainers at that time and some are still here. We were doing things with a hundred per cent feeling. It wasn't programmed. It wasn't asked for. It wasn't structured. It was just there. It was very raw. I don't think the industry would allow that to happen again. The industry now wants to be in charge of everything. At that time, we were in charge. We didn't ask. We just did. We just did what was in our heart. I think the proof in the pudding is that all the stuff that was done, whether it be rock, jazz, blues, R&B, it doesn't matter, all of the things that were done in that era are still alive today. That's because the artist was in charge.

Q - And it was so new.

A - And, because there was an honesty about all that was going on. It connected with the people in the street. You were able to sing something they related to instantly, because it was part of what you felt. It was part of what you had already traveled through. It's part of the people you were associating with daily. It was all of that. Those things don't happen today. I feel sorry for the kids in the industry today. They have on sunglasses, eat caviar in jet planes, but they'll never know the true feeling that we did.

Q - I recall seeing you on Johnny Carson's Tonight Show. He introduced you as, "my old friend Ben E. King." Have you two known each other for a long time?

A - We've known of each other. We've seen each other at different places, but that was my very first time working there, strangely enough. I've known him for a long time. That was the first time I had actually done his show even though we had met at various functions.

Q - What did it do for your career when "Stand By Me" was a hit all over again thanks to the movie of the same name?

A - I would imagine it gave it that lift that every artist hopes to find along the way. You get to a certain point in your life where you think 'O.K. I know where everything is at and I'm gonna be here for a long period of time if not forever', and you find pretty much a happy medium about things. And, when that happened, it came completely out of the blue, and it snowballed. Of course, the kids who had never heard of a person called Ben E. King were then aware of the name associated with the song. That gave a tremendous lift to me as an artist.

Q - What did your song have to do with that movie?

A - It tends to blend in with the flavor of the four kids who had a friendship, and the words of that kind of lead to that. The camaraderie of four kids who grew up, and I guess promised to remain friends when something happens, like you and your friends. I'm sure you had friends and at the time you thought you'd never separate. The words 'Stand By Me' would've probably fit in your life, taken from a friendship standpoint.

Q - Did the movie-makers write the film around your song?

A - No, that wasn't the case at all. The movie is actually from a book by Stephen King called The Body. When they were gonna put it to a motion picture, they found the story was a bit too strong for the title The Body, based on a young kid's movie. It would be too heavy. From what I've been told, Rob Reiner was in his home relaxing, playing old records, and happened to put on "Stand By Me", and stopped the record and called Norman Lear and said, "I think I've found the title for the movie."

Q - How long did it take you to write that song?

A - It doesn't take me long to write songs. I kind of get an idea, and from the time that I more or less commit it to paper, I find that it flows down pretty easy. It would probably take me an hour to two to write it down, get the feel of it, and that's with quite a few changes. It's not really a hard thing for me to do. But, to complete a song could take weeks.

Q - How do you write, on piano?

A - Yeah. I'm amateurish. I can play enough to write a song, or strum on a little guitar to write out a song. But, I don't play well at all. I wouldn't even attempt for a second to play in public.

Q - You worked with Phil Spector on "Spanish Harlem". We hear so many strange stories about him. What kind of a guy was he to work with?

A - I didn't meet the person that most people talked about. The Phil Spector that I would meet has always been a nice, quiet, little guy who's very serious about his work; obviously you can tell that because each and everything he's ever done has always been charted. Because I was quiet, and he was quiet, we would more or less stand back and watch each other do our thing. He was very courteous. I had never seen him rave or go crazy or throw anything or have any kind of tantrums. I saw him a few years ago, and we sat and talked and laughed. He's still somewhat of an introvert. He doesn't have a lot to say to you about anything. He's always been that way.

Q - Why did you decide to leave The Drifters and go out on your own?

A - It's nothing that I had planned. The new manager after we became The Drifters was the same manager as the original Drifters. His name was George Treadwell. When we took on the name The Drifters, we became the new Drifters, and signed a contract to be put on salary, which I think was like a hundred dollars a week, a piece, five hundred dollars for all five of us. One of the members of the group, I can't remember which one, found out we were making $3 - $5,000 a night. We were getting a hundred dollars a week a piece. Everybody got upset about it. So, on the way back from one of the tours, we all decided that we'd set up a meeting with George Treadwell and ask for an increase in salary. So, we got back to New York and met downtown at the office. We told him what our feelings were about the salaries we were getting. He looked at me 'cause I stood up and made some speech and said,"Well, look, you stand aside and anyone who wants to join you can do so." I walked out in the hopes that the rest would follow. When I got out, I stood next to the door, and no one followed. (Laughs)



© Gary James. All rights reserved.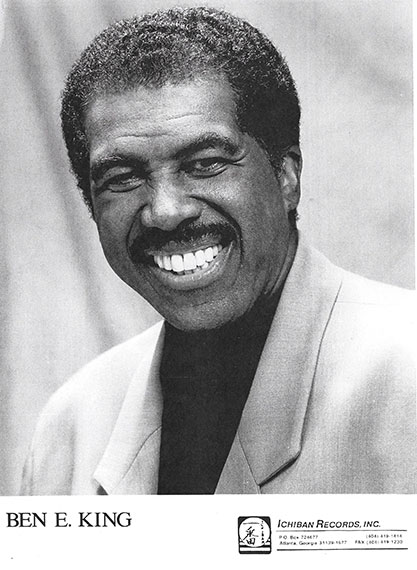 Photo from Gary James' Press Kit Collection