"Cherish", "Windy", "Never My Love". All these songs belong to that time in music history known as "The Swinging Sixties". The songs are really timeless and really so is the group that recorded them, The Association. The Association have one incredible track record: 25 million records sold, 6 Gold records, 1 Platinum record and more than 2,000 concerts performed.

Long-time Association member Ted Beuchel talked to us about his group.

Q - The Association is back, but you do not bill yourselves as an "Oldies But Goodies" group. You say you're contemporary. Explain what you mean by that.

A - We're here now and we're not relying on the hits to get us through the concert. We're a 1981 group. We do 5 songs in the show from the past, 4 of our own, plus a Dylan song. That takes up a quarter of the show. The rest of the songs are all new.

Q - Why did you get back together again?

A - We got such a good response after we did this show on HBO, that we all decided there's something here we ought to look at. Nobody is overly rich at the moment, so we thought let's get back to work. In the second time around, we can correct the problems that got the best of us earlier.

Q - Like what?

A - In experience in understanding the other side of the business, which was business.

Q - Why do you feel The Association became successful, when so many groups do not?

A - We're fortunate in one respect, the kind of music we sing lasts forever. The way we sing our songs is our niche. Our real secret was in the chemistry of our voices, those particular singers. When you change the voices, you change the recipe.

Q - Are you looking for a record deal today?

A - We are shopping around and we have some interest from 2 labels in particular, but we just started looking a week ago. It really gets down to whoever is interested, whoever has the enthusiasm.

Q - You tour 250 days a year. Why?

A - It kind of got out of hand where it doesn't look like you're working so much when you look at it on a yearly work schedule, when you pencil in all these dates. You're thinking about all the money you can make. So, once you're out on the road, you say "Geez, we've got this thing kind of over-loaded." But it's too late 'cause the contracts have already been signed. The group had to finally hang it up when people's enthusiasm got to such a low ebb.

Q - What's the reaction to your appearance on Tom Snyder's Tomorrow Show?

A - The phone has been ringing off the wall. We've gotten more work in the past 2 months than the Top Ten artists.





© Gary James. All rights reserved.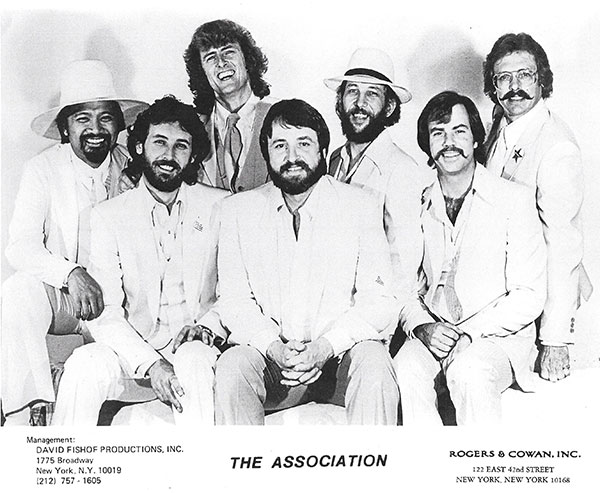 Photo from Gary James' Press Kit Collection