Casablanca recording artists Angel were named the Best New Group of 1976 by readers of Circus magazine. Since then, they've toured the world and will soon be making their acting debut in the film Foxes with Jodie Foster, Adam Faith and Scott Baio. Guitarist Punky Meadows spoke with us backstage at the Onondaga County War Memorial in Syracuse, N.Y. after having opened for Styx.

Q - How would you describe the present state of Rock 'n' Roll?

A - Rock 'n' Roll is here to stay. It's so diversified.

Q - What was it like to have 11,000 people turn out for a sell-out concert in Cleveland, Ohio?

A - It felt great. It was incredible. We never expected it.

Q - What was it like to tour Japan?

A - It was like the '60s again. The kids were just screaming like they did in the British Invasion of music to America in 1964.

Q - Why was ex-bassist Mickey Jones asked to leave the group?

A - It was by mutual agreement. Our present bassist, Felix Robinson, has added more depth to our music.

Q - Has Angel appeared on TV?

A - A couple of times. We did Kirshner's Rock Concert, but it's a very narrow medium and you can't come across on it.

Q - What goes through your mind when you hear about someone like Keith Moon dying?

A - I think it's sad. It's a tough business with a lot of pressures. People see only the glamour part of it, when you're onstage under the lights.

Q - What do you think of "groupies"?

A - "Groupie" is a word. They are fans. The road is tough and they make my nights bearable. They make you feel good. I won't put them down.

Q - How did Angel get discovered?

A - We were playing bars like everybody else, in our t-shirts and jeans, but putting all the money we made back into the group. In Washington, D.C. we were playing in a bar called Bogies and for three weeks invited management firms to see our act. That's how we met David Joseph, our manager.

Q - Didn't you find the bar circuit a terrible grind?

A - Bars are the best ground work for a musician because you've got to grab the people, get their attention. I've always believed in a strong visual image.

Q - What about your music?

A - We're speaking the truth. If our love songs hurt, it's because we've been hurt.





© Gary James. All rights reserved.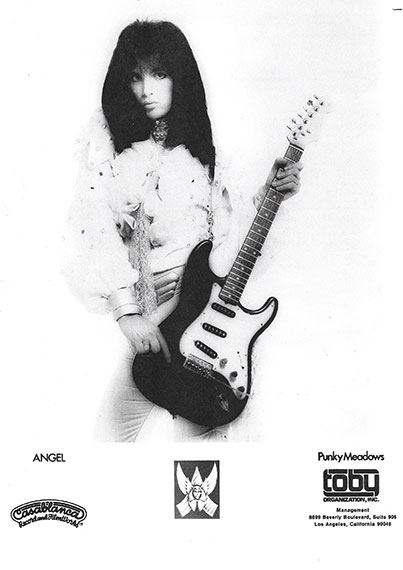 Photo from Gary James' Press Kit Collection