In 1987, Ace Frehley hit the road to promote his second solo album, "Frehley's Comet". (Megaforce Records - Distributed by Atlantic Records) Prior to his appearance at The Lost Horizon in Syracuse, N.Y., we spoke with Ace.

Q - Any truth to the rumor that the original Kiss will reunite for a tour?

A - I've never been approached by any member of the band. There's no truth to it. It's being perpetrated by the fans.

Q - Will all the success you've had, how do you get excited about performing?

A - Well, it's just, you know, no matter where I'm playing, you know, it's usually a sold out situation. Just the audience is really what it's all about, you know. I get excited because I see, you know, wherever I'm playing, you know, mass hysteria. They get me charged up. They get my adrenalin pumped and that's what gets me going.

Q - Why do you think there's this fascination with you and your career?

A - Probably because I'm good.

Q - And you're so modest too. Bill Graham believes Eddie Van Halen is one of the few creative guitarists to come out of Rock in the last decade. Are you satisfied with the recognition you've received?

A - Yeah. I think I've gotten a lot of recognition and I think I'm probably going to be getting a lot more in the future.

Q - You said "I was a poor kid from the Bronx. Then all of a sudden I was a millionaire. It happened overnight." How did you make that adjustment?

A - Very carefully.

Q - Is this the same band you recorded with in the studio?

A - It is the same band except for the drummer, Anton Fig, who's been replaced by Billy.

Q - Didn't you design the Kiss logo?

A - Yeah. I also designed the new one. (Frehley's Comet)

Q - An organization calling themselves Freedom Village U.S.A. claims the S's in Kiss are Satanic.

A - That's old news and it's also not true. There's no validity to it.

Q - Awhile back, you pleaded guilty to D.W.I. The judge told you "You are a person of notoriety. It seems to me you should set a better example." Do you agree with the judge?

A - I think he was 100% right. It changed my ways.

Q - Do you think Rock stars, or for that matter, anybody in the public eye should try to set a better example in their private life?

A - I think they have to be aware of it because you know they really don't have a private life. If it's negative, it's gonna come to light. It's gonna surface and it's gonna make press and I have to be aware of that. I forgot that for awhile. Since then, I've changed my ways. My daughter is going to be 7 on July 9th (1987) and I want to set a good example for her. I don't think you're going to be seeing any headlines in the future about Ace Frehley getting busted, knock on wood. (laughs)

Q - When you passed the Kiss audition, were you aware that you would have to wear make-up?

A - They didn't tell me I would have to wear make-up. We discussed it as a group. It was called Wicked Lester at the time and we didn't have a record contract. Everybody designed their own make-up and developed their own alter-ego character that developed into the group Kiss.

Q - And you didn't mind the make-up?

A - I always wanted to be in a theatrical Rock group. I was thrilled, tickled pink to be able to express myself that way.





© Gary James. All rights reserved.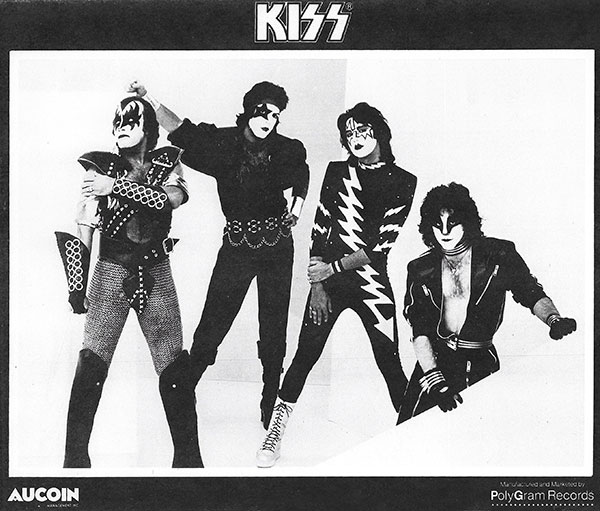 Photo from Gary James' Press Kit Collection